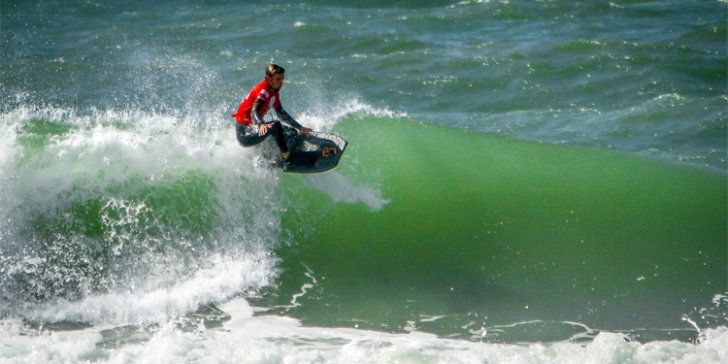 Sammy Morretino storms the 2018 Sandy Beach Challenge…claiming both the men's and drop-knee divisions
The young bodyboarder from Koloa won the highest prized trophies at the infamous shore break event.
Morretino is competing on the APB World Tour and will remember this one.
"I'm stoked! The last time I won the men's pro division here was six years ago, in 2012 at the age of 15," said Morretino, who barely beat his opponents.
"I must say I'm frothing on the win against all the rippers in the final. I knew I had to combo everybody to come out with the win. It was probably my best surfing ever out at Half Point!"
The judging panel was world-renowned: Pat Caldwell, Ben Severson, Keith Sasaki, Jacob VanderVelde, and Judah Oschner….
Jessica Becker, Matthew Orourke, Mack Crilley, and Ben Severson claimed the women's, pro junior, stand-up, and masters divisions, respectively.
2018 Sandy Beach Challenge | Finals
Men
1. Sammy Morretino, 17.84
2. Kahekili Labatte, 17.74
3. Kainoa Lono, 14.33
4. Mack Crilley, 13.53
Jack Stance / Drop-Knee
1. Sammy Morretino, 16.27
2. Mack Crilley, 16.24
3. Kawika Kamai, 13.37
4. Joshua Trotter, 12.33
Women
1. Jessica Becker, 14.5
2. Karla Costa, 14.23
3. Ginger Prados, 11.40
4. Kawehi Louis Diamond, 7.30
Pro Junior
1. Matthew Orourke, 16.63
2. Kawika Kamai, 16.50
3. Kainoa Lono, 12.00
4. Alexander Fahland, 9.94
Stand-Up
1. Mack Crilley, 14.40
2. Kawika Kamai, 12.73
3. Preston Shinew, 9.40
4. Noa Auweloa, 8.66
Masters
1. Ben Severson, 11.10
2. Cary Kayama, 9.67
3. Jason Verand, 6.10
4. John Kamai, 4.90
The event kicked off holding period Friday the 13th.
Congratulations to all of the winners and finalists of the 2018 Sandy Beach Challenge.
Day 1
Men's: 1st Sammy Morretino, 2nd Kahekili Labatte, 3rd Kainoa Lono, 4th Mack Crilley
Women's: 1st Jessica Becker,. 2nd Karla Costa, 3rd Ginger Prados, 4th Kawehi Louis Diamond
Master's: 1st Ben Severson, 2nd Cary Kayama 3rd Jason "Bolo" Verano, 4th John Kamai
Day 2
Jackstance: 1st Sammy Morretino, 2nd Mack Crilley, 3rd Kawika Kamai, 4th Josh Trotter
Junior Men: 1st Matthew Orourke, 2nd Kawika Kamai, 3rd Kainoa Lono, 4th Alexander Fahland
Standup: 1st Mack Crilley, 2nd Kawika Kamai, 3rd Preston Shinew, 4th Noa Auweloa
Thank you to everyone involved, judges, coordinators, sponsors, participants and families and friends. Mahalo
Surf had classic summer Sandys with a 3′ South of 12sec along with a mix of 3′ Trade swell. We keep the Trade swell all weekend and get a new near 3′ SW Taz Swell Sunday. SNN.
Special Thanks to Mike Stewart & Science Bodyboards