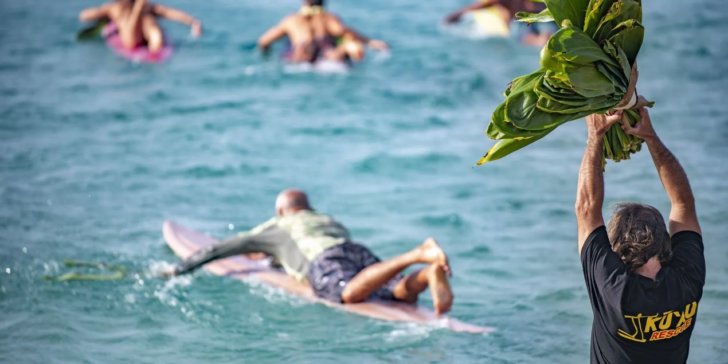 Good call to postpone by Clyde Aikau as Waimea has seen only a few 18′ waves as of 10am. Bumpy conditions not optimal either. Long Period and direction not great for the Bay. The swell should be better/bigger for the 2nd half of the day.  Sadly, models have started backing off on the Jan 22nd forecast. SNN
Earlier update: The Eddie Aikau Big Wave Invitational was hoping to run Wednesday but was canceled due to higher concerns about poor weather (a front moving through) and onshore NNE veering NE winds. The size will enough esp. toward lunch but not the quality and that's what makes this event special. All elements have to come together.
Though competition for Wednesday is off, Aikau said organizers are hopeful an even bigger forecast Jan. 22 and they think it will hold better conditions. That's a long way off but at least there's some hope on the model fantasies at this time. SNN
For nearly 40 years it has only run 9 times as conditions have to be right.
The contest hasn't run since 2016 when JJF won in the biggest surf ever held for this event.
Waves need to be at least 20 feet -all day- for the Eddie to be called on.
winter of 1985/86 -Sunset- Denton Miyamura
winter of 1986/87 – Waimea Contest Date: 21 DEC 1986 – Clyde Aikau (at age 30)
winter of 1989/90 – Contest Date: LATE JAN 1990 – Keone Downing (at age 36)
winter of 1998/99 – Contest Date: 1 JAN 1999 – Noah Johnson (at age 25)
winter of 2000/01 – Contest Date: 12 JAN 2001 – Ross Clarke-Jones (at age 34)
winter of 2001/02 – Contest Date: 8 JAN 2002 – Kelly Slater (at age 29)
winter of 2004/05 – Contest Date: 15 DEC 2004 – Bruce Irons (at age 25)
winter of 2009/10 – Contest Date: 8 DEC 2009 – Greg Long (at age 25)
winter of 2015/16 – Contest Date: 25 FEB 2016 – John John Florence (at age 23)
Earlier Updates below
Eddie Would Go
™
The biggest surfing event in the world returns for the 2022-23 Season through March 23rd.
Our last event saw over 1.2 million streaming views from fans from over 200 countries around the world…
'The Eddie' has only run nine times in its near-40-year history due to high standards for a full day of 20-25′ surf.

John John Florence won the last Eddie Feb 25th, 2016, in BIG Waimea Bay. Photo: Tom Servais
Just as in year's past, the contest will run if surf heights consistently reach 20-feet between December 14, 2022 through March 23, 2023.
The Eddie invites surfers, alternates, and legends to showcase their high-performance surfing at Waimea Bay.
The Eddie invites surfers, alternates, and legends to showcase their high-performance surfing at Waimea Bay on the North Shore of Oahu.
Front page photo Opening Ceremony: Pete Claproth 
The Eddie is the premier Event in the sport of Surfing – The Super Bowl of Surfing.
The Eddie Big Wave Invitational celebrates the current lineage of big wave surfers, as well as the ones that came before. The legend of Eddie Aikau is an important part of Hawaiian Culture. Eddie Aikau was a championship athlete, a waterman, and a family man who truly cared for others.
Eddie was not just the 1st lifeguard at Waimea Bay; he was the 1st lifeguard for the entire North Shore and saved over 500 people throughout his career.
Eddie would brave the waves that often reached 30 feet or more, when no one else would go out.
It's important to keep his legacy alive and inspire the next generation to live like Eddie did.
The 34th annual Eddie Big Wave Invitational is aiming to bring focus onto Hawaiian Culture, with a goal to share the stories and legacy of Hawaii with the world.
With the Waimea Valley extending behind Waimea Bay, this is an area rich with historic Hawaiian Cultural significance.
2022-2023 INVITEES
Aaron Gold
Andrea Moller
Billy Kemper
Eli Olson
Emily Erickson
Ezekiel Lau
Grant Baker
Greg Long
Ian Walsh
Jake Maki
Jamie O'Brien
Jamie Mitchell
John John Florence
Josh Moniz
Justine Dupont
Kai Lenny
Keala Kennelly
Keali'i Mamala
Kelly Slater
Koa Rothman
Kohl Christensen
Landon McNamara
Lucas Chianca
Luke Shepardson
Makani Adric
Makuakai Rothman
Mark Healey
Mason Ho
Michael Ho
Nathan Florence
Nathan Fletcher
Nic von Rupp
Paige Alms
Peter Mel
Ramon Navarro
Ross Clarke-Jones
Shane Dorian
Taio Shipman
Tikanui Smith
Tyler Larronde
MEN ALTERNATES
Mikey O'Shaughnessy
Kahea Hart
Chris Owens
Dave Wassel
Ben Wilkinson
Joey Cadiz (Aloha)
Reef McIntosh
Mike Pietsch
Torrey Meister
Ryan Seelbach
Chris Bertish
Jamie Sterling
WOMEN ALTERNATES
Bianca Valenti
Laura Enever
Raquel Heckert
Silvia Nabuco
Polly Ralda
Isabelle Leonhardt