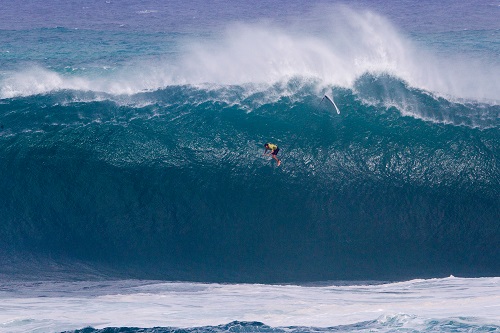 Thanks to New sponsors support of this most prestigious big-wave event Eddie's Legacy will continue.
Cover Shot of classic composure in death-defying circumstance: Grant Twiggy Baker in 2016. Image by Keoki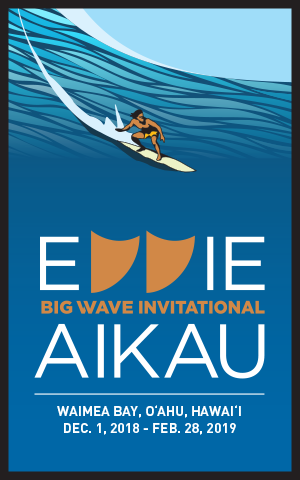 The Eddie Aikau Invitational at Waimea Bay is the most prestigious & culturally significant surf contest in the world. Though 'The Eddie' started in 1984 at Sunset Beach, it's been held at Waimea Bay every since. The surfing event is the first which held standards so literally 'high' that it would not run annually (only as Mother Nature had allowed). Surf at the Bay had to be 15-25′ average with contestable conditions for a full 8 hours. The waiting period has always been between December 1, 2018 through February 28, 2019.
Since '84 The Eddie (at Waimea) has only gone eight times.
The 9 Men Who Have Won The Eddie:
Denton Miyamura (1984) at Sunset Beach …
Clyde Aikau (1986) …
Keone Downing (1990) …
Noah Johnson (1999) …
Ross Clarke-Jones (2001) …
Kelly Slater (2002) …
Bruce Irons (2004) …
Greg Long (2009)…
John John Florence (2016)…who won the last time the event was held in solid 15-30′ surf…the Biggest Bay overall according to Clyde Aikau.
Two years ago, Quiksilver pulled out of the event. The Aikau family tried to keep their Brother's name & tradition alive but were unable to hold the event in 2017 due to a lack of resources (coincidentally, The Bay never reached The Eddie standard that season).
Cynthia Scrima for The Associated Press said: "It really is the most prestigious surf contest in the world. And we did not want to compromise that because it ultimately would be compromising Eddie's integrity to not do something properly."
So it truly is Great news that Eddie's back.
Special Thanks goes to those people wanting to "acknowledge and align with Eddie's Hawaiian roots". The Aikau family now has support from Kamehameha Schools, Office of Hawaiian Affairs (OHA), and Waimea Valley.
"The Aikaus have partnered with new sponsors to celebrate and honor the life and legacy of our brother, Eddie," said Solomon Aikau.
Opening Ceremonies kick-off off the waiting period Thursday, November 29th at 2:00 pm. The Waimea Bay Event will feature a traditional Hawaiian blessing, educational booths, and the chance for Hawai'i's keiki to visit with their schools.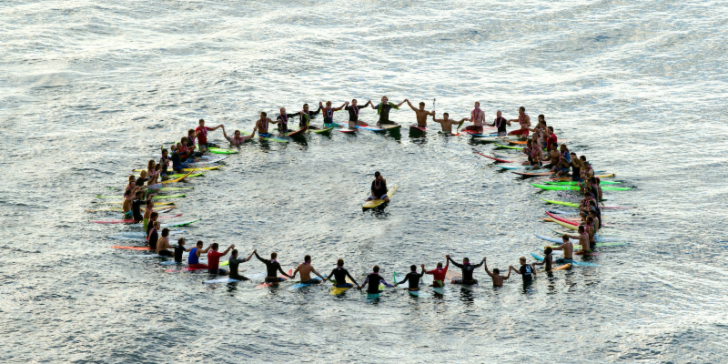 The Eddie invites just 28 surfers and alternates to showcase their World Class big wave surfing at Waimea Bay.
INVITEES:
Grant Baker
Lucas Chianca
Ross Clarke-Jones
Danilo Couto
Shane Dorian
Nathan Fletcher
John John Florence
Nathan Florence
Sunny Garcia
Aaron Gold
Mark Healey
Mason Ho
Bruce Irons
Billy Kemper
Keala Kennelly
Zeke Lau
Kai Lenny
Greg Long
Keali'i Mamala
Garrett McNamara
Jamie Mitchell
Jamie O'Brien
Joel Parkinson
Makuakai Rothman
Koa Rothman
Kelly Slater
Takayuki Wakita
Ian Walsh
Dave Wassel
ALTERNATES:
1. Kyle Shipman
2. Michael Ho
3. Landon McNamara
4. Luke Shephardson
5. Ramon Navarro
6. Reef McIntosh
7. Kohl Christensen
8. Chris Owens
9. Tyler Laron
10. Ben Wilkinson
11. Kala Alexander
12. Rodrigo Koxa
13. Sunny Garcia
14. Tom Carroll
15. Paige Alms (for Keala Kennelly)
16. Mark Matthews
17. Jamie Sterling
18. Shawn Dollar
19. Carlos Burle
20. Gabriel Villaran
21. Kahea Hart
22. Damien Hobgood
23. Kalani Chapman
24. Ryan Hipwood
25. Danny Fuller
26. Nic Lamb
27. Anthony Tashnick
28. Rusty Long
29. Derek Dunfee
30. Jeremy Flores
31. Noah Johnson
32. Peter Mel
33. Andrew Cotton
34. Duane DeSoto
35. Kainoa McGee
36. Ikaika Kalama
37. Tyler Fox
38. Brad Gerlach
39. Vincent Lartizen
40. Mike Parsons
41. Axi Muniain
42. Benjamin Sanchis
43. Damien Warr
44. Sebastian Steudtner
45. Eric Akiskalian
46. Dan Corbett
47. Francisco Porcella
48. Antonio Silva
49. Gautier Garanx
50. Antonio Balau
51. Mick Corbett
52. Jarryd Foster
53. Lance Hoʻokano
54. Rusty Keaulana
55. Hugo Vau
56. Pedro Scooby
57. Turn Soledade
58. Trevor Sven Carlson
HIGHLIGHTS: The  EDDIE 2016 was the "greatest one-day Big Wave event in history"- WSL. The Eddie delivered epic conditions – Honolulu media said 60ft faces. Big sets, big drops, big wipeouts and some amazing recoveries. What an Incredible experience for all 25,000 of us filling that great amphitheater known as Waimea Bay.