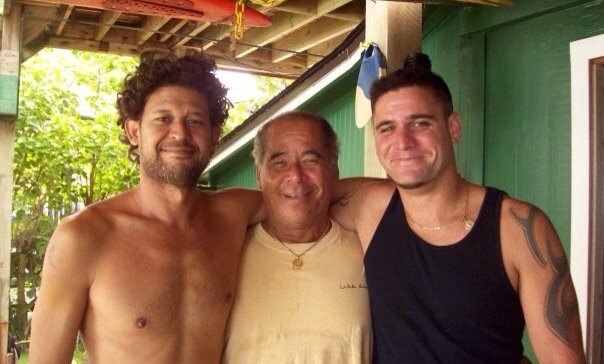 And, how you can help…below…
Thanks to Duke for the Epic Images. SNN.
Frontpage photo: Ben and his boys: Akila and Duke
Ben Aipa, son of Hawaii,  was born into a poor Sugar Cane plantation family on Kaua'i. In 1946 His father seeking an opportunity as a merchant marine moved the family to Oahu, where a boy would follow a chain of events which would put him on the unknown path to become one of the most legendary figures in surf history… Living proof that humble beginnings cannot deter the greatness of destiny.
Working hard was a part of who he was. When Ben was a young boy, his father left the family.  Even as a boy, Ben, was undeterrable. He would take the work ethic learned in the fields and apply that to every facet of his life from shining shoes in downtown Honolulu and diving for coins that tourists would throw into Honolulu harbor…all to help his mother make ends meet…. He carried with him the determination that would drive him to be a top competitive swimmer, an All American football player then, as it was fated, Hawaiian Living Legend. His character, both true and bold, primed him to become something special.
When you think about Ben he is more than just another "Legend", he is the embodiment of Aloha…He continued to share the Hawaiian gift of surfing, the Sport of Our Kings, just like the great Duke Kahanamoku of which Ben molded himself after. Ever-Proud to be a Hawaiian. Proud to have had a chance to share his Aloha with the world.
Now 77 years old, the legend master board shaper that influenced today's top board builders, the legendary surfer that inspired generations of power surfers, and coach to champion athletes such as Sunny Garcia, John Shimiooka, Brad Gerlach, Taylor Knox, the Irons Brothers, Bethany Hamilton, and countless others,  has been fighting a battle with his deteriorating health for the past few years like the proud Hawaiian warrior he's always been.  He has overcome several near misses, but unfortunately, his ailments have begun to gain ground and subdue his once-powerful persona.
Although it is true he can no longer do the things he loves and struggles with simple day to day activities while grasping onto fleeting moments of clarity…through it all, he is still the titan of the Hawaiian waves and the unpretentious trailblazer of the shaping room whose legacy is forever woven into the Kapa fabric of Hawaiian surf culture –  KAMEHAMEHA, LILIUOKALANI, DUKE KAHANAMOKU, RELL SUNN, BEN AIPA. These are the names of Hawaii.
Wherever he traveled within the global surfing community, Ben needed no introduction. South Shore, North Shore, or anywhere in the world…If you shared the water with Ben, you knew his presence. It was awe-inspiring.  Recognized as the man that originated power surfing, Ben's larger-than-life presence and singular mighty physical style commanded respect in any lineup he paddled out into.
He was both the hammer and the Aloha. He was known throughout the years by descriptions fitting his massive personality and matching heart: the "Hokkaido Bear" in Japan, the "Surfing Barrel" in Australia, but The nickname he cherished the most was "Uncle Ben" to generations of young surfers, for whom he always stood behind and lifted up.
From the moment he and his best friend, Eddie Aikau, paddled out, uninvited to the 1965 Duke Kahanamoku Contest in protest and to prove that Hawaiians deserved to be included in the massive world competition…Ben and Eddie made a statement to the world that could not be ignored and ultimately paved the way for the Hawaiians and other countries that today compete in the WSL.  The will and power of this young Hawaiian would set the tone and stick with him throughout his entire life and career. Whether it is surfing, coaching, or shaping, Ben has laid the foundation for so many.
Though Ben's chapter is winding down, the story does not end here. Bens sons Akila ( @akila_aipa ) and Duke (@aipasurf ) continue their father's legacy, building boards and coaching up and coming surfers.
Duke stated, "To perpetuate the life and work of Ben Aipa, that is my mission", while his brother Akila followed suit and noted, " Everything I can do to honor him, is to succeed, flourish and make dam good boards".
He has always been an unrelentingly hard worker, an uncomplaining provider for his family, and has never asked for help in his life from anyone, for anything.
His huge heart and his stubborn pride refused to worry or burden his friends and family. Given his legendary status, you would think he had financial means.
A few days ago, a Hawaii News Now story covered Ben's current condition in as gracious a manner as possible. In this public media release, photos were provided by an unnamed source (including pictures of Ben during a recent hospital stay) which revealed his vulnerable physical state.  These photos were gut-wrenching to see for those who love him, most of all his children, who were not warned of the intent to release these very private and heartrending images for the world to see.
In response, his son Duke said, "My dad would never want to be seen like that…he is a proud man and would not want to worry anyone.". Ben's eldest son, Akila noted " we just want you to appreciate Ben Aipa, our father, for who he is." Duke recalls what his father told him just before stepping his feet into the wet concrete of the ceremonial plaque honoring his induction to the Surfing Hall of Fame in 2018: "Duke, don't let them forget me." Duke goes on to say, "It is in that spirit, especially since our father is still with us, my brother (Akila), sister (Lokelani), and I humbly ask the surfing community around the world to please remember our Dad the way you each knew him.  Tough but kind, slyly funny, and maybe even in his hothead younger days, whatever your fondest memories of him might be – continue to send all the Aloha you can from your heart to our Dad, Ben.  Your friend, your mentor, your coach, an innovator of the Sport of Kings.  After all, it is simply yet powerfully through your love and Aloha for our Dad that the Ben Aipa Legacy will live on."
 As an homage to their father, Duke and Akila are currently collaborating on a Ben Aipa Legacy Series board collection, with a tentative release date to be announced, with the profits going towards Bens care.
For those who wish to contribute, by overwhelming request, a Go Fund Me page has been established, designated to assist Ben's wife with doctor bills and hospice care. Mahalo!
gofundme.com/f/ben-aipa-legacy
For any questions please contact BENAIPALEGACY@AIPASURF.COM
The Younger Days…
What the Aipa's do…
Ground Breaking Shapes of past decades….
Father and Sons…