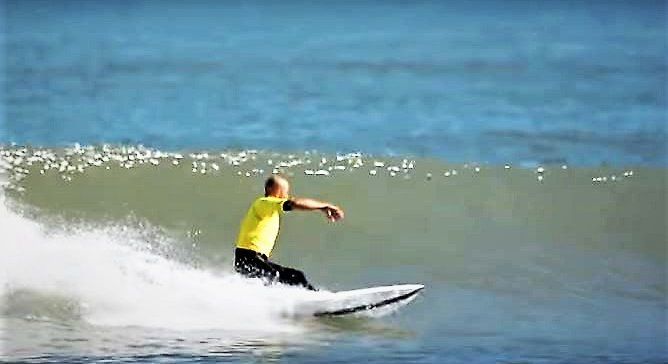 Saturday's event was held behind Coconuts in Cocoa Beach. Though for most it wasn't hard to guess who the surprise surfer was…1. The event was in Cocoa Beach, and 2. The team in question? Team Purps.
front page Screengrab: YouTube of one of Kelly's waves at the NKF Surf Team Event this past weekend.
Kelly Slater made a surprise appearance this weekend at the 32nd Annual NKF (National Kidney Foundation) Surfing Team Competition, in Cocoa Beach, Florida.
Surfing for Team Purps in memory of longtime friend and confidant, Rich Salick, Kelly had to show his support. Rich supported the beginning when Kelly was a grom. He made Kelly his first surfboard, ran his first, contest, and so much more. Rich Salick was a staple to surfing, and with his brother, Phil founded the NKF Surf Festival in 1985. More on the history of the NKF can be found here.
Raw Surf Adventures has the recap for more info and pics of Kelly.
This years competition went back to the roots of how NKF originated, by Team Competition. Held on Thanksgiving weekend, alongside the Cocoa Beach art show, the contest featured 18 competing teams:
Cocoa Beach Surf Team
NKF North Tower Ninjas
Law Office of Robert Hannan P.A.
Via Health
Team Aloha
Ron Jon's Team #1
Kings Duck Inn
Satellite Surf Team #2
Elite Surf and Sport
Satellite Surf Team #1
Then & Now's
Eastern Surfing Association
Team Kahuna
Team Wayfarer Life
Charley's Angels
Team Clever
Team Swell Life
Team Purps