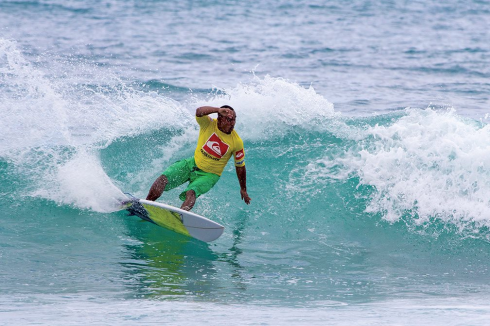 HAWAII BASED TROOPS TO COMPETE AT BARBER'S POINT SATURDAY 6/4
SURF TO BE 1-2′ FROM THE SSW WITH LIGHT AND VARIABLES.
Dane Casson – 2015 Open Men's Shortboard Champion.
June 3, 2016 – Barber's Point, Hawaii – On Saturday, June 4th, Hawaii-based Military personnel of the U.S. Army, Navy, Air Force, Marines and Coast Guard will battle it out in the tenth annual HIC/Quicksilver All-Military Surf Classic, Presented by MWR-Hawaii. The event is limited to active-duty US Military and Department of Defense personnel, retirees and dependents, and includes divisions for both shortboard and longboard surfing.
Starting at 8 am, the contest will run all day at White Plains Beach, on the former Barber's Point Naval Air Base on Oahu's south-west shore. Come down and cheer on your favorite service as they compete for the coveted "Top Branch" trophy, awarded to the team with the highest cumulative points. No doubt the 2015 winners, the U.S. Navy, will be keen to defend their title against all challengers.
2015 Top Branch Award Winners – U.S. Navy.
The All-Military Surf Classic is made possible through the support of MWR-Hawaii whose mission it is to improve the lives of US Military Personnel and their families. Hawaiian Island Creations and Quiksilver are honored to support the men and women of the US Armed Forces who proudly serve our country.  Stay safe, keep surfing and enjoy the ride!
About HIC – Hawaiian Island Creations:
Since 1971 HIC has been providing Hawaii's best selection of quality surfboards, skateboards, clothing and accessories. Locally owned and operated, the HIC retail chain includes seven stores on Oahu, three on Maui, four on Hawaii Island, and two in Japan. Through a commitment to quality, service and aloha spirit, the brand has built a reputation as an icon of Hawaiian surfing recognized throughout the world. Enjoy the ride!
About Quiksilver:
Since it's beginnings in 1969, Quiksilver has combined function, fit, art and fashion to develop boardshorts and clothing for mountain and ocean lovers across the globe. While still sticking to the core roots of the mountain and the wave, Quiksilver has become recognized as the premium youth lifestyle and culture clothing brand within the action sports market. In addition to boardshorts, Quiksilver designs and produces an entire line of lifestyle apparel, wetsuits, and snow outerwear available across the globe. Our elite team of athletes have become icons throughout the world. Our mission is inspire the youth and progress as the world around us evolves.