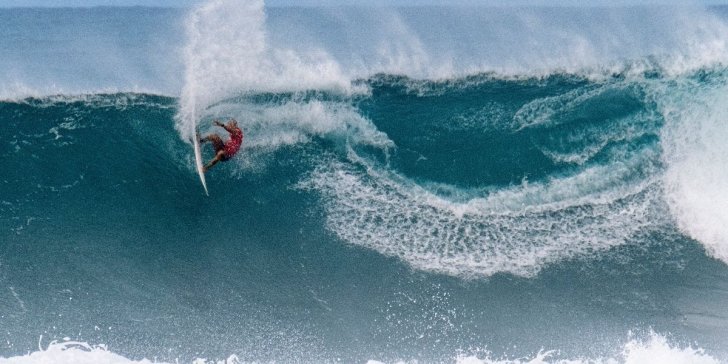 Slater Advances to Final Day (with one turn)

• Barron Mamiya, Matthew McGillivray Keep Qualification Hopes Alive
• Ethan Ewing, Wade Carmichael Earn Excellence
Front Page: THE TURN of EVENTS: Kelly Slater secures a place in the Quarterfinals and will look to earn an inaugural win at Haleiwa.
Credit: © WSL / Keoki
Haleiwa, Oahu/HAWAII — (Thursday, November 21, 2019) — An all-time West swell at Haleiwa Ali'i Beach made for staggering surf in the 12-15ft. range today at the Hawaiian Pro, arguably the best conditions competition has seen in ten years. Wave heights pushed 20+ft. for Day 4 of the World Surf League (WSL) Men's Qualifying Series (QS) 10,000 event to set the stage for finals day at the first gem of the Vans Triple Crown of Surfing.
Eleven-time World Champion and two-time Vans Triple Crown Champion Kelly Slater (USA) narrowly dodged elimination in Round 4 after hammering a critical section on a 15ft. wave face and overtaking Jacob Willcox (AUS) by less than half a point. Slater ended the heat with the one-maneuver ride and waited on the beach as judges deliberated for his final result. To the applause of beach fans, he earned a 6.93 to increase his scoreline and advance into the Quarterfinals behind Luel Felipe (BRA).
Pictured: In Round 3, Kelly Slater (USA) earned a two-wave total of 12.07 for the heat win.
Credit: © WSL / Heff
Felipe, a regular-footer from Porto de Galinhas, Brazil, is a QS veteran and has come close to the ultimate dream of qualifying for the Championship Tour (CT). Currently in his best position yet — No. 33 — and with 10,030 points, a final appearance would easily put him among the top athletes in the qualification conversation. But today, Felipe was just grateful for the opportunity to surf epic Haleiwa, a sentiment that was shared by all competitors.
"This is going to be forever," said Felipe. "One day I will retire but I will remember this day forever. I'm really stoked. For me, the best part of the heat was seeing my dad and he was really stoked and I just hugged him and gave him a kiss."
Pictured: Luel Felipe (BRA) carved his way into Quarterfinal 3.
Credit: © WSL / Keoki
The day began as the long period swell filled in to create massive scoring opportunities along with broken boards and wipeouts. Slater started Round 3 Heat 9 with a 5.40 and ended it with a 6.67. The latter score turned the heat and bumped him from third to first with only five minutes remaining. With an intimate knowledge of the lineup, wave choice, power slides and laybacks earned him the heat win ahead of Peruvian QS competitor Alonso Correa (PER), while Michael February (ZAF) and Vans Triple Crown rookie Cole Houshmand (USA) were eliminated in 33rd and 49th place respectively.
Although not entered in the Vans World Cup at Sunset Beach and therefore not in contention for a Vans Triple Crown title this year, Slater made his intentions clear about the Hawaiian Pro.
"I'd love to win the event, Haleiwa is one of my favorite waves in the world," he said. "I've come close, I got second to Sunny (Garcia) one year but was never able to seal this one. It's kind of funny, I've had a first at Pipe, I've had second here, and third at Sunset and that's kind of the order I put the waves in my categories. I like Pipe the best and this one a close second. Anyway, it's been good to me. I've had a lot of freesurfs out here throughout the years."
Pictured: One of the most legendary surfers in the sport, Kelly Slater (USA) was fixated on Haleiwa today.
Credit: © WSL / Keoki
CT qualification hopes heated up as athletes fought through two rounds today, including Barron Mamiya (HAW), who opened up strong with energetic surfing in Round 3 and a 7.33 for an immediate lead. Midway through the 30-minute heat, his board buckled under the pressure of today's big wave surfing  and he signaled for an equipment swap from the water. Mamiya didn't miss a beat and exploded on a set wave with multiple power turns for a brilliant 9.60 while using his priority to keep Jack Robinson (AUS) off the wave and out of competition.
"Jack, you know Jack, he's gnarly," said Mamiya. "You can't let him do anything or you could lose. I saw him out there and he lost priority and I was like, 'I'm not letting you get a wave, I know how gnarly you are. You can easily take over the lead even if you're in dead last.' That wave came and I went and I surfed it to the best of my abilities."
Sitting at No. 12 on the QS, Mamiya is approaching his first opportunity to represent Hawaii on the 2020 CT. With a home-court advantage, he is staying calm and relaxed despite the competition and qualification scenarios on most surfers' minds.
Pictured: Barron Mamiya (HAW) has the uncanny ability to consistently land on his feet; today it puts him into Quarterfinal 4.
Credit: © WSL / Keoki
"It's been one of my dreams since I started surfing, since the first time I touched a board," said Mamiya. "It's one of my biggest goals in life. I'd love to make the CT but I'm not putting pressure on myself. I just want to go out and surf a few heats and have fun. I grew up surfing here. If I don't make the CT I'm still going to go out and surf Pipe and hang out with all my friends. It's no difference, it's all the same thing."
In Mamiya's Round 4 heat, he attacked the risky sections with speed and power for a commanding lead with an 8.70 and 8.50. Tahitian powerhouse, Michel Bourez (PYF) also advanced with the best wave score of the heat, an 8.77. Bourez is one of the few competitors in the world to earn a victory at all three Vans Triple Crown locations — 2013 and 2008 at the Hawaiian Pro, 2014 at the Vans World Cup and 2016 at the Billabong Pipe Masters.
In Round 3, Frederico Morais (PRT) was an image of traditional forehand carves as he and Bourez battled for the heat win. Morais' power surfing and big-wave commitment was scored well by judges and he ended the heat with an 8.20 and 7.10, only to better this in his Round 4 heat with a 16.00 heat total. With his current points and standing in the competition, Morais is guaranteed to end the season with at least 20,000 points, the benchmark for CT qualification conversation.
Pictured: Frederico Morais (PRT) put it on rail with classic power surfing that is the ideal match for Haleiwa.
Credit: © WSL / Keoki
"I'm really excited," Morais said. "From the looks of it, I already have 20,000 points, that should be pretty good but I don't want to celebrate until it's official. There's still work to do, the comps not finished and I'd love to go for a Triple Crown if possible. The year I qualified in 2016 I was fighting for the Triple Crown with John (Florence) and Kelly (Slater), so I'll try to do the same this year."
Wade Carmichael (AUS) destroyed the competition in Round 4 Heat 2 by hammering out a 9.50 and 8.50 to combo the field. With the highest heat total of the day and second-best of the event, the 2015 Hawaiian Pro winner is surfing with a confidence level that comes from proven results. Currently rated No. 14 on the CT, Carmichael is comfortably within the cut-off for re qualification and is feeling good about his performance and equipment.
"I've been riding my big boards, I don't think I've ridden under a 6'4 since I've been here," said Carmichael. "Just trying to get used to it. I'm feeling really good. I think 6'6 is my magic number but I rode a 6'8 out there, that was pretty much my second surf and I felt unbelievable. I'm just psyched on my boards and psyched on the conditions."
Pictured: Wade Carmichael (AUS) is surfing pressure-free, which showed today through his open-range style.
Credit: © WSL / Heff
With arguably some of the most polished surfing of the day, Ethan Ewing (AUS) opened up the first heat of Round 4 and utilized great wave selection to find himself a clean Haleiwa wall for excellence that seemed effortless. Ewing posted a 9.00 for smooth, stylish carves then backed it up with a 5.53 to secure a heat win to advance into the Quarterfinals alongside Leonardo Fioravanti (ITA).
Despite World Title hopeful Jordy Smith (ZAF) pulling out of the event due to injury, the South African contingent started the day off strong with Matthew McGillivray, David Van Zyl, Dylan Lightfoot and Beyrick De Vries all moving on to Round 4. Michael February (ZAF), also surfed today against Slater in Round 3, however, bowed out after putting up a stylish performance and the second highest wave of the heat, a 6.50. De Vries and McGillivray ultimately survived and will move on to the Quarterfinals when competition resumes.
Pictured: Matthew McGillivray (ZAF) has been putting in years on the North Shore, and it clearly shows.
Credit: © WSL / Keoki
Currently No. 14 on the QS with 14,240 points, McGillivary finds himself in similar qualification contention as Mamiya; he continued to build momentum with two heat wins today and is feeling excited for his Quarterfinal heat, where he will go against Felipe, Bourez and Alejo Muniz (BRA).
"I'm so stoked, to be able to make both my heats and to be in Finals day tomorrow is incredible," said McGillivray. "It's such a huge opportunity for me, I'm stoked to be here, stoked to be surfing another heat out at Haleiwa."
With only seven heats left in the 2019 Hawaiian Pro, a winner will be crowned the next time competition is called back on and a Vans Triple Crown title front-runner will emerge ahead of the Vans World Cup of Surfing at Sunset Beach.
The Vans Triple Crown has been running for 37 consecutive years on Oahu's North Shore and determines the best competitive surfer at three defining and world-class waves: Haleiwa, Sunset and Pipeline. The Hawaiian Pro at Haleiwa Ali'i Beach has a holding window from November 13 – 24 and will see a winner emerge to take the lead on the VTCS rankings. The second stop of the series is the Vans World Cup of Surfing at Sunset Beach from November 25 – December 7, and the final event is the Billabong Pipe Masters at Banzai Pipeline from December 8 – 20.
Witness the action LIVE via state-of-the-art broadcast on WorldSurfLeague.com, VansTripleCrownOfSurfing.com, Facebook.com/wsllive and on the free WSL app. Or tune into Spectrum SURF channels 20 and 1020HD, which will televise the action LIVE and in replay across the state of Hawaii.
About Vans
Vans®, a VF Corporation (NYSE: VFC) brand, is the original action sports footwear, apparel and accessories brand. Vans® authentic collections are sold in 84 countries through a network of subsidiaries, distributors and international offices. Vans® has over 2,000 retail locations globally including owned, concession and partnership doors. The Vans® brand promotes creative self-expression in youth culture across action sports, art, music and street culture and delivers progressive platforms such as the Vans Park Series, Vans Triple Crown of Surfing®, Vans Pool Party, Vans Custom Culture, and Vans' cultural hub and international music venue, House of Vans.
Vans, "Off The Wall" Since '66
About the WSL 
The World Surf League (WSL), established in 1976, is the enablement platform for surfing and surfers worldwide. The WSL is dedicated to changing the world through the inspirational power of surfing by creating authentic events, experiences, and storytelling to inspire a growing, global community to live with purpose, originality, and stoke.
The WSL is a global organization, headquartered in Santa Monica and with regional offices in North America, Latin America, Asia Pacific, and EMEA. The WSL possesses a deep appreciation for the sport's rich heritage while promoting progression, innovation, and performance at the highest levels.
The WSL is comprised of Tours & Events, celebrating the world's best surfers across all disciplines and annually running more than 180 global contests and crowning the undisputed World Champions across all divisions; WSL WaveCo, where innovation meets experience; and WSL Studios, which offers best in class storytelling across competition, lifestyle, and conservation.
For more information, please visit WorldSurfLeague.com