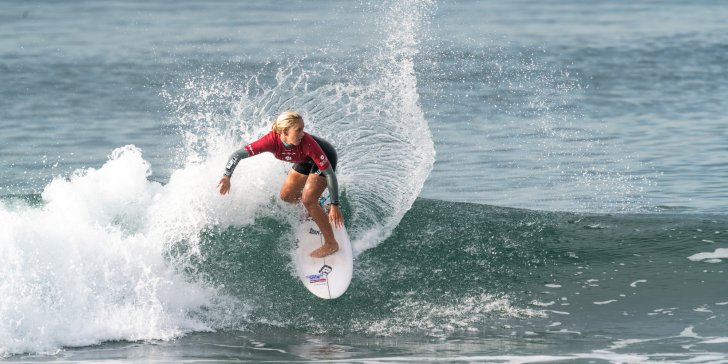 USASurfing.org. Huntington Beach, Calif. (November 3, 2019) – Team USA won the gold medal at the VISSLA International Surfing Association (ISA) World Junior Surfing Championship, just one day after winning the event's first gold medal in the team Aloha Cup event. Team USA was propelled by an impressive six individual medals to take the team world champion title. Hawaii won team silver. Japan won team bronze. Spain won team copper.
Front page: Girls U-18 Gold, Gabriela Bryan (HAW). Photo: ISA/Sean Evans
Ventura, California's Dimitri Poulos led Team USA, winning the Boys U18 gold in the final heat of the day. It was his first appearance at the ISA World Junior event and he had to battle through 11 repechage rounds to make it back into medal contention after falling short in an early round. The win came down to the final minutes of a heat in a quiet ocean. Teammate and bronze medalist Tommy Coleman let Dimitri take a running left that he rode all the way to the pier, firing off a series of backhand snaps.
Head coach and two-time US Open champion Brett Simpson said he was incredibly proud of the team's performances, particularly the new talent on the team. Five of the 12 were surfing in the ISA Worlds for the first time. All three surfers from Florida – Zoe Benedetto, Ryan Huckabee and Tommy Coleman – made the podium in their first ISA event.
"So proud of these kids!! They were resilient and stayed with it the whole week," Simpson said. "It is such a long event, and we were able to build great chemistry as a team as the event went on."
Team USA last won the Gold in 2017, nearly repeating as World Champions in 2018, but narrowly coming up short behind a first-time gold medal performance from Team Japan. Team USA's return to the top of global junior surfing in 2019 is the third gold, first winning the team champions title in 2015.
Simpson made some last-minute changes to the roster, adding Dimitri Poulos just two days before the event started. Florida's Tommy Coleman and Ryan Huckabee also received late call ups.
"Coach Brett did a masterful job filling the roster with young, new talent that proved themselves in one of the most challenging competitions they will face in their careers," said USA Surfing CEO Greg Cruse. "The level of talent at the ISA World Junior Championships is escalating at an exceptional pace. These are the surfers you will be seeing on the WSL Championship Tour and Olympics."
The event brings together the top 342 U-18 surfers from 44 nations. The eight-day double-elimination format gives surfers who place third and fourth an opportunity to surf several rounds of heats to get back into contention. It's a physically and mentally demanding event that provides a real test of competitors' stamina and nerves.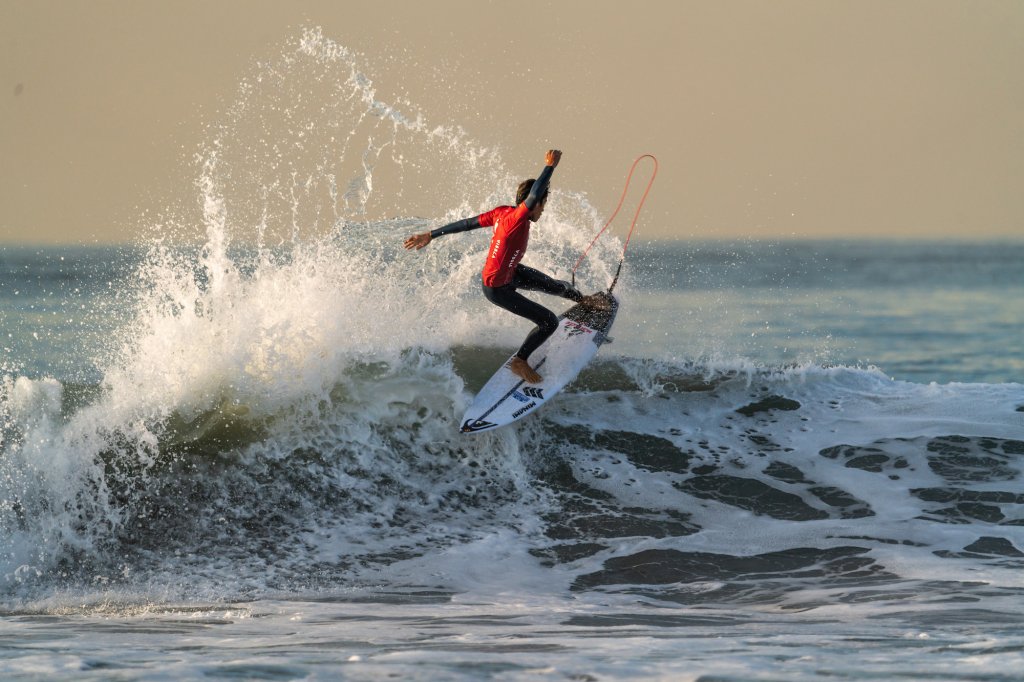 Boys U-16 Gold, Jackson Bunch (HAW). Photo: ISA/Sean Evans
Aloha Cup Team – Gold
Samantha Sibley, San Clemente, Calif.
Zoe Benedetto, Palm City, Fla.
Taro Watanabe, Malibu, Calif.
Nico Coli, San Clemente, Calif.
Team ranking:
Gold – USA
Silver – Hawaii
Bronze – Japan
Copper – Spain
5 – France
6 – Australia
7 – Portugal
8 – Germany
9 – South Africa
10 – Canada
Girls U-16:
Gold – Noah Lia Klapp (GER)
Silver – Zoe Benedetto (USA)
Bronze – Betty Lou Sakura Johnson (HAW)
Copper – Caitlin Simmers (USA)
Boys U-16:
Gold – Jackson Bunch (HAW)
Silver – Taj Lindblad (USA)
Bronze – Afonso Antunes (POR)
Copper – Ryan Huckabee (USA)
Girls U-18:
Gold – Gabriela Bryan (HAW)
Silver – Minami Nonaka (JPN)
Bronze – Noah Lia Klapp (GER)
Copper – Sara Wakita (JPN)
Boys U-18:
Gold – Dimitri Poulos (USA)
Silver – Alan Cleland (MEX)
Bronze – Tommy Coleman (USA)
Copper – Joh Azuchi (JPN
Contact: Becky Fleischauer, 302-588-0671, becky (at) usasurfing (dot) org
USA Surfing is the National Governing Body for surfing in the United States, recognized by the International Surfing Association (ISA) and the United States Olympic Committee (USOC). USA Surfing's mission is to promote and grow the sport of surfing and support United States athletes of all backgrounds to achieve sustained competitive excellence in Olympic, Paralympic, Pan American and Parapan American competition. USA Surfing will oversee and support America's Olympic team as surfing makes its debut in the 2020 Tokyo Olympics, and surfing and stand-up paddleboarding athletes compete in the 2019 Pan American Games.
​