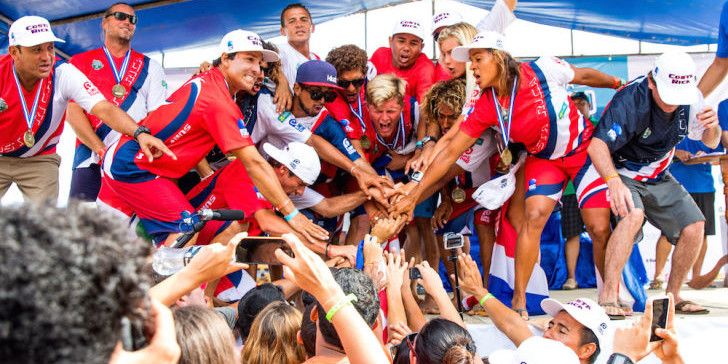 Team Costa Rica © ISA/Nelly
Nicaragua Unica Original ISA World Surfing Games
Presented by Lafise and Claro
International Surfing Association
Playa Popoyo, Nicaragua
31 May – 7 June 2015
Playa Popoyo Erupts in International Celebration
Surf News, 8 June, 2015 – The final day of competition at the 2015 Nicaragua Unica… Original ISA World Surfing Games presented by Lafise and Claro ended with an international celebration for the sport of surfing. Twenty-seven National Teams flooded the sands of Playa Popoyo, Nicaragua alongside thousands of spectators to cheer on the action.
The entire day was full of fantastic surfing in overhead to double overhead waves.
The lineup for the Women's Final included Tia Blanco (USA), Leilani McGonagle (CRI), Ella Williams (NZL) and Chelsea Tuach (Bar). 2014 ISA World Junior Surfing Championship Bronze Medalist Blanco and Copper Medalist McGonagle took strong leads. However, by the end of the heat it was Blanco that would take the Gold Medal home for her country.
"It means the world to me, to win this Gold Medal for the USA. I am so stoked!" exclaimed Blanco, still in the awe following her win. "Getting carried up the beach by my coach and Damien Hobgood was a dream come true — it was one for the memory book. Thank you to everyone who believed in me, I could not do it without you."

Noe Mar McGonagle © ISA/Reed
The Men's Final came next, and included defending 2014 Gold Medalist Leandro Usuna (ARG) and Bronze Medalist Shane Holmes (AUS), against the world renown talent of Nic Von Rupp (POR) and Noe Mar McGonagle (CRI).
Following his sister's final, Noe Mar made quick work of the competition. Scoring two rides in the eight-point range before anyone earned even a three-point ride, it seemed to be in the bag for Noe Mar. Then, Noe Mar stepped it up again with a near-perfect 9.93 ride. The Gold Medal was his, but the win was for Costa Rica.
"I didn't do it for myself, I did it for Costa Rica," said Noe Mar, full of national pride. "We come to these ISA events to do the best for our country, and I knew a win in my heat would give us the points we needed for the team Gold. Costa Rica is a small country, but we have a big heart and the most supportive people. I dedicate this to them."
With the combined effort of the McGonagle siblings in back-to-back finals, Costa Rica not only left with two individual medals but with the title of Team World Champion. The support of the people on the beach was powerful. During the closing ceremony, Team Costa Rica put their hands together near the front of the stage and were joined by fellow countrymen in the crowd for a final cheer of national celebration.

Tia Blanco © ISA/Reed
"This has been a historical week for surfing, the ISA and the beautiful host nation of Nicaragua. This partnership between Nicaragua and the ISA has produced best-in-class events year after year, while showcasing the perfection of its coastline to the world," said ISA President Fernando Aguerre.
"Twenty-seven nations came together from around the world, for a phenomenal week of surfing on extraordinary waves," continued Aguerre. "I want to thank each and every athlete for surfing in the name of their nation. More than medals, I hope every person leaves here with memories of the outstanding ISA event and new friends from our international community."
Men's Surfing Results:
Gold Medal – Noe Mar McGonagle (CRI)
Silver Medal – Nic Von Rupp (POR)
Bronze Medal – Shane Holmes (AUS)
Copper Medal – Leandro Usuna (ARG)
Women's Surfing Results:
Gold Medal – Tia Blanco (USA)
Silver Medal – Leilani McGonagle (CRI)
Bronze Medal – Ella Williams (NZL)
Copper Medal – Chelsea Tuach (BAR)