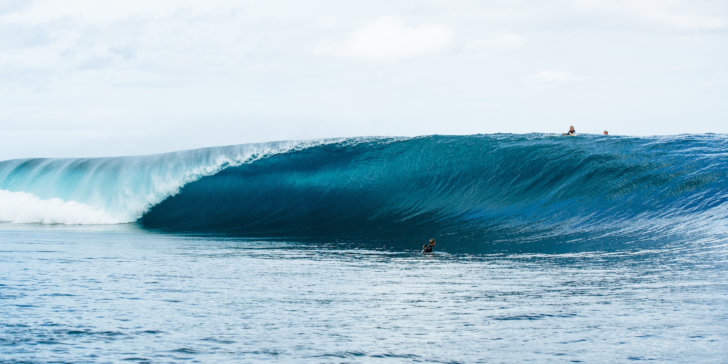 HOLDING PERIOD STARTS FRIDAY AUGUST 11 (thru SUNDAY 20)
Three Spots Left in WSL Final 5 Ahead of Rip Curl WSL Finals
Moore and Toledo Wear Yellow Leader Jersey Going Into Stop No. 10
Women's Tour Returns to Tahiti for Second-Consecutive Year
Event Wildcards and Injury Replacements Announced
Pictured: The Shiseido Tahiti Pro Presented by Outerknown holds a waiting period Friday August 11, through Sunday, August 20, 2023 Credit: © WSL /  Poullenot
TEAHUPO'O, Tahiti, French Polynesia (Thursday, August 3, 2023) – The world's best surfers are ready for the penultimate event of the World Surf League (WSL) 2023 Championship Tour (CT) season, the Shiseido Tahiti Pro Presented by Outerknown. The event waiting period opens Friday, August 11, and runs through Sunday, August 20, 2023, and the competition will run on the days with the best conditions within this window. As the last stop before the Rip Curl WSL Finals, Tahiti will decide the remaining spots in the WSL Final 5. Tahiti will also confirm which competitors have provisionally qualified for the Olympic Games Paris 2024. This event will be the premier preview of what the Olympic Games could look like as Teahupo'o is the venue where surfing will be held for the Olympic Games next year.
Three Spots Left in WSL Final 5 Ahead of Rip Curl WSL Finals
The Shiseido Tahiti Pro is the last stop on the 2023 CT and will decide the remaining three surfers who will compete at this year's Rip Curl WSL Finals. On the women's side, there is only one spot up for grabs, while on the men's there are two. After her big win at J-Bay, Lakey Peterson (USA) is now ranked No. 6 and is quickly catching up with current No. 5 Caitlin Simmers (USA). World Champions Gabriel Medina (BRA) and John John Florence (HAW) are currently ranked No. 6 and No. 7, respectively. They still have a chance of pushing Yago Dora (BRA) down the rankings and clinching a spot in the WSL Final 5 with a solid result in Tahiti.
Competitors who have already clinched a spot in the WSL Final 5 will be looking to lock in the top-seeded position. Griffin Colapinto (USA) and Molly Picklum (AUS) currently sit at No. 3 and No. 4 on the rankings, respectively, and hope to improve their positions to give themselves a better chance at a maiden World Title.
Moore and Toledo Wear Yellow Leader Jersey Going Into Stop No. 10
Current Rankings' leaders Carissa Moore (HAW) and Filipe Toledo (BRA) are both on the hunt for a big result in Tahiti in order to secure the top seeds heading into the Rip Curl WSL Finals. The pair entered the Finals ranked No. 1 last year and are very close to doing so again. Securing this position will create a significant advantage during the Rip Curl WSL Finals, as they'll need to win a best-of-three battle instead of working their way up the draw. Both are well-decorated athletes but have never won at Teahupo'o. Moore and Toledo have already won three events this season each and hope Tahiti will be their fourth.
Women's Tour Returns to Tahiti for Second-Consecutive Year 
Regarded as one of the heaviest waves on the planet, Teahupo'o challenges the world's best in ways no other stop on Tour does. With a fully-committed drop into a thick tube over a shallow, razor-sharp, coral reef competitors need nearly as much courage as they do skill to post scores at this lefthander. Teahupo'o is without a doubt one of the most dangerous waves on the Championship Tour.
The 2022 CT season saw the women's Tour return to Tahiti for the first time in almost two decades. With another year of experience at Teahupo'o, as well as a number of fresh faces known for charging waves of consequence, this year's Shiseido Tahiti Pro is expected to see the world's best women raise the bar higher than ever before. Tour veterans Carissa Moore (HAW), Tatiana Weston-Webb (BRA), and Johanne Defay (FRA) are experienced in heavy waves and will be threats at Teahupo'o. But, they will be up against the new generation of fearless talents including Molly Picklum (AUS), Caitlin Simmers (USA), and Bettylou Sakura Johnson (HAW) who have all shown they won't pull back when the waves get heavy.
Pictured: Vahine Fierro (FRA) has been announced as the women's event wildcard for the Shiseido Tahiti Pro Presented by Outerknown Credit: © WSL /  Poullenot 
Event Wildcards and Injury Replacements Announced
Vahine Fierro (FRA), the highest-ranked Tahitian surfer in the women's Challenger Series, has been announced as the women's event wildcard. Fierro entered this event as a wildcard last season and earned an impressive third-place finish. The men's wildcard spot will be awarded to the winner of the Local Trials.
Italo Ferreira (BRA) has withdrawn from the event due to a knee injury. He will be replaced by Kauli Vaast (FRA), the highest-ranked Tahitian surfer on the men's Challenger Series. Vaast is sure to be a threat to the world's best as he was an event wildcard here last year and finished runner-up.
For more information, please visit WorldSurfLeague.com.
Shiseido Tahiti Pro Presented by Outerknown Women's Opening Round Matchups: 
Heat 1: Molly Picklum (AUS) vs. Caitlin Simmers (USA) vs. Gabriela Bryan (HAW)
Heat 2: Carissa Moore (HAW) vs. Tatiana Weston-Webb (BRA) vs. Vahine Fierro (FRA)
Heat 3: Tyler Wright (AUS) vs. Stephanie Gilmore (AUS) vs. Johanne Defay (FRA)
Heat 4: Caroline Marks (USA) vs. Lakey Peterson (USA) vs. Bettylou Sakura Johnson (HAW)Shiseido Tahiti Pro Presented by Outerknown Men's Opening Round Matchups: 
Heat 1: Joao Chianca (BRA) vs. Barron Mamiya (HAW) vs. Seth Moniz (HAW)
Heat 2: Griffin Colapinto (USA) vs. Ian Gentil (HAW) vs. Kelly Slater (USA)
Heat 3: Ethan Ewing (AUS) vs. Jordy Smith (RSA) vs. Kauli Vaast (FRA)
Heat 4: Filipe Toledo (BRA) vs. Caio Ibelli (BRA) vs. Winner of Trials
Heat 5: Yago Dora (BRA) vs. Kanoa Igarashi (JPN) vs. Rio Waida (INA)
Heat 6: Gabriel Medina (BRA) vs. Connor O'Leary (AUS) vs. Callum Robson (AUS)
Heat 7: John John Florence (HAW) vs. Ryan Callinan (AUS) vs. Matthew McGillivray (RSA)
Heat 8: Jack Robinson (AUS) vs. Leonardo Fioravanti (ITA) vs. Liam O'Brien (AUS)