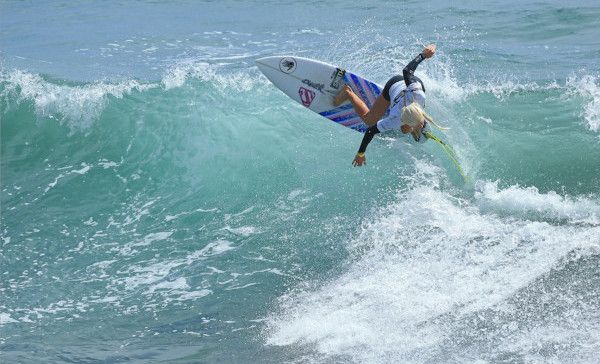 TATIANA WESTON-WEBB TOPS RECORD FIELD OF 108 TO WIN PAUL MITCHELL SUPERGIRL PRO. Hawaiian pro takes over Women's QS ratings lead with Oceanside victory (wave photo-credit-Steinmetz-for-ASA-Ent).
Unprecedented Crowds Watch the WSL Women's QS6000 Surf Competition as Weston-Webb Bests Courtney Conlogue and Earns Critical Points to Become the Qualification Series (QS) Leader, Sage Erickson And Nikki Van Dijk Tie For Third
OCEANSIDE, Calif. (July 26, 2015) – Day three of the Paul Mitchell Supergirl Pro — the largest all-women's surf contest in the world and the only WSL Women's QS6000 event in the continental U.S. — wrapped on Sunday with record-breaking attendance and fierce competition as three former Supergirl Pro finalists advanced through the Round of 16 to the semifinals. Sunday's action at the iconic Oceanside pier sealed the top three spots with Tatiana Weston-Webb (HAW) taking first and Courtney Conlogue (USA) runner up, with Sage Erickson (USA) and Nikki Van Dijk (AUS) tying for third.
The finals came down to a battle of Supergirl podium vets when Courtney Conlogue, the 2009 champion, faced Tatiana Weston-Webb, who took second place at last year's Paul Mitchell Supergirl Pro. Weston-Webb wowed the judges to capture the coveted pink Supergirl cape and earn critical points toward her QS ranking, putting her 1,600 points ahead of Nikki Van Dijk.
"Finally!" the 19-year-old Weston-Webb shouted as she was swarmed by fans after being named the winner. "Last year really made me want to win this year! Courtney is amazing, and for me to be here means the world to me. Now I have a lot of confidence going into the rest of this year."
Weston-Webb took a quick lead with a 4.33 then trailed Conlogue, who posted a 3.00 and 7.50. She answered back with a 7.87 to Courtney's 6.03 in an exchange. Needing a 5.66, Tatiana put up a 6.60 within the final five minutes to seal the win.
Sage Erickson fell just short of defending her title despite a valiant effort against Conlogue. Holding onto the highest heat total of the event with a 17.43, Erickson can walk away from this event with plenty of positives.
"Making it to the semifinals is a great result in the larger picture of getting back on tour next year," Erickson said. "I've had two quarters and two semifinals on the QS so far. I wanted to be in that final so bad, especially since this is my favorite event and really like no other."
The Paul Mitchell Supergirl Pro is the only WSL QS6000 female competition in the continental U.S. The event will be broadcast on Fox Sports One this fall.
"We couldn't have asked for a better event," said Rick Bratman, CEO of ASA Entertainment, the event's producer. "In addition to the phenomenal world-class surfing, we tripled the event footprint and the crowds were huge. Everyone at the event seemed to have an amazing experience."
Beyond the surf competition, the event also featured four live concerts, meet-and-greets with top pros, giveaways, the Supergirl Skate Pro skateboarding competition presented by Active Rideshop, a Celebrity Surf Contest, the Kona Beer Garden, a Surf Film Festival, complimentary hair styling by Paul Mitchell, more than 50 booth spaces from partnering brands and much more. For more detailed information on the Paul Mitchell Supergirl Pro, visitwww.supergirlpro.com.
PAUL MITCHELL SUPERGIRL PRO ROUND OF 16 RESULTS
Heat 1: Sage Erickson (USA) 10.34, Johanne Defay (FRA) 6.13
Heat 2: Chelsea Tuach (BRB) 10.23, Silvana Lima (BRA) 10.16
Heat 3: Courtney Conlogue (USA) 15.23, Justine Dupont (FRA) 13.47
Heat 4: Malia Manuel (HAW) 12.16, Laura Enever (AUS) 8.66
Heat 5: Tatiana Weston-Webb (HAW) 11.47, Isabella Nichols (AUS) 7.60
Heat 6: Alessa Quizon (HAW) 13.34, Lakey Peterson (USA) 11.93
Heat 7: Coco Ho (HAW) 13.00, Philippa Anderson (AUS) 10.67
Heat 8: Nikki Van Dijk (AUS) 13.54, Dimity Stoyle (AUS) 11.83
PAUL MITCHELL SUPERGIRL PRO ROUND OF QUARTERFINALS RESULTS
Heat 1: Sage Erickson (USA) 14.27, Chelsea Tuach (BRB) 10.90
Heat 2: Courtney Conlogue (USA) 10.07, Malia Manuel (HAW) 9.70
Heat 3: Tatiana Weston-Webb (HAW) 15.00, Alessa Quizon (HAW) 13.34
Heat 4: Nikki Van Dijk (AUS) 15.17, Coco Ho (HAW) 7.93
PAUL MITCHELL SUPERGIRL PRO ROUND OF SEMIFINALS RESULTS
Heat 1: Courtney Conlogue (USA) 11.60, Sage Erickson (USA) 10.50
Heat 2: Tatiana Weston-Webb (HAW) 12.84, Nikki Van Dijk (AUS) 8.33
PAUL MITCHELL SUPERGIRL PRO FINALS RESULTS
Tatiana Weston-Webb (HAW) 14.47, Courtney Conlogue (USA) 13.53
About ASA Entertainment:
Founded in 1994, ASA Entertainment Group, LLC is an action sports event, television and content production agency focused on creating and executing customized, turn-key marketing programs that range in scale from grassroots to global. ASA's events, featuring skateboarding, freestyle BMX, inline skating, freestyle motocross, snowboarding, skiing, surfing and music, are broadcast domestically on eight networks (including CBS and FOX Sports), and distributed to more than 700 million HH globally via 30 international broadcast partners. ASA's productions span the spectrum from large, international competitions such as the ASA Action Sports World Tour, the World Championships of Freestyle Motocross, The Supergirl Pro Series and the ASA Big-Air Triples to amateur contests, lifestyle and branded entertainment events, demonstrations, exhibitions, school programs and mobile tours. After 21 years as a leader in action sports, ASA Entertainment regularly connects brands to consumers through its platform of premium action sports and lifestyle content. For more information, visit ASAentertainment.com. 
About Warner Bros. Consumer Products:
Warner Bros. Consumer Products, a Warner Bros. Entertainment Company, is one of the leading licensing and retail merchandising organizations in the world. 
About DC Entertainment:
DC Entertainment, home to iconic brands DC Comics (Superman, Batman, Green Lantern, Wonder Woman, The Flash), Vertigo (Sandman, Fables) and MAD, is the creative division charged with strategically integrating its content across Warner Bros. Entertainment and Time Warner.  DC Entertainment works in concert with many key Warner Bros. divisions to unleash its stories and characters across all media, including but not limited to film, television, consumer products, home entertainment and interactive games. Publishing thousands of comic books, graphic novels and magazines each year, DC Entertainment is one of the largest English-language publishers of comics in the world.
SUPERGIRL and all related characters and elements are trademarks of and © DC Comics. (s15)
About the World Surf League:
The World Surf League (WSL) organizes the annual tour of professional surf competitions and broadcasts each event live at WorldSurfLeague.com where you can experience the athleticism, drama and adventure of competitive surfing — anywhere and anytime it's on. The WSL sanctions and operates the following tours: the Junior Tour, Longboard Tour, the Qualifying Series (QS), the Big Wave Tour and the crown jewel of the sport, the WSL Championship Tour (CT) which determines the sport's undisputed world champions. The organization is headquartered in Santa Monica, California with Commercial Offices in New York. The offices are supported by regional centers in Africa, Asia, Australasia, Europe, Hawaii, North America and South America