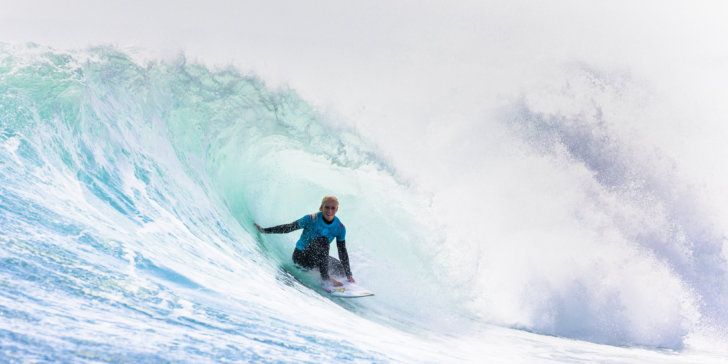 – JOINS SILVANA LIMA AS BRAZILIAN REPRESENTATIVE ON WSL WOMEN'S CHAMPIONSHIP TOUR
 Tatiana Weston-Webb announced her decision to represent Brazil moving forward on the elite World Surf League (WSL) Championship Tour.
© WSL / Dunbar
LOS ANGELES, California, USA (Monday, April 30, 2018) –  Tatiana Weston-Webb, 21, today announced her decision to represent Brazil moving forward on the elite World Surf League (WSL) Championship Tour as well as in preparation for the 2020 Olympics Games in Tokyo. Weston-Webb released the following statement:
Today I'm excited to announce that, moving forward, I will be representing Brasil on both the WSL Championship Tour as well as in preparation for the 2020 Olympic Games in Tokyo. This is a major decision for me and one that I'm really excited about.
Most folks aren't aware that my Dad is originally from England and my Mom is originally from Brasil. Brasil where I was born, but I feel truly blessed to have been raised on beautiful Kauai – both the community and the waves played a huge role in shaping who I am as a surfer and as a person. I am very grateful for that.
However, Brasil has always been an important part of who I am and, recently, I was approached by the Brasilian Olympic Committee with an opportunity to represent the country in a major way. It's always been a dream of mine to compete in the Olympics and when surfing was announced as an official Olympic sport, I knew that my dream had a chance of becoming a reality.
Brasil owns a huge part of my heart. I have family, friends and a terrific amount of support there. It's a place that has always felt like home and I am beyond proud to represent such an amazing country with so much passion and dedication for our sport. While this change gives me the opportunity to represent Brasil in 2020, all spots have to be earned and I'll be trying my best to qualify as one of the few surfers able to represent their countries in the Olympics.
I consider myself very fortunate to enjoy fan support from Hawaii, Brasil and around the world. Thank you, everyone, for understanding, respecting, and supporting my decision.
Weston-Webb will compete for Brazil for the first time in the fourth WSL Championship Tour event of the 2018 season, the Oi Rio Pro in Brazil from May 11 – 20, 2018.