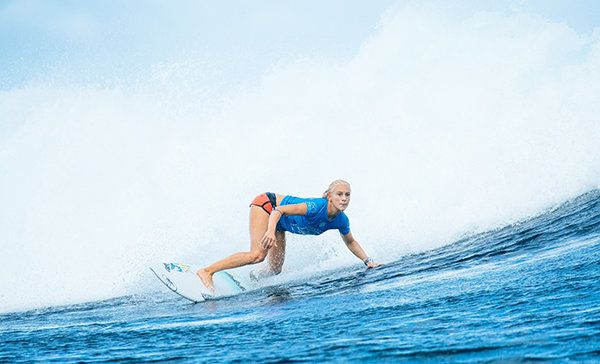 – FINAL SHOWDOWN WILL DETERMINE EVENT WINNER
–  REIGNING WORLD CHAMPION WRIGHT KNOCKED OUT IN SEMIFINALS
– 2016 EVENT WINNER DEFAY & 3X WSL CHAMPION MOORE DISPATCHED IN QUARTERFINALS
– 6X WSL CHAMPION GILMORE ELIMINATED IN ROUND 4
 World Title contender Courtney Conlogue (USA) stormed through to the Final of the Outerknown Fiji  Women's Pro after defeating reigning WSL Champion Tyler Wright (AUS) and defending event winner Johanne Defay (FRA).
Credit: © WSL / Cestari
| | |
| --- | --- |
| Location:    | Tavarua/Namotu, Fiji |
| Event window: | May 29 – June 2, 2017 |
| Today's call: | Round 4, Quarterfinals and Semifinals complete |
TAVARUA/NAMOTU, Fiji (Wednesday, May 31, 2017) – The Outerknown Fiji Women's Pro, Stop No. 5 on the 2017 World Surf League (WSL) Championship Tour (CT), saw major players eliminated from the draw today with the completion of Round 4, the Quarterfinals and Semifinals in three-to-four foot conditions. In-form surfers Courtney Conlogue (USA) and Tatiana Weston-Webb (HAW) have been charging Cloudbreak all week and will match-up in in the Final when competition resumes. Only easing surf for the rest of the week is expected.
A close Semifinal match-up saw Weston-Webb take down No. 3 on the Jeep Leaderboard Sally Fitzgibbons (AUS) by only 0.14 points. Two-time event winner Fitzgibbons opened up with a 7.67 to control the heat, but Weston-Webb threw down two 6.77-point rides for the lead. Fitzgibbons had one last attempt in the dying seconds of the heat, but was not able to earn the score. Fitzgibbons will be eliminated from the event with her third Semifinal finish of the season while Weston-Webb secures her first Final appearance of 2017.
"I am feeling super good," said Weston-Webb. "That heat was hard. Sally [Fitzgibbons] is always good at getting started quickly and that is what she did. It took my best abilities for me to bring it back. I am really stoked. I just have to focus on the Final now."

Tatiana Weston-Webb (HAW) earned her place in the Final of the Outerknown Fiji Women's Pro with a string of incredible victories that saw her take down two-time event winner Sally Fitzgibbons (AUS), 3X WSL Champion Carissa Moore (HAW) and 6X World Champion Stephanie Gilmore (AUS).
Credit: © WSL / Sloane
En route to her career-best result in Fiji Conlogue dispatched reigning WSL Champion Tyler Wright (AUS) in Semifinals. With limited opportunities in the lineup, the heat came down to an intense game of tactics. Conlogue got the edge with a 0.34-point lead over Wright with just a 2.17 backup score to her 6.00. Wright was not able to earn the required score and will leave with an Equal 3rd place result while Conlogue will advance on to the Final where she will meet Weston-Webb.
"I don't even know what to say, I'm just happy that I got through that heat," said Conlogue. "I went along for the ride and it paid off. We were fighting for 3's out there which very rarely happens at Cloudbreak. I'm really happy to be in the Final and I'm looking forward to having some fun exchanges."
Earlier in the day defending event winner Johanne Defay (FRA) dropped out of the draw in the Quarterfinals at the hands of Conlogue. Big scores from both surfers made for an exciting match-up but at the end of the 35-minute heat it was the American who had the advantage, sending Defay home in 5th place.
Sage Erickson (USA) was disappointed with her Quarterfinal defeat by a focused looking Wright. Erickson was a standout on day one of the event and the second consecutive fifth-place finish is her best ever result in Fiji.
"I probably haven't been this pissed in a really long time," Erickson said. "It sucks to feel like I didn't have the opportunity. I feel like my surfing is there and it's really irritating to come up in a heat when there weren't many waves. She (Wright) got 6's so it wasn't a knockout so I do take some confidence from that. I'll take a lot from this event but I'm not happy. I'll have to work harder and pay more attention to the details."
3X WSL Champion Carissa Moore (HAW) was dispatched in the Quarterfinals by finalist Weston-Webb. The result is the fourth Quarterfinal exit for Moore this season.
"Anything can happen out here," Moore said. "I made a couple of mistakes and I think I stood in my own way. Looking back on the past two weeks, it's been epic but I'm looking forward to heading home. Competitively I haven't been doing so well but I feel more stoked on surfing than I have in a long time. I look forward to going back to the drawing board and getting to work."
Eventual Semifinalist Fitzgibbons took charge of her Quarterfinal bout against Nikki Van Dijk (AUS) with a 15.33 heat total, leaving Van Dijk in need of a Perfect 10 that she was unable to find. The result is Van Dijk's third Quarterfinal appearance in Fiji.
Wildcard Bethany Hamilton (HAW) was eliminated by Wright in Equal 9th after an exciting match-up between the pair in Round 4. After a strong start from Hamilton, Wright built a 13.56 heat total to put the pressure on. The world champion improved her score with an 8.17, the highest of the heat, and Hamilton was left searching for an excellent 8.83. After an incredible performance at the event last year Hamilton make it all the way to the Semifinals by blazing through the draw and causing a string of upsets along the way, including taking down both Wright and Gilmore.
Stephanie Gilmore (AUS) was eliminated in Round 4 by Weston-Webb. The surfer from Hawaii didn't hold back and a 15.60 two-wave total put the 6X WSL Champion in a combination situation with half the heat gone. Three powerful turns from Gilmore weren't enough to break the combination and she is sent home with her worst result of the season.
"That was a tough one," said Gilmore. "I just couldn't really hit a section confidently. I was in two minds out there. It is tough to lose in Round 4 – it stings at this point in the race, but it is what it is. I've got a couple months to work on things and get ready for Huntington."
Current No. 7 on the Jeep Leaderboard Lakey Peterson (USA) went head-to-head with Conlogue in an all-Californian affair in the opening heat of the day. Peterson kept busy, catching nine waves, but wasn't able to find the 5.11 that was required to challenge Conlogue and is sent home in 9th place.
Event organizers will reconvene tomorrow morning at 7 am local time to assess conditions and make the next call.
For more information, check out WorldSurfLeague.com
Outerknown Fiji Women's Pro Final Match-Up:
Courtney Conlogue (USA) vs. Tatiana Weston-Webb (HAW)
Outerknown Fiji Women's Pro Semifinal Results:
Heat 1: Courtney Conlogue (USA) 8.17 def. Tyler Wright (AUS) 7.83
Heat 2: Tatiana Weston-Webb (HAW) 13.54 def. Sally Fitzgibbons (AUS) 13.40
Outerknown Fiji Women's Pro Quarterfinal Results:
Heat 1: Courtney Conlogue (USA) 16.26 def. Johanne Defay (FRA) 14.96
Heat 2: Tyler Wright (AUS) 12.50 def. Sage Erickson (USA) 2.43
Heat 3: Tatiana Weston-Webb (HAW) 13.40 def. Carissa Moore (HAW) 12.83
Heat 4: Sally Fitzgibbons (AUS) 15.53 def. Nikki Van Dijk (AUS) 7.50
Outerknown Fiji Women's Pro Round 4 Results:
Heat 1: Courtney Conlogue (USA) 10.10 def. Lakey Peterson (USA) 8.90
Heat 2: Tyler Wright (AUS) 15.40 def. Bethany Hamilton (HAW) 10.67
Heat 3: Tatiana Weston-Webb (HAW) 15.60 def. Stephanie Gilmore (AUS) 8.87
Heat 4: Nikki Van Dijk (AUS) 14.80 def. Keely Andrew (AUS) 13.66