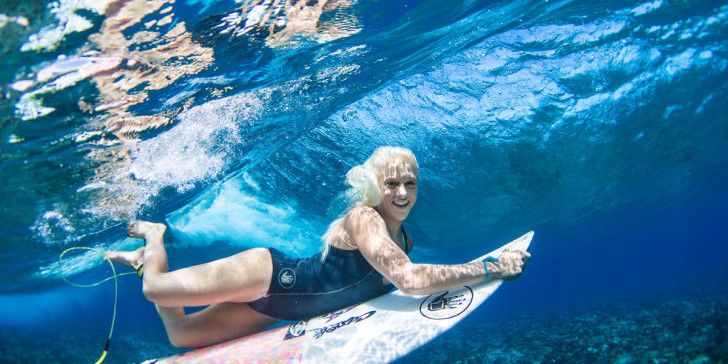 Tatiana Weston-Webb opens up about 'The Tour'…pic: Tatiana Weston-Webb © Body Glove/Bielmann
Surf News Network, 27 February, 2015.  Leading up to the opening event of the 2015 World Surf League (WSL), 18-year-old Tatiana Weston-Webb of Kauai shares her thoughts about the upcoming season.
"I am really excited to be competing on the CT," said Tatiana, who will participate in the first CT event of the season, the Roxy Pro Gold Coast, held from February 28 to March 11, 2015 at Snapper Rocks.
"This year my goal is to make a final, and if I get to a final, my goal will be to win a final. This is where it all starts for me. I don't know my future, I am just more excited to be living my dream and am looking forward to how it's all going to pan out. I feel like this is the beginning of my life," she added.
Earlier this year, Tatiana competed in two Qualifying Series (QS) events at the Samsung Hainan Pro in China this past January, and at the Hurley Australian Open two weeks ago in Manly Beach, Australia. At both events, Tatiana placed third earning her 7,100 points, (only 1,620 less than she earned in total in 2014). She currently leads the QS in first place.
On the CT, Tatiana will compete against the top 17 female surfers on the planet over a nine-event tour in the quest for the world surfing crown