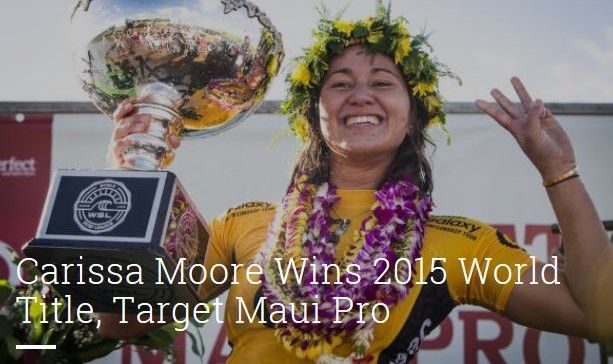 What some are claiming as the best heat of the year, maybe ever. For sure, the best barrel in a heat out there. The comp easily put the 'Dream' in Dream Tour. SNN. More coming.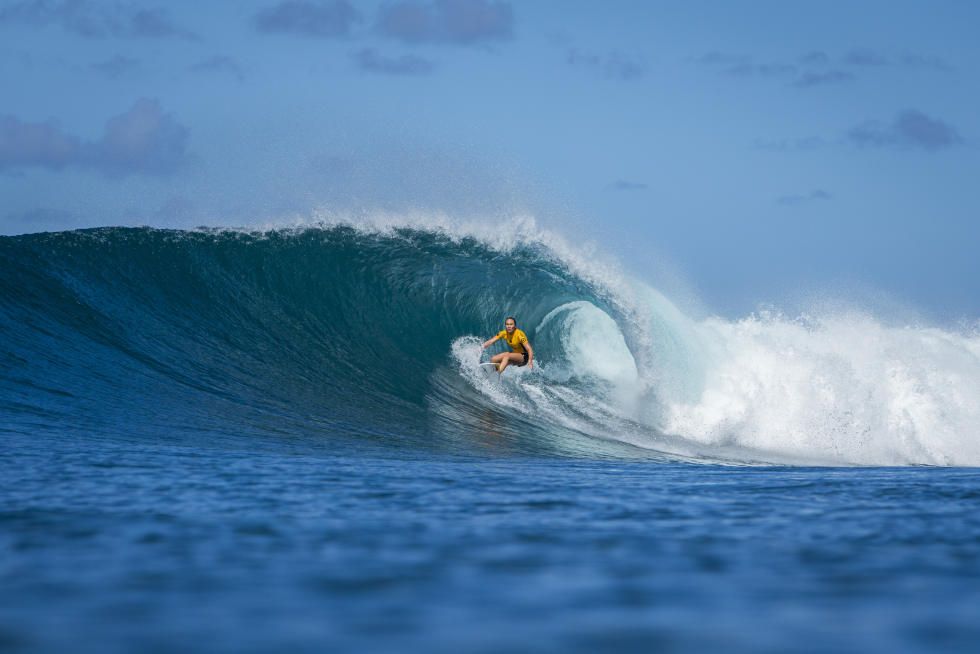 Carissa Moore (HAW) looks for a tube.
Dec 2nd 330pm HI time, Carissa Moore beats Sally Fitzgibbons in the final with a 9.3 and a 10! What a way to peak and finish the season! All-Time event.
10am.  Coco Ho beats Courtney Conlogue in round4 in perfect Honolua and helps her friend win her 3rd World Title!
"It's crazy for it to happen so early in the day," said Moore. "I'm so thankful."
"Courtney's been surfing so well. I haven't counted her out for a moment. It's crazy being in a title chase. There's so many ups and downs. It's really cool to see it pay-off."
Earlier news. The swell has arrived and the Target Maui Pro in ON! Six 3 Women heats kick things off.
Image: WSL / Poullenot
| | |
| --- | --- |
| Location:    | Honolua Bay, Maui/Hawaii  |
| Event window: | November 21 – December 4, 2015 |
| Today's call: | Women's Round 1 ON at 7am, Round 2 on standby |
| Conditions: | Three-to-Four foot (1- 1.5 metre) |
HONOLUA BAY, Maui/Hawaii (Sunday, November 29, 2015) – The final stop of the 2015 World Surf League (WSL) Samsung Galaxy Women's Championship Tour (CT), the Target Maui Pro, has been called on this morning in idyllic conditions at Honolua Bay.  The competition will commence in clean, three-to-four foot (1 – 1.5 metre) surf coming with the world's best to showcasing their talents as well as the battle for the WSL Title between World No.1 Carissa Moore (HAW) and No.2 Courtney Conlogue C (USA) begins.
"The swell we were waiting for is here and it's so exciting to say that it's on," WSL Women's Commissioner Jessi Miley-Dyer said. "The tides still a little high so it's a little slow but the waves will just continue to build throughout the day so we're going to get the Trials going and then go straight into the main event. The energy here is buzzing and the girls are ready – it should be an amazing day of surfing."
Tyler Wright (AUS), Tatiana Weston-Webb (HAW), and Dimity Stoyle (AUS) will be the first to compete in the opening heat of Round 1 once competition begins.
The Target Maui Pro will be webcast LIVE on WorldSurfLeague.com and on the WSL app.
The world's best surfing will also be broadcast LIVE on Fox Sports in Australia, MCS Extreme in France, EDGE Sports in China, South Korea, Malaysia and other territories and on Globo TV  in Brazil.
Target Maui Pro Round 1 Match-Ups:
Heat 1: Tyler Wright (AUS), Tatiana Weston-Webb (HAW), Dimity Stoyle (AUS)
Heat 2: Lakey Peterson (USA), Malia Manuel (HAW), Sage Erickson (USA)
Heat 3: Carissa Moore (HAW), Silvana Lima (BRA), TBD
Heat 4: Courtney Conlogue (USA), Coco Ho (HAW), Keely Andrew (AUS)
Heat 5: Sally Fitzgibbons (AUS), Nikki Van Dijk (AUS), Laura Enever (AUS)
Heat 6: Bianca Buitendag (ZAF), Joanne Defay (FRA), Alessa Quizon (HAW)