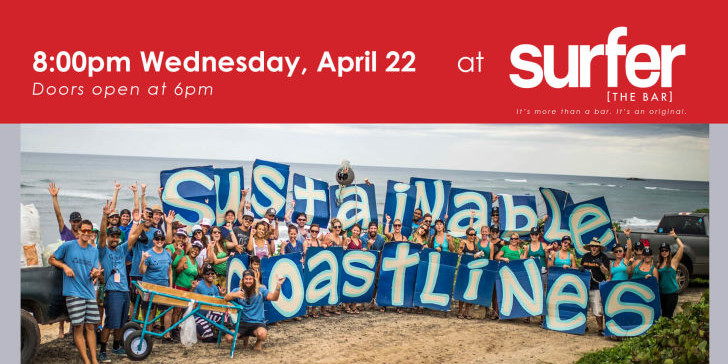 Earth Day Clean-up & Talk Story with Sustainable Coastlines
April 22, 2015
Surfer, The Bar
Doors open at 6p Talk at 8p Join us for a beach clean up that morning in Waialua! Details here:http://ow.ly/LIimW Sustainable Coastlines Hawaii is a grassroots, local nonprofi t organization run by a small team of dedicated staff and supported by passionate volunteers, just like you. They inspire local communities to care for their coastlines through fun, hands-on beach cleanups. Sustainable Coastlines also coordinate Turtle Bay will also be supporting their beach cleanup earlier that day in Mokule'ia, by providing a FREE shuttle from Turtle Bay down to Mokule'ia to help. Guests will get FREE entry into the talk story later that night. $5 suggested donation at the door educational programs, public awareness campaigns and help others run their own beach cleanups. They love Hawai'i's beaches and love to keep them clean. By educating people about reducing their waste, they help people foster a connection to their coastline and c o a s t l i n e s t h o u s a n d s o f m i l e s a w a y .
GO HERE for all events
Mahalo to Surfer, the Bar for hosting a special day and talk Story night  Wednesday 4/22…A do not miss!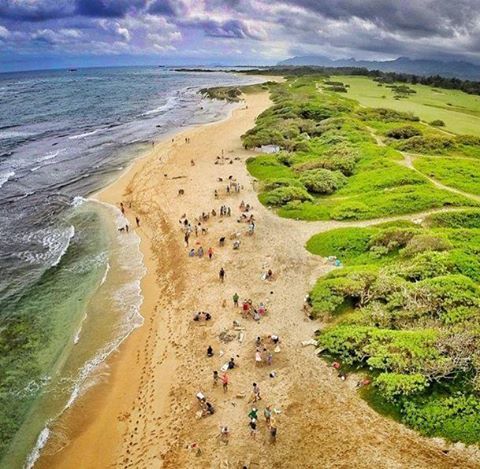 Make a difference April 22nd! To celebrate Earth Day we will take care of the aina with our friends Sustainable Coastlines Hawaii with a beach clean-up in the AM and special ‪#‎TalkStory‬ that evening at Surfer,
Events at Surfer the Bar on Oahu's Fabled North Shore Turtle Bay Resort