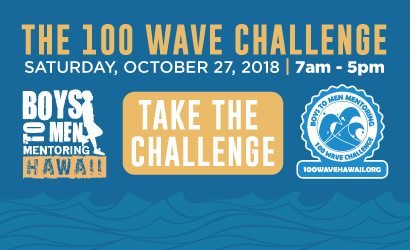 HOWZIT SURFERS! GQ, DROPPIN' IN 4 U & THE 100 WAVE CHALLENGE!
PLEASE SUPPORT ME, THE SURFERS & THIS AWESOME CAUSE…ANYTHING YOU CAN DO WOULD BE EPIC! HIT MY PERSONAL FUNDRAISING PAGE HERE
AND, A MILLION MAHALO WAVES FOR YOUR HELP! ALOHA! SEE YOU THERE!
IT WAS RECENTLY DISCOVERED THAT OUT OF THE 27 MASS SCHOOL SHOOTERS 26 WERE FATHERLESS AND THE 27TH HAD A TERRORIST FATHER.
HAWAII HAS THOUSANDS OF FATHERLESS AND AT-RISK BOYS WHO NEED OUR HELP!!!
INTRODUCING…THE 100 WAVE CHALLENGE!!!
Hawaii is having their first annual 100 Wave Challenge this Saturday, October 27th at Kuhio Beach on Waikiki.
ALL ARE WELCOME!
Every year, hundreds of surfers pledge to raise a minimum of $1,000 each and attempt to catch 100 waves in one day to help raise money and awareness for the organization. Last year 'Boys to Men San Diego' raised over $350,000 from this one event!
Starting at 7am and ending at 5pm, the beach will be set up with a large "surfer Lounge" with a registration and donation area, hospitality area, ding repair area, wellness and massage area and lounge area for surfers to take a break before they head out to complete the challenge.
Surfing boys, girls and adults will be able to interact and take photo's with their surf hero's. We are hoping to schedule a top surfer each hour to get out and surf with everyone taking The Challenge.
Boys to Men Mentoring will use this fundraiser to hire and train more professional mentors and expand into as many middle schools in Hawaii as possible.
We expect The Boys to Men Organization to become as successful here, as they are around the world. The ultimate goal is to help kids with little or no chance, to become successful adults and in doing so, increase the "Quality of Life" for everyone living here on Oahu.
CHANGING LIVES, ONE BOY AT A TIME
BRAND AMBASSADOR HANS HEDEMANN
A local boy, Hans has won many distinguished competitions. He placed first in Billabong Pro (Australia), Gunston 500 (South Africa) and was the first to win back-to-back ASP World Tour Events.
Hans, along with so many of his surf friends will reach out to the surf community to support Boys to Men Hawaii and TAKE THE CHALLENGE for the benefit of boys needing attention and especially mentoring.
With a superstar like Hans (and Jamie Sterling) on our team, the first Boys to Men Mentoring Hawaii 100 Wave Challenge will surely be a smashing success!
TAKE THE CHALLENGE!!!
Register today at: