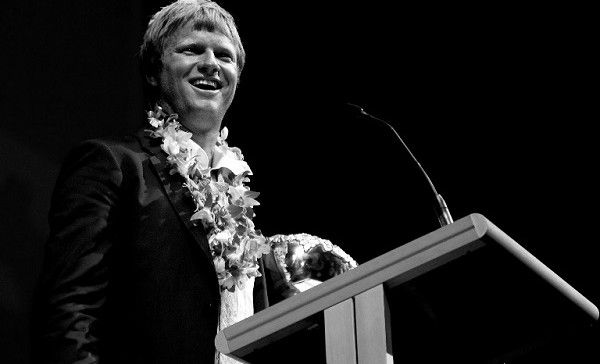 ICONIC WESTERN AUSTRALIAN TO STEP AWAY FROM ELITE COMPETITION AFTER 18 YEARS
CONFIRMS THAT 2016 WSL FIJI PRO WILL BE FINAL COMPETITIVE EVENT OF HIS CAREER
Iconic Western Australian Taj Burrow announced his transition away from competition on this morning's WSL Dawn Patrol Show, stating that the 2016 Fiji Pro will be the final event of his career. Burrow posted a Round 1 win yesterday and is into Round 3 of the Drug Aware Margaret River Pro.
Image: WSL / Kirstin
MARGARET RIVER, Western Australia/AUS (Saturday, April 9, 2016) – Taj Burrow (AUS), 37, perennial WSL Title contender, today announced that 2016 will be his final season as a full-time competitor on the elite Samsung Galaxy WSL Championship Tour, stating the June's Fiji Pro will be his last event.
"The sport has given me so much," Burrow said. "Years of incredible waves, experiences and friendships that I'll never forget. The WSL officials and competitors have not only pushed me to be a better surfer but have also become family to me."
A nationally-celebrated amateur career in the 1980s and 1990s laid the foundation for a preternatural rise to the international stage. At 17 years of age, Burrow successfully navigated the WSL Qualifying Series (QS) in 1996, but respectfully declined qualification to the elite level in favor of preparing another year. The postponement yielded significant dividends with the Western Australian going on to post one of the sport's longest and most celebrated careers.
Burrow has existed one of the most electrifying surfers of the past two decades.
Image: WSL / Kirstin
"Taj Burrow has made a huge contribution to the sport of surfing," Kieren Perrow, WSL Commissioner, said. "He is a surfer who inspired generations and sparked an approach that has raised the level of performance surfing in competition to unprecedented levels. The WSL is extremely fortunate to have had Taj on tour for nearly two decades and we wish him all the best in the next chapter of his life."
After 18 years amongst the world's elite, Burrow has been a Top 10 finisher 15 years, posting WSL Runner-Up positions in 1999 and 2007.
In addition to his competitive success, Burrow lead the evolution of high-performance surfboard design (working with world-renowned shapers like Maurice Cole, Greg Webber, Nev Hyman and Matt Biolos) as well as starred as one of the planet's preeminent free surfers in films such as Sabotaj, Montaj, Fair Bits, Hit and Run, Stranger Than Fiction, Trilogy, Still Filthy,Snapt I and II as well as a host of others.
A full interview with Burrow is available now at WorldSurfLeague.com
Burrow is currently competing at home in the Drug Aware Margaret River Pro, where he posted a Round 1 win yesterday and advanced directly into Round 3.