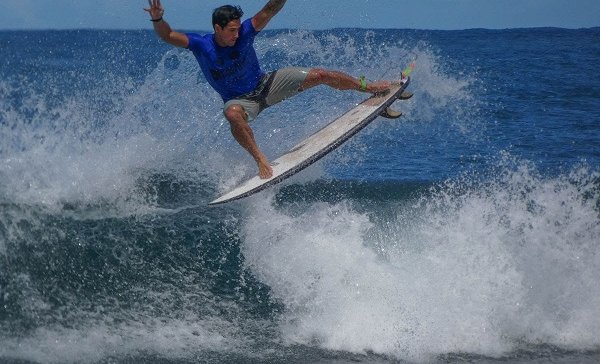 Hawaii Competitors Kainehe Hunt and Shayden Pacarro Find Near-Perfection

Defending Event Winner Tuamata Puhetini Returns To WSL Competition

Hira Teriinatoofa and Tereva David Charge Through Opening Rounds
Defending event winner Tuamata Puhetini returned to the WSL platform since the last time he wore the Papara Pro Open Tahiti jersey.
CREDIT: © WSL / Sarah
PAPARA, Tahiti/French Polynesia (Thursday, March 14, 2019) – The World Surf League (WSL) men's Qualifying Series (QS) Papara Pro Open Tahiti QS 1,000 is all the remains in a massive week of competition on the black sands of Papara. After crowning the women's QS winner and both Pro Junior victors, today began the men's affairs and competitors did not disappoint in their debut heats with three-to-four foot (1 – 1.2 meter) conditions. Action raced through Rounds 1 and Round 2 Heats 1 -4 in their entirety.

One of Tahiti's most accredited competitors, 2x ISA World Champion, Hira Teriinatoofa traded in the coach's role for a chance to find glory of his own. The 39-year-old is known for his fearlessness at arguably the island's most treacherous of Teahupo'o, but showcased his ability to take on the smaller beachbreak of Papara in great fashion — earning a Round 1 and Round 2 heat win while posting an 8.17 (out of a possible 10) in Round 2.

"When I saw young surfers those last few days ripping the spot, I was thinking wow, it's a different level," Teriinatoofa said. "But then again, a heat is 25 minutes. It's not all about your level of surfing, game plan matters a lot. Mine was to stay on rights and get waves quickly because there was not a lot. I did what I wanted to and it worked."

A big upset in Rangiroa only has Tereva David (PYF) wanting a win that much more as he also notched two important heat wins to start his Papara campaign. For the surf coach, the opportunity to compete is something David thrives on and prepares himself weeks in advance to be at his best — which showed today. The 30-year-old showcased his powerful style in the punchy shorebreak and now looks to continue that momentum.

"It's so good to win this heat especially since the waves were not really big, you have to adapt," David said. "There is a lot of great surfers and most of them are lighter than me (laughs). I chose the right board 6,2, large and heavy, and it works really well in these conditions."

But, defending event winner Tuamata Puhetini returned to Papara in amazing form, posting an excellent 8.00 and 15.27 (out of a possible 20) heat total in his first heat and backed it up in Round 2 with a 15.07 total in Round 2. Puhetini showcased his innovative style last year to take the win and displayed that same brilliance on opening day this year. It's been a recovery road for Puhetini, but his patience to return at his best seems to be paying off.

"It's good to get first in the heat because it was a tough year last year," Puhetini said. "I got a knee surgery and I did local competitions since but haven't surf any QS since Papara last year — so it feels really good. I am clearly here to defend my title. I will keep on choosing best waves because that's what makes the difference."

But, the Tahitians will have plenty of talented Hawaii competitors to keep an eye on such as Kauai's 17-year-old Kainehe Hunt — who posted the day's highest heat total of a 15.73.  Shayden Paccarro also represents the Hawaii islands and earned runner-up in his Round 2 heat to Puhetini, but dropped a near-perfect 9.00 in the process. Now, the nerves are out and Pacarro is hunting for more.

"That was a tough heat, I knew that going into it," Pacarro said. "I was looking at the draws and getting kind of nervous, There was the defending champ, Enrique rips and Eimeo rips. I look up to them and I knew I would have to be patient. I told myself I need a big score, at least just one and I am glad it worked out. I stayed patient and just hoped I was getting an option and I am happy that it came through for me."

Finals day will begin at 8:00 a.m. TAHT to determine the 2019 Papara Pro Open Tahiti QS 1,000 winner.

The Papara Pro Open Tahiti runs March 10  – 15 and includes a men's QS 1,000, women's QS 1,000, men's Pro Junior, and women's Pro Junior.

For press accreditation to the Papara Pro Open Tahiti, please email anichols@worldsurfleague.com.