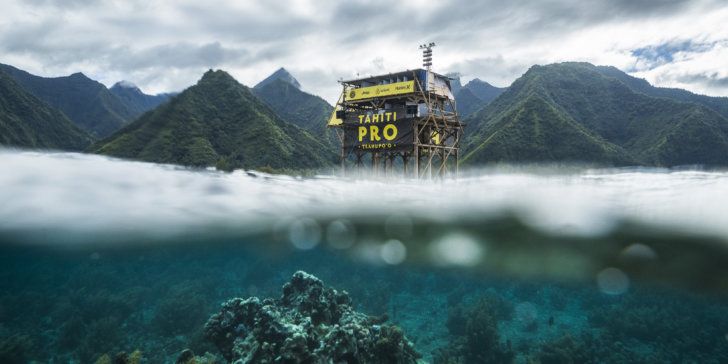 -WENT LIVE AT 

8:35 AM

 TAHITI
– WORLD-FAMOUS TEAHUPO'O REEF AWAKENS FOR WORLD'S BEST SURFERS
 Round 1 of the Tahiti Pro Teahupo'o will start at 

8:35 a.m.

 local time.
Credit: © WSL / Poullenot
Location:   
   Teahupo'o, Tahiti 
Event window:
   August 10 – 

21, 2018

Today's call:
   Round 1 called ON, Round 2 on standby
Conditions:
   Building four-to-six feet 
TEAHUPO'O, Tahiti (Sunday, August 12, 2018) – The Tahiti Pro has been called on this morning with building four-to-six foot waves at the world-famous Tahitian reef pass of Teahupo'o.
"Swell is filling in this morning and we're starting competition at 8:35 a.m. TAHT," said Kieren Perrow, WSL Commissioner. "We're faced with a challenging forecast this year, but we're monitoring closely and taking advantage of the best conditions on offer. Looking forward to seeing the world's best battle out there on the reef this morning."
Event No. 7 on the 2018 WSL Championship Tour, the Tahiti Pro holds a critical position in the season for both the WSL Title Race as well as the requalification battle for 2019. The competition will commence at 8:35 a.m. this morning.
Up first this morning is rookie sensation Wade Carmichael (AUS), former Tahiti Pro winner Jeremy Flores (FRA) and tour sophomore Joan Duru (FRA) in Heat 1 of Round 1.
A decent size pulse of shorter period SSW-South swell moves in for Sun/Mon with overhead sets, favorable wind conditions prevail. That swell fades into mid-week with nothing solid on the radar at this point, possibly through the rest of the event window. However, we are watching for a couple modest to potentially fun size SW swells over the 16th-20th, with moderate+ SE-ESE trade winds. Surfline.
The Tahiti Pro Teahupo'o action will be broadcast LIVE on WorldSurfLeague.com and the WSL's Facebook page. Also, check local listings for coverage from the WSL's broadcast partners.
For more information, check out WorldSurfLeague.com
Tahiti Pro Round 1 Matchups:
Heat 1: Wade Carmichael (AUS), Jeremy Flores (FRA), Joan Duru (FRA)
Heat 2: Jordy Smith (ZAF), Ezekiel Lau (HAW), Ian Gouveia (BRA)
Heat 3: Italo Ferreira (BRA), Sebastian Zietz (HAW), Miguel Pupo (BRA)
Heat 4: Gabriel Medina (BRA), Tomas Hermes (BRA), Wiggolly Dantas (BRA)
Heat 5: Julian Wilson (AUS), Joel Parkinson (AUS), Mateia Hiquily (PYF)
Heat 6: Filipe Toledo (BRA), Tago Dora (BRA), Tikanui Smith (PYF)
Heat 7: Willian Cardoso (BRA), Frederico Morais (PRT), Michael February (ZAF)
Heat 8: Michel Bourez (PYF), Kanoa Igarashi (JPN), Keanu Asing (HAW)
Heat 9: Mikey Wright (AUS), Adriano de Souza (BRA), Matt Wilkinson (AUS)
Heat 10: Griffin Colapinto (USA), Kolohe Andino (USA), Patrick Gudauskas (USA)
Heat 11: Owen Wright (AUS), Adrian Buchan (AUS), Jesse Mendes (BRA)
Heat 12: Conner Coffin (USA), Michael Rodrigues (BRA), Connor O'Leary (AUS)