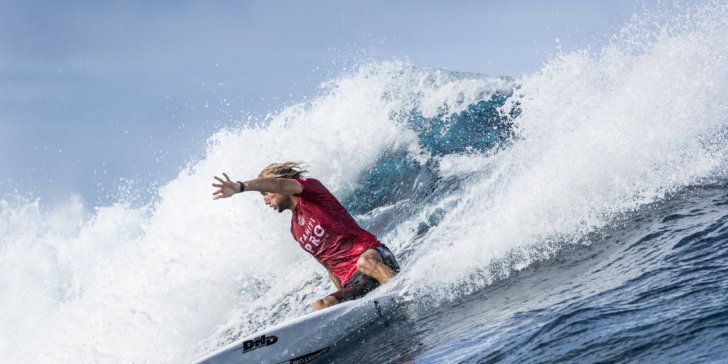 –  WRIGHT BROTHERS ADVANCE TO ROUND 3 IN THE SOUTH PACIFIC
Front Page Image: Owen Wright (AUS) eliminated Joan Duru (FRA) in Round 2 Heat 6 of the Tahiti Pro today. Wright will be up against 2012 WSL Champion Joel Parkinson (AUS) in Round 3 when competition resumes. Credit: © WSL / Poullenot
Location:   
   Teahupo'o, Tahiti 
Event window:
   August 10 – 

21, 2018

Today's call:
   Round 2 complete; Next Call 

Tomorrow

 at 

7:00 a.m.

 TAHT
Conditions:
   Four-to-six feet (1.5 – 2 metre)
TEAHUPO'O, Tahiti (Monday, August 13, 2018) – The remaining nine heats of the Tahiti Pro Teahupo'o elimination Round 2 were completed this morning in shifty three-to-five foot (1 – 1.5 metre) waves.
The seventh stop on the 2018 World Surf League (WSL) Championship Tour (CT), the Tahiti Pro Teahupo'o, plays a major part in the trajectories of challengers for the 2018 WSL Title as well as those looking to requalify for the 2019 season.
Owen Wright (AUS), perennial threat in lefthand reef passes and current WSL No. 11, was commanding in his performance this morning at Teahupo'o, posting a 14.27 out of a possible 20 in his Round 2 win over Joan Duru (FRA).
"It's a shame the forecast isn't really delivering for this year's event but we all have to deal with the same conditions," Wright said. "Even at this size, you can still find fun ones out at Teahupo'o. It's great being here with my family and having my brother Mikey stay with us for the event. He's been on a tear this season."
Mikey Wright (AUS), brother of Owen and reigning two-time WSL Champion Tyler Wright (AUS), has had a blockbuster season in 2018. Earning a berth into the season-opening Quiksilver Pro Gold Coast, Wright mowed through the top seeds to finish 9th before collecting a 13th in Rio, back-to-back thirds at Keramas and Uluwatu and another 13th in Jeffreys Bay all via wildcards and replacement spots. For a surfer who didn't start the season as a full-fledged CT competitor, the younger Wright finds himself in 9th overall on the WSL Jeep Leaderboard standings and wholly comfortable in mixing it up with the world's best surfers. Today, Wright eliminated replacement surfer Miguel Pupo (BRA) in Round 2 Heat 4 to continue his run on the elite tour.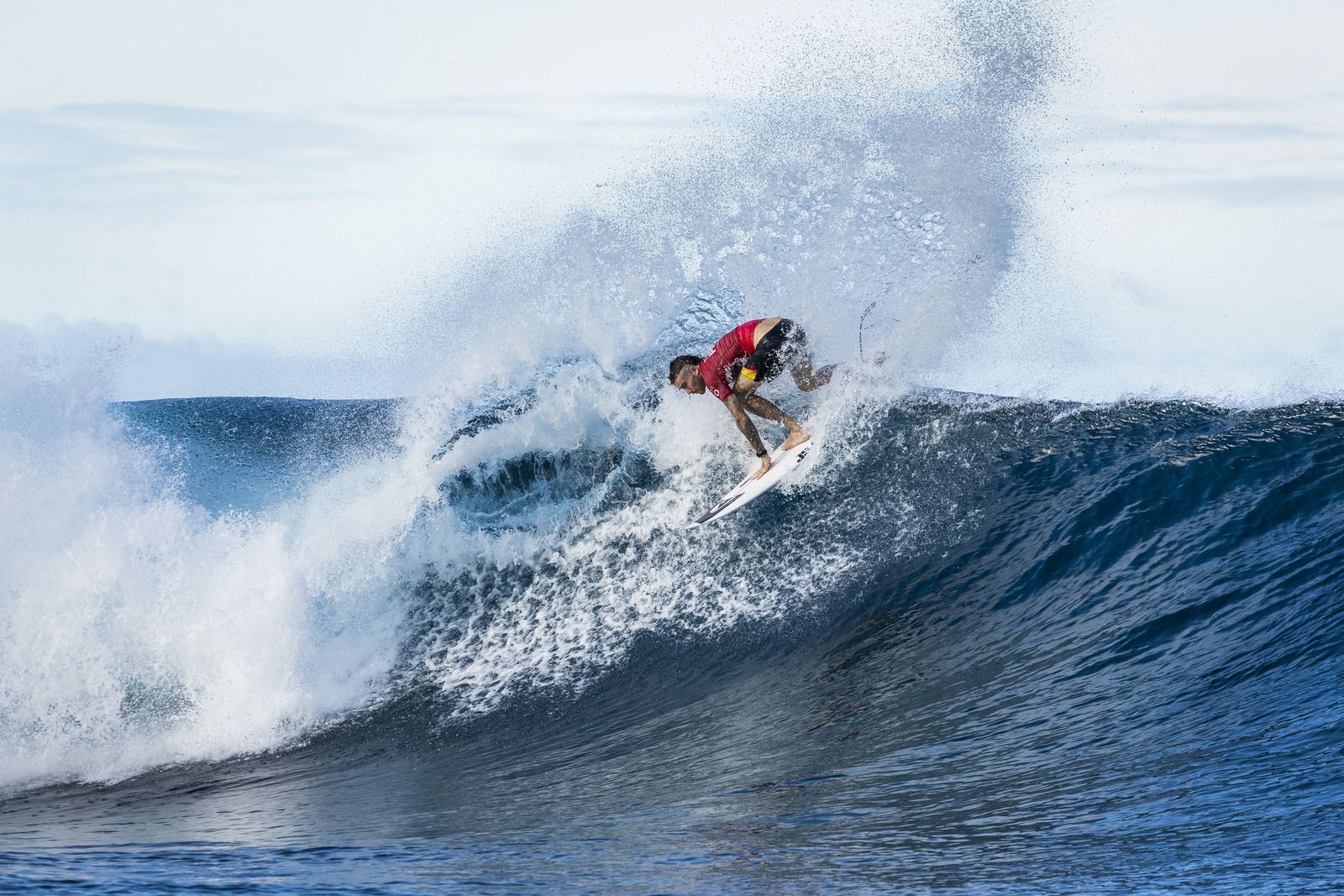 Wright Family legacy is now. PHOTO: © WSL / Poullenot
"It was a bit of a scrappy start this morning, but I ended up turning it around," Wright said. " I just sat and waited for one, and the one that I got gave me a few turns. It 's like running on thin ice on the inside – I was dry docking pretty much. It's fun out there. I got a couple scratches from the inside on that one but nothing much. Happy to get another crack at it in Round 3."
Michael February (ZAF), 2018 WSL CT rookie and current World No. 31, has struggled to find his form throughout the season, but his persistence paid off this morning in earning a Round 2 win in the dying moments over California's Conner Coffin (USA).
"It's the worst thing needing a 2.40 when there are only three minutes left," February said. "It's the last thing you want is to need a score like that. I had a heat with Julian (Wilson) in the beginning of the year when I needed a 3.20 and got a 3 so that was in the back in of my mind. I'm just happy to make it. It's been a tricky year so I'll take the Round 3 berth for sure."
February will face countryman Jordy Smith (ZAF) in the opening heat of Round 3 when competition resumes.
Kanoa Igarashi (JPN), fresh off his recent win at the WSL QS 10,000 Vans US Open of Surfing, kept the momentum going this morning at Teahupo'o, besting dangerous goofy-footer Matt Wilkinson (AUS) in Round 2 of competition.
"I walked up to that heat 10 – 15 mins before it started," Igarashi said. "I didn't want to be here too early and see too many waves. When I got here the wind was onshore and guys were doing turns so I just told myself I'd be doing turns and took out a different board. I didn't even think about getting barreled. It's a lot different than what we normally surf out here but either way, it's better than a lot of waves we've been surfing."
Igarashi will battle 2015 WSL Champion Adriano de Souza (BRA) in Round 3 when competition recommences.
Yago Dora (BRA), 2018 WSL CT rookie, capped the round off with the high score of the day, a 14.57 (out of a possible 20 points) with an impressive forehand display of aerial mastery and performance surfing.
"You have to be prepared to adjust to the conditions out there," Dora said. "We all want to be pulling into big barrels, but it's still a high-performance wave if you can't get barreled. It's been a hard year for me and stoked to get through to Round 3."
For more information, check out WorldSurfLeague.com.
Tahiti Pro Remaining Round 2 Results:
Heat 4: Mikey Wright (AUS) 10.83 def. Miguel Pupo (BRA) 8.33
Heat 5: Ian Gouveia (BRA) 12.27 def. Griffin Colapinto (USA) 11.06
Heat 6: Owen Wright (AUS) 14.27 def. Joan Duru (FRA) 6.00
Heat 7: Michael February (ZAF) 7.67 def. Conner Coffin (USA) 7.60
Heat 8: Michael Rodrigues (BRA) 12.90 def. Keanu Asing (HAW) 11.37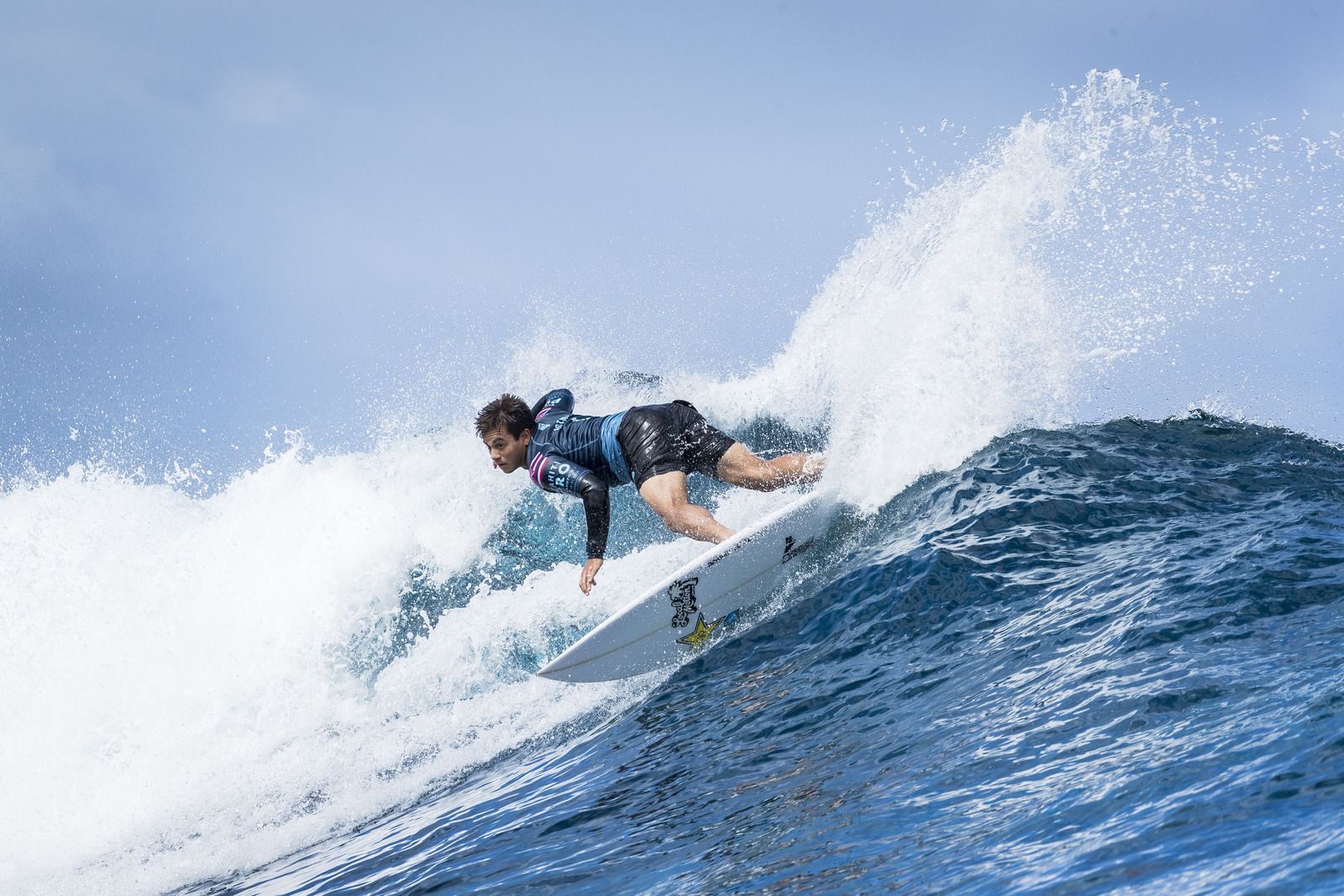 Keanu Asing couldn't hang on in rnd2. TahitiPro18 Poullenot
Heat 9: Kanoa Igarashi (JPN) 12.17 def. Matt Wilkinson (AUS) 10.37
Heat 10: Jeremy Flores (FRA) 9.90 def. Patrick Gudauskas (USA) 9.70
Heat 11: Jesse Mendes (BRA) 10.03 def. Sebastian Zietz (HAW) 9.70 
Hawaii losing it's next Pro in early round2. Zeke Lau is the last one standing for rnd 3. PHOTO: © WSL / Cestari 
Heat 12: Yago Dora (BRA) 14.57 def. Tomas Hermes (BRA) 7.83
Tahiti Pro Round 3 Matchups:
Heat 1: Jordy Smith (ZAF) vs. Michael February (ZAF)
Heat 2: Michael Rodrigues (BRA) vs. Ezekiel Lau (HAW)
Heat 3: Wade Carmichael (AUS) vs. Jesse Mendes (BRA)
Heat 4: Owen Wright (AUS) vs. Joel Parkinson (AUS)
Heat 5: Adriano De Souza (BRA) vs. Kanoa Igarashi (JPN)
Heat 6: Filipe Toledo (BRA) vs. Tikanui Smith (PYF)
Heat 7: Gabriel Medina (BRA) vs. Wiggolly Dantas (BRA)
Heat 8: Kolohe Andino (USA) vs. Frederico Morais (PRT)
Heat 9: Mikey Wright (AUS) vs. Yago Dora (BRA)
Heat 10: Michel Bourez (PYF) vs. Connor O'Leary (AUS)
Heat 11: Adrian Buchan (AUS) vs. Jeremy Flores (FRA)
Heat 12: Italo Ferreira (BRA) vs. Ian Gouveia (BRA)