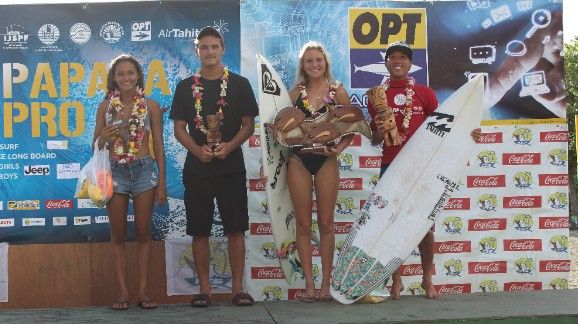 – MAIDEN WINS FOR TEFAAFANA, STONE AND FIERRO
– MAMIYA SYNCS UP SECOND PRO JUNIOR WIN
Papara winners, L to R: Vahine Fierro (PYF), Barron Mamiya (HAW), Savanna Stone (HAW), Ariihoe Tefaafana (PYF)
Credit: © WSL / Rolland
Taharu'u Beach, Papara, Tahiti, FRENCH POLYNESIA – (Friday, March 17, 2017) — Four surfers claimed victory today at the Papara Pro Open Men and Women's events, a World Surf League (WSL) sanctioned series within the Hawaii/Tahiti Nui region. Two Tahitians, Ariihoe Tefaafana and Vahine Fierro and two Hawaii surfers, Savanna Stone and Barron Mamiya, were chaired up the beach and stood triumphant atop the podium to represent their island nations.
Surfers received top honors in the WSL Men's Qualifying Series (QS) 1,00 division, Women's QS1,000, Men's Pro Junior and Women's Pro Junior divisions, and collected 1,000 points each toward their regional ratings. This is Tefaafana's first professional win, and so happened to be on his birthday, along with Stone and Fierro's maiden WSL successes. Mamiya is on a winning streak after completing back to back wins at the first two regional Pro Junior events of the year, the Sunset Pro Junior on Oahu and today's Papara Pro Junior in Tahiti.
Ariihoe Tefaafana makes a move on an inside right. 
Credit:
© WSL / RollandThe two Papara locals Tefaafana and
Hira Teriinatoofa (PYF)
competed together in the last heat of the day and pushed each other in the small surf with back and forth battles for set waves. Tefaafana swiped the highest score of the 35-minute Final, an 8.17, but Teriinatoofa still held the lead with a 6.50 and 7.50. In the last minute, the surfers had an exciting exchange with Tefaafana taking the first wave of the set and Teriinatoofa on the second. A 6.33 and 6.83 dropped in from the judges, respectively, and the mid-range 6.33 was enough to turn the heat and bump Tefaafana to first, with Teriinatoofa missing out by only a fraction of a point.
"First time I win a QS and I don't know, I can't explain, it's a dream come true," said Tefaafana. "Even if it's a 1,000, it's at home and I've got all my friends and all my family here, so stoked." The Tahitian looked calm under pressure and showcased technical surfing against Teriinatoofa, who helps coach the 22-year-old.
"I'm training with him (Hira) for the ISA in May and I'm close friends with him from the beginning," continued Teriinatoofa. "He teach me how to surf. Friend on land and competitive friend in the water."
The Junior Men's Final was quiet yet anticipation-filled, as all eyes were on North Shore notables Barron Mamiya (HAW) and Finn McGIll (HAW) who met each other in the Sunset Pro Junior Final just two months ago on Oahu. The two compete regularly against one another in Hawaii so today's Final was familiar, however with only small, inconsistent surf on offer, technicality and wave selection was critical.

Barron Mamiya took to the air for impressive scores during the Men's Junior Final. Credit: © WSL / Rolland
While McGill waited for sets to appear, Mamiya picked out small insiders and ripped them apart with big turns and stock frontside air reverses. He also had the highest single wave score of the day, an 8.50, and two-wave total, 15.83, to help propel him to the win.
"I knew Finn was waiting, he had priority and I know he can get a 9 easily so I just tried to keep building on the inside and luckily it worked out," said Mamiya. "My board's really good and I felt like my performance was pretty good throughout the comp, so I'm stoked to take the win home."
The Women's QS1,000 saw Savanna Stone (HAW) take her very first professional win by ousting local favorite Vahine Fierro from the Final. The girls traded 6-point rides halfway through the heat with Stone finding the best backup score for the win after landing multiple frontside snaps. Her combined heat total was 12.20 to Fierro's 11.70, an impressive feat for the 13-year-old.

Savanna Stone hits the lips and sticks the landing. Credit: © WSL / Rolland
"This is my second year here at Papara and the wave is super fun," said Stone. "I feel really good about the win. I was competing against my friend and it was of course, it's always hard to compete against your friend, but it's super fun and I'm super stoked."
In the Junior Women's Final, Fierro went against Leila Riccobuano (HAW) in a well-suited matchup of goofyfooters. Riccobuano opened with a strong 7.50 on her backhand and took the lead, but Fierro caught up after scoring a 7.93, the best wave of the heat, for solid technical turns. Fierro then backed it up with another 7.67 on her final ride for the win; the two girls were all smiles while paddling back to the beach.
"I'm super happy to have won this contest because last year I got second so my goal this year was to get first and I did," said Fierro. "I'm super happy to have won, and at my homebreak." Fierro hails from the island of Huahine and is on track to becoming one of Tahiti's best junior athletes.

Vahine Fierro, crowd favorite and new Papara Pro Vahine Junior champ. Credit: © WSL / Rolland
The next event of the WSL Hawaii/Tahiti Nui region is the Women's Pipe Pro QS1,000 and Men's Pipe Pro Junior at the infamous venue on Oahu's North Shore. Competitors will shift from the punchy beach break of Papara to the shallow reef of Pipe with Mamiya leading the regional charge for the juniors.
PAPARA PRO OPEN TAHITI MEN'S RESULTS
Surfers shown in order of 1st through 4th, all surfers from Hawaii unless otherwise noted.
Final
1st – Ariihoe Tefaafana (PYF), 14.50
2nd – Hira Teriinatoofa (PYF), 14.33
Semifinal – 1st advances, 2nd = 3rd place
SF1: Ariihoe Tefaafana (PYF), Keoni Yan
SF2: Hira Teriinatoofa (PYF), Jocelyn Poulou (PYF)
PAPARA PRO VAHINE OPEN WOMEN'S RESULTS
1st – Savanna Stone, 12.20
2nd – Vahine Fierro (PYF), 11.70
Semifinal – 1st advances, 2nd = 3rd place
SF1: Vahine Fierro (PYF), Tessa Thyssen (BLM)
SF2: Savanna Stone, Kelta O'Rourke
PAPARA PRO JUNIOR OPEN MEN'S RESULTS
1st – Barron Mamiya, 15.83
2nd – Finn McGill, 4.66
Semifinal – 1st advances, 2nd = 3rd place
SF1: Finn McGill, Wyatt McHale
SF2: Barron Mamiya, Ryder Guest
PAPARA PRO VAHINE JUNIOR WOMEN'S RESULTS
1st – Vahine Fierro (PYF), 15.60
2nd – Leila Riccobuano, 11.83
Semifinal – 1st advances, 2nd = 3rd place
SF1: Leila Riccobuano, Zoe McDougall
SF2: Vahine Fierro (PYF), Summer Macedo