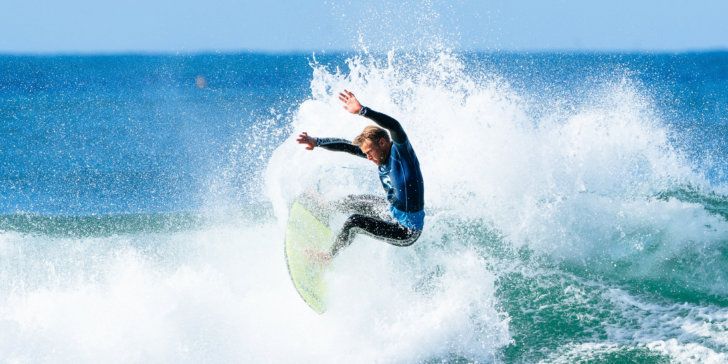 DEFENDING EVENT WINNER SMITH OUSTED BY ROOKIE CARMICHAEL
CALIFORNIAN GUDAUSKAS DISPATCHES JEEP FRONTRUNNER WILSON
FANNING CONTINUES HUNT FOR BELLS TITLE AT LAST EVENT
MEN HAVE 6 MORE HEATS TO COMPLETE ROUND 3
GIRLS JUST HAVE QUARTER FINALS
 Cover shot: California's Patrick Gudauskas (USA) eliminated current World No. 1 Julian Wilson (AUS) today in Round 3 Heat 6 of the Rip Curl Pro Bells Beach.
Caption: © WSL /  Sloane
Location:   
  Bells Beach, Victoria, Australia
Event window:
  March 28 – 

April 8, 2018

Today's call:
  Men's Round 3 (H1 – 6) complete
Conditions:
  4 – 6 foot 
BELLS BEACH, Victoria/AUS (Monday, April 2, 2018) – Even though the Rip Curl Pro Bells Beach only ran the first six heats of men's Round 3 today, the second stop on the World Surf League (WSL) Championship Tour (CT) saw rattling upsets. Big names were dispatched from the draw today in four-to-six foot (1.2 – 2 metre) conditions at Bells Beach. Event organizers halted the Round 3 matchups after conditions deteriorated due to an incoming tide and strengthening onshore winds.
Huge crowds continue to fill into Bells Beach as surf fans hoped to get one more glimpse of their hero Mick Fanning (AUS) as he surfs in his last event as a fulltime CT competitor. The three-time WSL Champion and four-time Rip Curl Pro Bells Beach event winner did not disappoint, taking down Hawaii's Sebastian Zietz in a blow-for-blow battle. Fanning's trademark arcs in the Bells Bowl saw him win and advance at his swansong event.
"Sebastian (Zietz) is such a fun guy to surf with and just be around, so I was really stoked to surf another heat with him before it is all said and done," Fanning said. "It was a pretty tough heat today. The waves were slow, but when they came they were long and your legs would be burning by the end, then a lot of paddling. I guess I'm getting a bit old and am not as fit as I used to be. I'm glad I get to continue on and hope to put on a good show, but if I got taken down by Seabass (Sebastian Zietz) I would have been happy as he's such a great guy."
2018 CT Rookie Wade Carmichael (AUS) eliminated the defending Rip Curl Pro Bells Beach event winner, Jordy Smith (ZAF), in the opening heat of Round 3. Carmichael looked unfazed to be up against a World Title contender, posting his heat total of 13.30 (out of a possible 20) on his first two rides. Smith worked hard to come back but was unable to find the score he needed.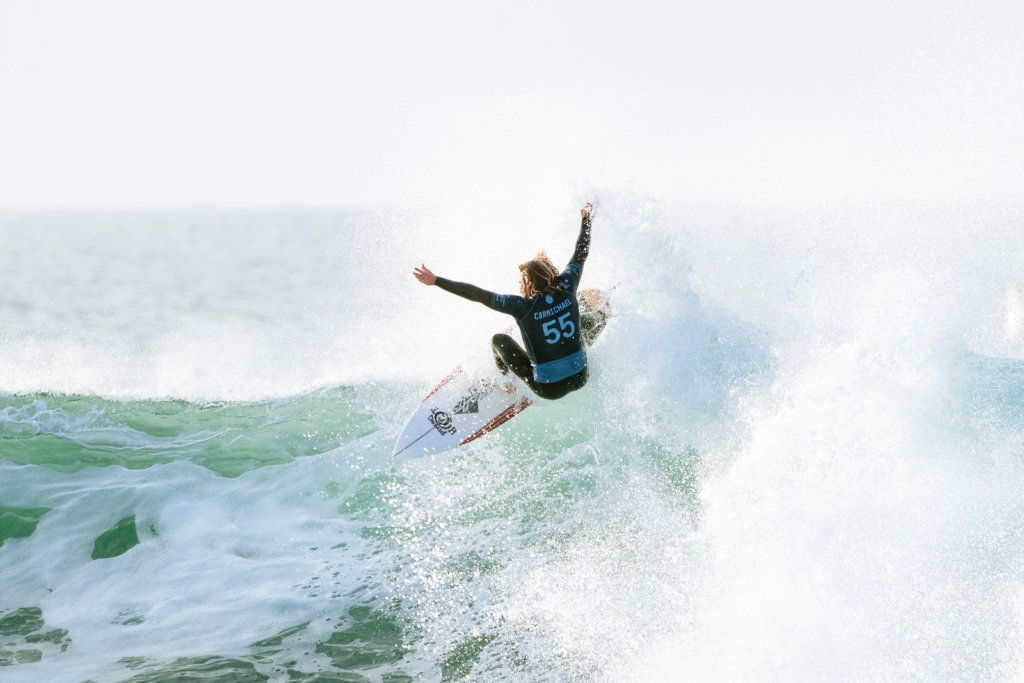 Carmichael flies past Jordy's defense of event Title. PHOTO: © WSL / Sloane
"That first exchange gave me a lot of confidence, putting up that 7.00 ride," Carmichael said. "I just wanted to build off that first wave and I started to feel really comfortable out there. It was a slow heat for waves, but it happened to go really quick, so you really needed to make the best of your opportunities. I'm happy to get through and ready to rock and roll."
"That was a hard loss to take," Smith said. "You try and shape your surfing to fit inside a criteria and it seems like sometimes my surfing doesn't fit that criteria. I guess I'll now go away and re-analyze certain things and adapt heading into Margaret River. It's not like the judges will change for me, so I guess I'll have to do the changing and work hard at it."
Carmichael moves into Round 4 where he will meet Michel Bourez (PYF) and Owen Wright (AUS), who won their Round 3 matchups today against Kolohe Andino (USA) and rookie Jesse Mendes (BRA), respectively.
California's Patrick Gudauskas (USA) continued the upsets with his win over current World No. 1 Julian Wilson (AUS) in Round 3 Heat 6, the final heat of the day. As the tide filled in, the slower conditions forced the surfers to capitalize on the limited opportunities on offer. Both competitors found mid-range scores early, but it was Gudauskas that had the last say, locking in a 6.23 with two minutes left to progress into Round 4. Wilson's run at Bells ends in Equal 13th.
"There was a lot of waiting going on in that heat," Gudauskas said. "It was hard to pick what waves to take, so I definitely lucked into that good one at the end. This morning it was really pumping and I was trying to stay calm and prepare for my heat. I just stayed to my strategy and, thankfully, took the win. Although I've been on the CT before, I'm just going into this year with a full beginner's mentality."
"That was a really slow heat without many opportunities," Wilson said. "When I got waves, I felt like I was surfing them well, so I'm not too disappointed. This is still a really great start to the year for me, so I'm staying focused and will now look towards Margaret River and getting back a solid result."
Griffin Colapinto (USA) was unable to match his earlier success on the Gold Coast with his loss to 2016 Bells winner Matt Wilkinson (AUS) in Heat 4 of Round 3. The young Californian will ready for Margaret River, where he could have a breakthrough event at the raw, powerful waves offered by Main Break, The Box, and North Point.
Event organizers will reconvene tomorrow morning at 6:30 a.m. AEDT to make the next call.
Rip Curl Pro Bells Beach Round 3 Results:
Heat 1: Wade Carmichael (AUS) 13.30 def. Jordy Smith (ZAF) 12.17
Heat 2: Michel Bourez (PYF) 12.84  def. Kolohe Andino (USA) 9.66
Heat 3: Owen Wright (AUS) 15.14 def.  Jesse Mendes (BRA) 10.33
Heat 4: Matt Wilkinson (AUS) 13.77 def. Griffin Colapinto (USA) 12.33
Heat 5: Mick Fanning (AUS) 13.56  def. Sebastian Zietz (HAW) 9.10
Heat 6: Patrick Gudauskas (USA) 10.73 def. Julian Wilson (AUS) 9.37
Rip Curl Pro Bells Beach Remaining Round 3 Matchups: 
Heat 7: John John Florence (HAW) vs. Ezekiel Lau (HAW)
Heat 8: Joel Parkinson (AUS) vs. Frederico Morais (PRT)
Heat 9: Adriano de Souza (BRA) vs. Conner Coffin (USA)
Heat 10: Filipe Toledo (BRA) vs. Italo Ferreira (BRA)
Heat 11: Adrian Buchan (AUS) vs. Jeremy Flores (FRA)
Heat 12: Gabriel Medina (BRA) vs. Willian Cardoso (BRA)
Rip Curl Women's Pro Bells Beach Quarterfinal Matchups:
QF 1: Carissa Moore (HAW) vs. Silvana Lima (BRA)
QF 2: Tatiana Weston-Webb (HAW) vs. Nikki Van Dijk (AUS)
QF 3: Caroline Marks (USA) vs. Johanne Defay (FRA)
QF 4: Stephanie Gilmore (AUS) vs. Sage Erickson (USA)