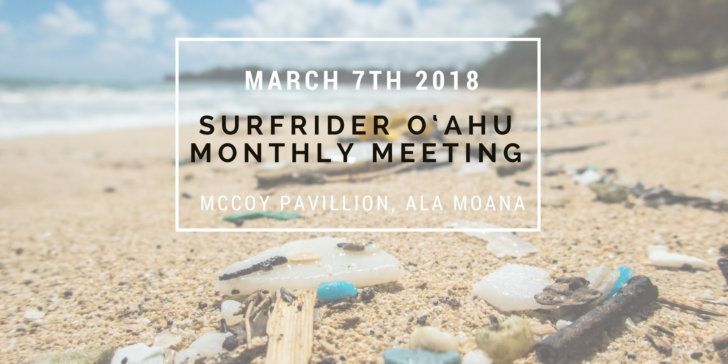 Aloha Surfriders. We are so excited to be returning to our monthly meetings in March. Unfortunately, please note that we are again at a new location – the McCoy Pavilion in Ala Moana Park (1201 Ala Moana Blvd, Honolulu, HI 96814). Our location in the Nā Kūpuna Center was short lived due to scheduling complications, so please bear with us as we find our more permanent home. The McCoy Pavillion is an awesome spot for now, centrally located and perfect for a pre-meeting surf. We will be there early at 4 for a surf and to have a celebratory BBQ at 

5PM

 in honor of the State foam bill making it through the Senate and moving to the House. Our meetings are always a potluck, so bring something to share – however, we'll need you to come early between 

5-6:15

 for this portion as we can't have food inside the venue.
We invite our whole community to join us the first Wednesday of every month to talk story about the issues and campaigns that Surfrider O'ahu works on. With a mission to protect and enjoy the island's (world's) ocean, beaches, and waves through a powerful activist network, our work is extensive and only works when we have all of you engaged and contributing.
Bring your ideas, interests, skillsets, and energy to share as well. We always ask that if you are a Surfrider veteran, try to bring one new person who has never been to a Surfrider meeting so that we can engage a larger portion of the island community in protecting the foundation of life here in Hawai'i – the ocean.
This month, we'll be covering legislative updates, Ocean Friendly Restaurant Reports, and the Blue Water Task Force upcoming sampling schedules.
See you all on Wednesday.
Upcoming OFR Pau Hana @
Brick Fire Tavern: 

March 14th, 5:30-7:30PM.


16 N Hotel St, Honolulu, HI 96817
PIIZZZAAA! Come out to the March Ocean Friendly Restaurant Pau Hana at Brick Fire Tavern. Lots of news to share with delicious eats and delicious treats. Bring your friends because this evening is one not to be missed. See you there!
The Ocean Friendly Restaurant Program continues to grow and inspire our community in more responsible and sustainable consumer choices – come talk story, learn more, get involved, and enjoy some great deals from one of our local OFRs!