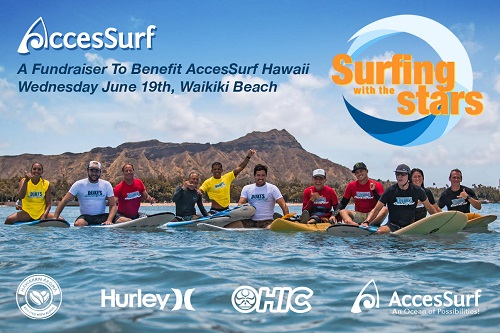 SCORE A PRIVATE SURF SESSION AT QUEEN'S IN WAIKIKI

With Kelia Moniz, Bob Hurley, Makua Rothman, Joel Centeio, Ross Williams, Keahi Tucker, Eli Olson, Benji Weatherley & Mike Coots.
HIC, Hurley & Hawaiian Aroma Present:

SURFING WITH THE STARS….AN ACCESSURF HAWAII FUNDRAISER

 All proceeds will go directly to support AccesSurf's life changing beach and water programs for people with disabilities.

 

Wednesday, June 19th, 2019 (10 am to 1 pm)

During the Hawaii Adaptive Surfing Championships

Kuhio Beach, Waikiki, Hawaii

 

SCORE A PRIVATE SURF SESSION AT QUEEN'S IN WAIKIKI WITH:

• Kelia Moniz:  2X WSL World Longboard Champion.

• Bob Hurley:  Founder of Hurley Clothing.

• Makua Rothman:  2015 Big Wave World Champion & Musician.

• Joel Centeio:  HIC & Hurley Pro Team Rider.

• Ross Williams:  WSL Commentator & Former Championship Tour Surfer.

• Keahi Tucker:  Anchorman Hawaii News Now.

• Eli Olson:  2018 WSL Hawaii/Tahiti Nui Champion.

• Benji Weatherley:  Momentum Generation Surfer and film maker.

• Mike Coots:  Adaptive surfer and shark advocate.

Ticket Link: 

  

 

Tickets are $22 donation per ticket, 3 tickets for $53 donation or 6 tickets for $100 donation.

The first 15 people to purchase 6 tickets for $100 will automatically be invited to the Meet & Greet with the Stars!

There is no limit to how many tickets each individual can purchase, so GO BIG!

Five winners will be drawn on June 14, 2019 live on these Summit Media Radio stations:

Krater 96.3, Power 104.3, Hawaiian 105, KCCN FM 100, AM 940 & KPRP 650 AM.

 

Mahalo for your kokua!