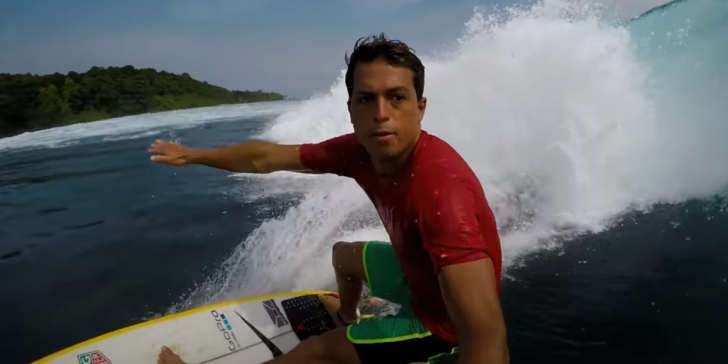 INDONESIA in 4k  (55min)
by Chris Kincade Media – Waves of the World

Frame Grab and the entire Vid will get you dream frothing to travel…
Front page shows Kai's Buddha like calm….
Enjoy AMAZING 4k surfing and beautiful landscapes while you relax. Filmed by Andy Potts and Anthony Walsh in Indonesia.
Indonesia is a huge country with thousands of islands covering a large swath of the Indian Ocean, so the weather tends to vary from one location to another. That being said, average temperatures in most areas hover around 80 F (27 C) all year, with water temps in the same range. The dry season (May through September) sees consistent trade winds from the east/southeast, while the wet season (October through April) sees more variable wind patterns (although it is important to note that local weather can vary drastically from island to island). Swells are more consistent during the dry season, but its possible to score waves just about any time of year.
TYPES OF SURF BREAKS: The majority of the waves in Indonesia break over coral reefs, although there are some volcanic reefs and beach breaks as well. Waves range from user-friendly/high-performance to dredging barrels.
LEVEL OF DIFFICULTY: While the waves in Indonesia range from beginner to expert, the majority of the best-known waves are in the intermediate+ category, with powerful barrels and sharp, shallow reefs.
SEASON AND SWELL INFO: The dry season runs from May through September, and enjoys consistent E/SE trade winds and frequent south swells. The wet season, which extends from October through April, sees more light/variable wind conditions, and less frequent south swells (although the waves are still relatively consistent).
HOLLOW TREES (HTs) • The wave that put the Mentawais on the map, and one of the best right-hand barrels in a country best known for lefts. HTs (also known as Lance's Right, after the feral Aussie surfer who discovered it) is a heavy, perfect barrel from head high to double overhead, breaking over shallow reef that gets even shallower on the inside Surgeon's Table section. Often crowded due to its popularity with luxury boat tours and a nearby land camp, HTs needs a large SW swell and NE to E wind to really turn on. One of the most photographed and filmed waves in the world over the past two decades, HTs has starred in films such as September Sessions and …Lost at Sea.
DESERT POINT • When people think of surfing in Lombok, they think of one wave—Desert Point. Arguably one of the best waves in the world, Desert Point is a rare, heavy, shallow, left-hand barrel that grows the farther down the line it grinds. Tube rides in excess of 15 seconds have been logged here, but the wave is notoriously crowded, and only breaks on a huge SW swell at low tide (it actually goes flat sometimes at high tide, despite a pumping swell!).
ULUWATU on the Bukit Peninsula is the original Indonesian dream wave—a long, rippable left-hand wall breaking in front of limestone cliffs that was immortalized in the seminal film Morning of the Earth. While not Indonesia's heaviest or hollowest wave, Uluwatu does have barreling sections, and the Outside Corner section can turn into one of the country's only legitimate big wave spots during huge swells. Uluwatu can be quite crowded, but typically picks up more swell than any other spot on Bali. Get the lowdown on surfing Uluwatu.
PADANG PADANG is also on the Bukit, and is arguably Bali's best barrel. Only working on large SW swells with mid tides, Padang Padang is a challenging, dangerous, expert-only left-hand barrel that many refer to as the "Balinese Pipeline."