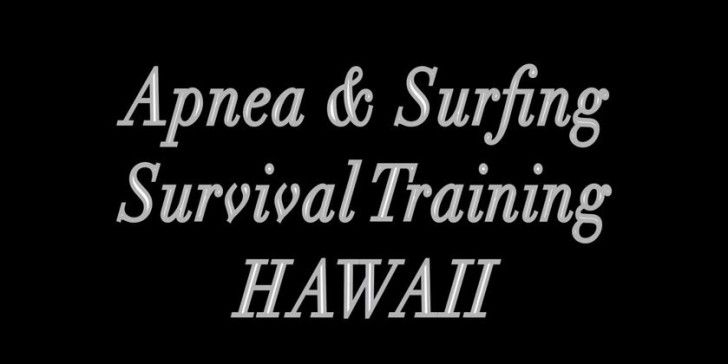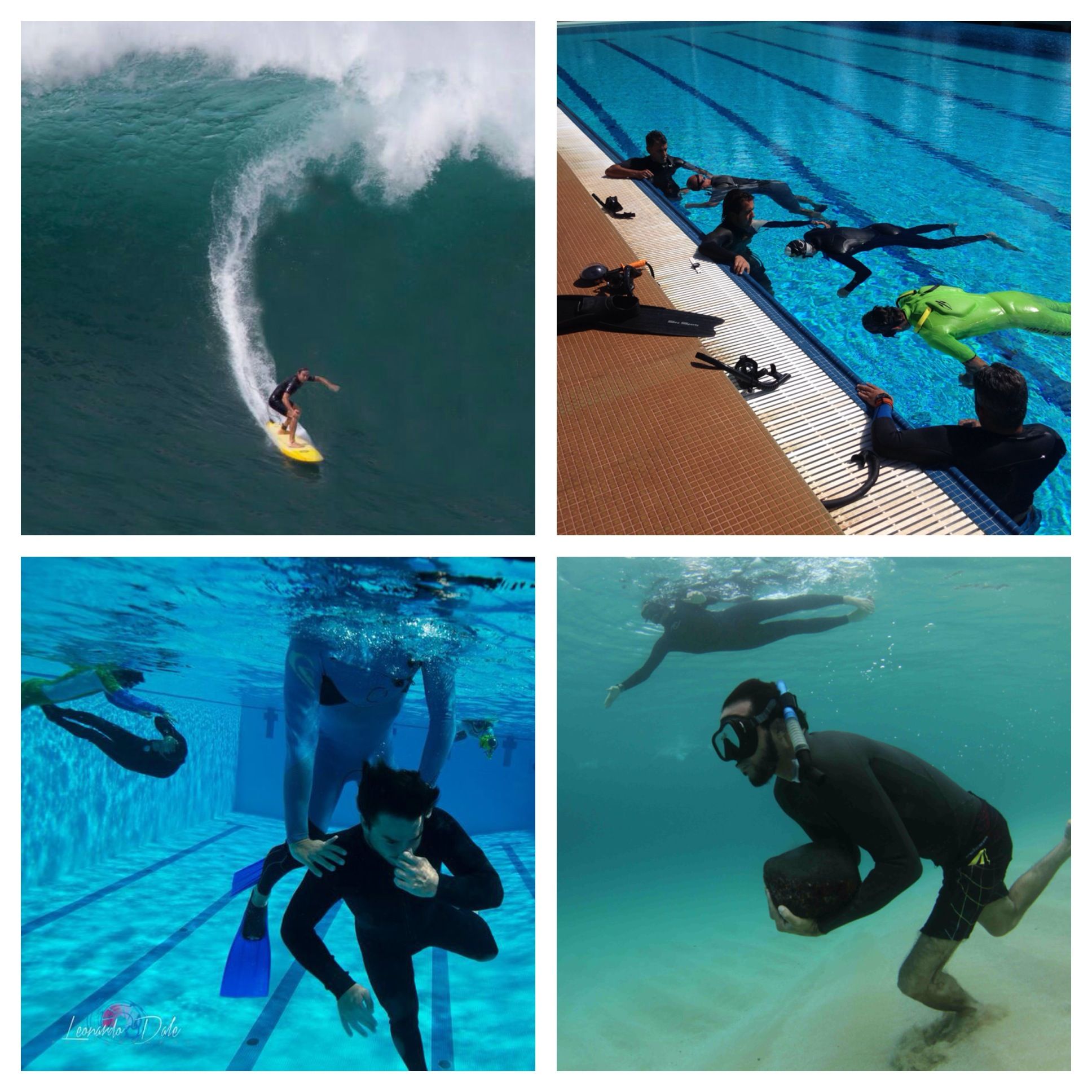 Apnea is a scientific term used to to describe breath hold practice and its is an important training for free divers and surfers. The purpose behind apnea training is to teach humans how to increase their limits in breath hold by learning important information in regards to physiology and safety.  Trainees will learn important exercises to strengthen the lungs and diaphragm muscles while also focusing mostly on safety, since it is very dangerous to practice while training underwater.  In addition to the apnea training, Hawaii Eco Divers implemented a surf survival course and combined them both into one specific and complete training for surfers who are willing to maximize their comfort zone in big wave surfing.  But this training is not just for big wave and extreme surfers,  all ages and skill level can benefit from this amazing training that will make a difference in how you feel while underwater holding your breath or dealing with an intense situation in the surf zone.
During the last week of August, some of the North Shore surfing community took the Apnea & Surf Survival Training taught by Master Diver Trainer of Hawaii Eco Divers.  This group included Jamie Sterling, Nathan Fletcher, Trevor Carlson, veteran Eddie Aikau competitor and Master Shaper Dennis Pang, City & County lifeguards Paul Smith and Ian Masterson (who is also a High Surf Risk management professor at Windward Community college), regular Waimea Bay and Sunset Beach surfer Tracy Yamato, Finn Masterson and a few other resident and local surfers.  They all completed the 2-day intensive training which includes 4 hours of theory development in a classroom, 5 hours of confined water skills in a pool and 6 hours in the open water environment (ocean).
Everyone was stoked on learning and sharing valuable information about high surf risk management, surfing rescue scenarios, CPR & rescue breaths, and most importantly, the physiological aspects of apnea practices and the potential danger in this type of training.  In the end, every single person in the class maximized their full breath hold limits and increased their confidence in what to do when the unexpected happens.
Billabong team manager Rainos Hayes was also another professional surfer who benefit from Hawaii Eco Divers Apnea course on a previous training.  Rainos organized a class for some of the members of the Hawaiian Junior Surfing Team including the Moniz brothers. Mike and Chris Latronic also took the course and created a video for their TV show.  
https://www.youtube.com/watch?v=O56Sm8MH5lk
These are the main aspects of the training;
– Physiology of Apnea
– Safety
– Static Apnea
– Dynamic Apnea
– Stressed Apnea
– Risks and dangers of training apnea
– Proper breathing exercises to improve ventilation and strengthening of the lungs
– Surviving a massive wipe out
– Risk management and emergency action plan
– Surfing Rescue skills
– CPR and rescue breath
Hawaii Eco Divers offers the Apnea & Surfing Survival training on a regular basis on the North Shore of Oahu. For more information email 
info@hawaiiecodivers.com
 or call 
808 859-1148