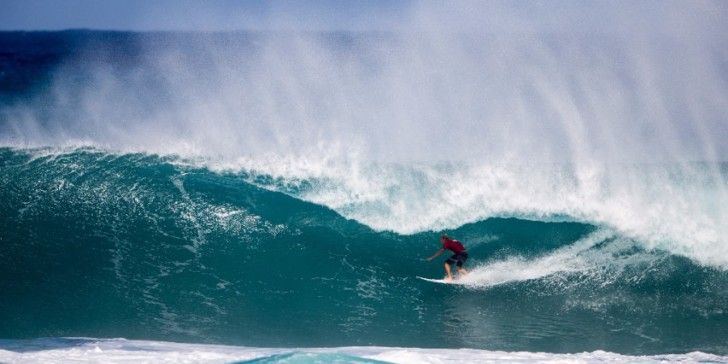 [caption id="attachment_6142" align="alignnone" width="640"]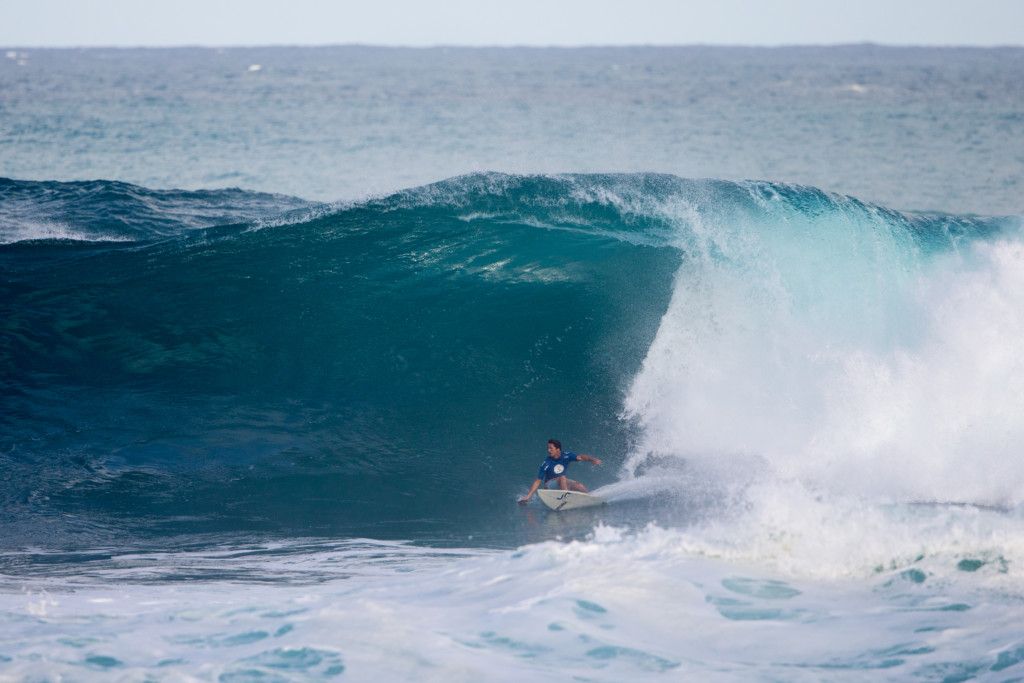 Danny Fuller advances through heat 16 round two of the WSL Sunset Open[/caption] [caption id="attachment_6143" align="alignnone" width="640"]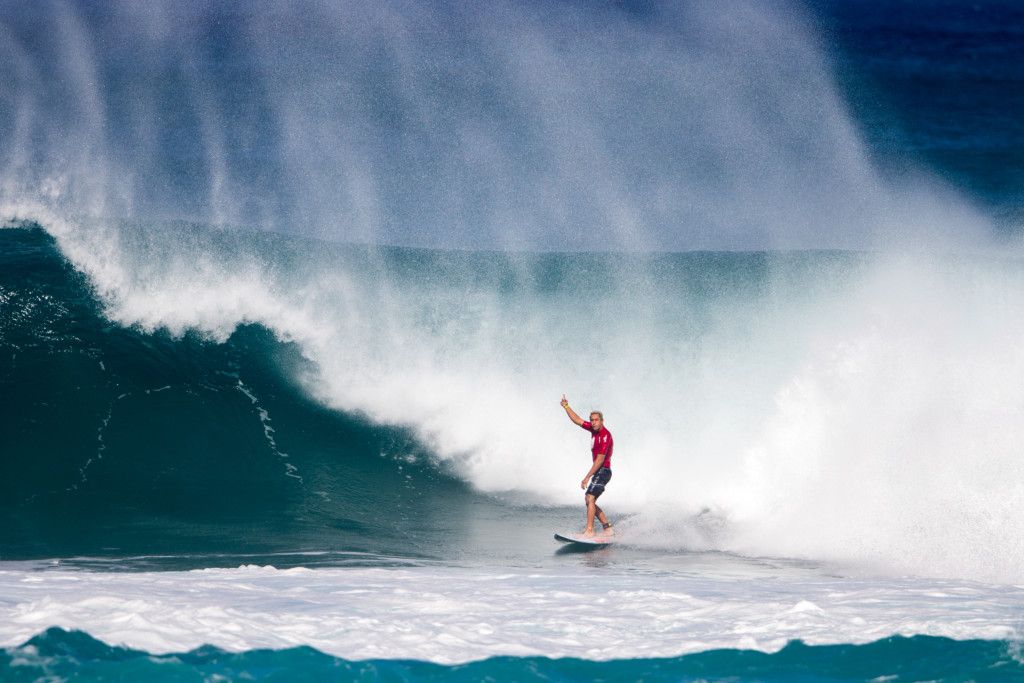 Eli Olson wins heat 2 round three of the WSL Sunset Open[/caption] [caption id="attachment_6144" align="alignnone" width="640"]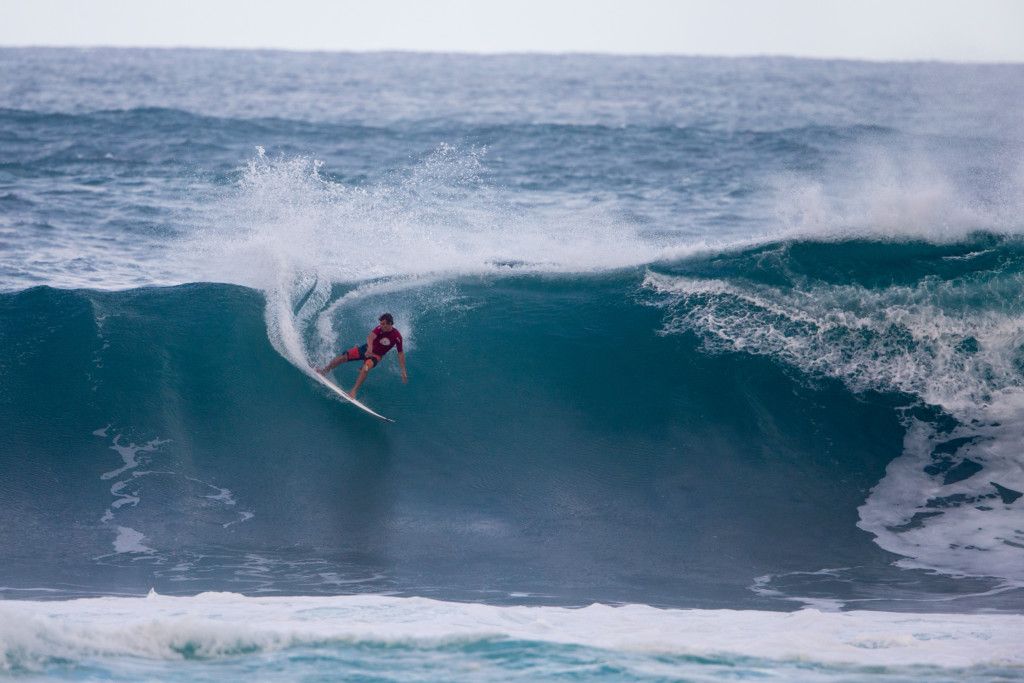 Jack Robinson wins heat 14 round two of the WSL Sunset Open[/caption] [caption id="attachment_6145" align="alignnone" width="640"]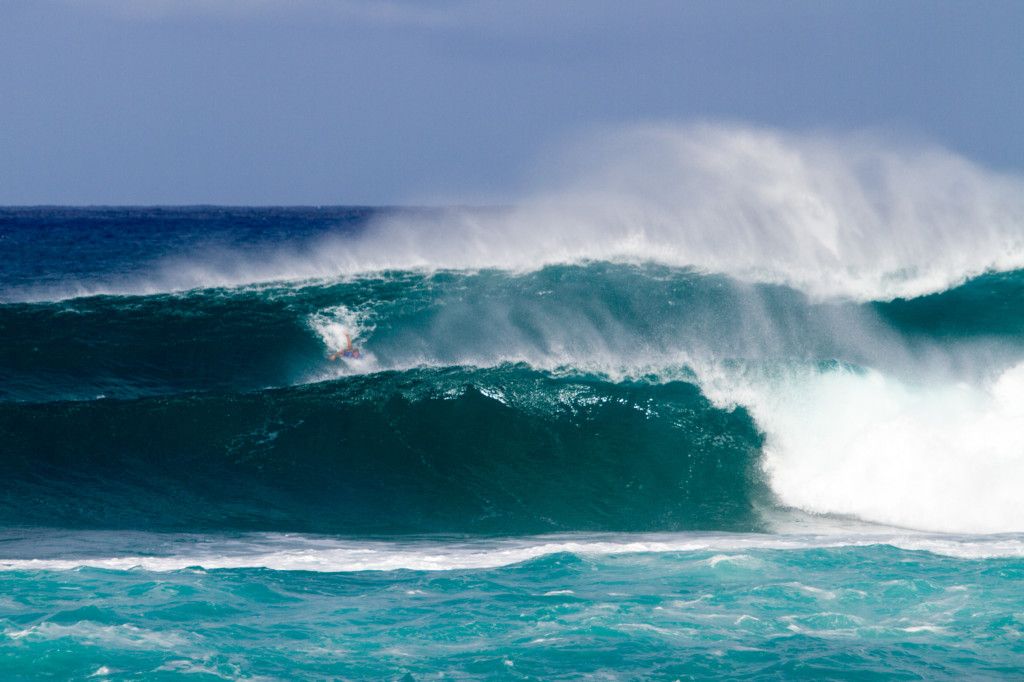 The lineup….round three of the WSL Sunset Open[/caption]
EXCELLENT 9-POINT WAVES ON TAP AT SUNSET BEACH
TOP NAMES COFFIN, LENNY AND OLSON ADVANCE TO FINAL DAY 
 Eli Olson, Hawaii's regional frontrunner, in fine form for a 9.4. Image: WSL/Freesurf/Heff
| | |
| --- | --- |
| Location:    | Sunset Beach, North Shore, Oahu                                                   |
| Rating: | Men's QS1,000  |
| Event Window:    | January 18 – 28   |
| Today's Conditions:   | Up to 20 ft. waves, NW swell, offshore easterly winds |
HALEIWA, Oahu/Hawaii (Thursday, January 26, 2017) — Incredible Sunset Beach surf with wave face heights of 15 to 20 feet provided the canvas for career-best performances at the World Surf League (WSL) Sunset Open Men's Qualifying Series (QS) 1,000 event. Parker Coffin (USA) dropped the highest single wave score of the competition, a 9.75 for the longest, deepest barrel of the day on his backhand. In a post heat interview, he touted it as the best wave he's ever had at Sunset.
"I've pretty much never surfed it like that, let alone in a heat, so that was as good as it gets for me," said Coffin. "That's why we all come and do these events." He has spent many seasons on the North Shore competing in the Pro Junior circuit along with the HIC Pro QS3,000, but this is Coffin's first heat at Sunset Beach in "two, maybe even three years," he continued. "That was a good welcome back, I love it out here, it's one of my favorite waves."
The 112-man field was whittled down to just 38 surfers today as the Sunset Open heated up and surfers braved the 15 to 20-foot wave faces. Up for grabs is 1,000 points toward athletes' regional ratings, prize money and the glory of winning at one of the most notorious big wave venues in the world.  
The second-best wave score of the event went to celebrated waterman Kai Lenny (Maui) for a 9.5 that featured a combination of outside turns, an open barrel and more carves on the inside. Lenny rode a bigger board which allowed him to draw out bigger lines and paddle around the lineup with more ease.
"I was out the back and there was no priority yet and I kind of just wandered into a really good wave," Lenny described of his 9.5 ride. "Out there it's hard to read what the wave is going to do on the inside, I just saw it was pushing down the reef really good and it was hooking onto it, so I was thinking I would get a good turn and then I was going to do one more turn directly thereafter, but then it just set up for a little barrel."
This is Lenny's first QS event of his career, but the athlete is no stranger to success here in Hawaii. In 2015, Kai won the Sunset Beach Pro SUP event at Sunset, the Da Hui Backdoor Shootout SUP division at Pipeline, and became the SUP World Series Champion at Turtle Bay. In 2016, he set a new world record at the Molokai-2-Oahu paddle race.
"Right now I'm just enjoying doing events because I think it's good for me to test my surfing against some of the best," continued Lenny. "And also hopefully to get into the Triple Crown and go from there, but I just love competing in general so I'm not putting too much pressure on anything yet."
Current Hawaii Regional Champ Eli Olson (North Shore) nabbed another 9-point ride for a huge barrel that he caught from the outside. A short, but sweet tube, one of the judges gave the ride a 10, but the consensus settled on an excellent 9.4.
"It was a really fun one," said Olson in a post heat interview. "I kind of saw it forming up so I knew it was going to be a good one, and the rest of the guys were a little too far out, so I just whipped it. A lot of the waves are closing so I was lucky it stayed open for me, I just kind of knifed the drop and it stayed open."
Defending event winner Keoni Yan (HAW) nipped at Olson's heels and ultimately advanced into Round 4 as well.
"It was pretty hard out there for me today, because I couldn't get the right waves," said Yan. "I just hope in the next heats I'll do better… It's Sunset, you can lose any time. Just going to take it heat by heat and hopefully take the win again."
Western Australia's 19-year-old phenom Jack Robinson lived up to his barrel-hunting reputation by finding the first tubes of the early morning heats. The judges awarded his two quick cover ups with a 7.75, which saw him take the lead after scoring a 6.0 on his opening ride of the heat. With a known prowess at Big Sunset, Robinson took second place at the HIC Pro in October 2016, fourth place in 2015 and a win at the Pro Junior in 2014.
"It was pretty challenging," said Robinson despite his comfort level in substantial surf. "Just kind of bumpy, like raw Sunset, pretty gnarly. I just tried to find a few and ended up coming through."
Recent Sunset Pro Junior winner Barron Mamiya(HAW) advanced from Round 2 behind his Hurley coach and mentor Joel Centeio (HAW). The two battled back and forth for the first advancing position, but Centeio stamped out an 11.10 two-wave total over his student and the heat win.
"It was pretty funny," said Mamiya. "I was kind of joking around because I saw that if I won my first heat I would be in his heat, so I was like, 'oh, we're going to be in the same heat dude.' And then, yeah, we were in the same heat, so it's cool, it was sick."
The remaining Tahitian left in the competition is Taumata Puhetini, who stayed busy in the 25-minute heat and secured two mid-range scores, a 5.25 and 5.35, which was enough to advance in second behind Kauai's Kaimana Jaquias and see him head into Round 4.
"It's really good to surf here," said Puhetini. "The conditions are really big and powerful, almost like in Tahiti, so it's really good."
The forecast looks hopeful for a potential finish tomorrow, Friday, January 27, which would see the crowning of an event winner at 3:30PM HST. Surfline is calling for a mix of old/easing NW swell and new/building NW with light east trade winds in the morning and possible seabreeze in the afternoon, and waves in the head high plus range. Be sure to check worldsurfleague.com for the official call tomorrow morning at 7AM.
RESULTS
Surfers shown 1st through 4th, all athletes from Hawaii unless otherwise noted.
Round of 64, 1st and 2nd advance, 3rd = 33rd place, 4th =49th place
H1: Kai Mana Henry, Yago Dora (BRA), Lucas Silveira (BRA), Eliott Napias (PYF)
H2: Eli Olson, Keoni Yan, Myles Padaca, Jason Shibata
H3: Kai Lenny, Miguel Tudela (PER), Chris Foster, Nomme Mignot (FRA)
H4: Benji Brand, Joshua Moniz, Luke Adolfson, Ulualoha Napeahi
H5: Kaimana Jaquias, Taumata Puhetini (PYF), Charly Quivront (FRA), Kalani Rivero
H6: Billy Kemper, Elijah Gates, Kekoa Bacalso, Riley Laing (AUS)
H7: Parker Coffin (USA), Sebastian Williams (ZAF), Mikey Bruneau, Kaito Kino
H8: Kekoa Cazimero, Bino Lopez (BRA), Hideyoshi Tanaka (JPN), Sunny Garcia
H9: Logan Bediamol, Ian Walsh, Jesse Mendes (BRA), Coconut Willie
H10: Finn McGill, Reo Inaba, (JPN), Alonso Correa (PER), Braiden Maither
H11: Koa Smith, Noah Beschen, Bruce Irons, Michael O'Shaughnessy (USA)
H12: Sheldon Paishon, Imaikalani deVault, Eala Stewart, O'Neill Massin
H13: Carlos Munoz (CRI), Evan Valiere, Noa Mizuno, Reef McIntosh
Round of 96, 1st and 2nd advance, 3rd = 65th place, 4th = 81st place
H1: Lucas Silveira (BRA), Myles Padaca, Luis Diaz (CNY), Ezra Sitt
H2: Jason Shibata, Eliott Napias (PYF), Takayuki Wakita, Brad Young
H3: Kai Lenny, Ulualoha Napeahi, Gregg Nakamura, Tinirau Taramu (PYF)
H4: Luke Adolfson, Chris Foster, Gavin Gillette, Isaac Stant
H5: Charly Guivront (FRA), Riley Laing (AUS), Shayden Pacarro, Tom Dosland
H6: Kekoa Bacalso, Kalani Rivero, Love Hodel, Rainos Hayes
H7: Sebastian Williams (ZAF), Kekoa Cazimero, Robert Grilho, Alex Pendleton
H8: Hideyoshi Tanaka (JPN), Mikey Bruneau, Jordy Collins (USA), Lorenzo Avvenenti (PYF)
H9: Coconut Willie, Braiden Maither, Anthony Walsh, Wyatt McHale
H10: Alonso Correa (PER), Logan Bediamol, Kaulana Apo, Kevin Sullivan
H11: Michael O'Shaughnessy, Sheldon Paishon, Landon McNamara, Taichi Wakita
H12: Imaikalani deVault, Noah Beschen, Kainehe Hunt, Facunda Carranza (ARG)
H13: Evan Valiere, Lucca Mesinas Novaro (PER), Luke Shepardson, Edrick Baldwin
H14: Jack Robinson, Reef McIntosh, Martin Jeri (PER), Kelson Lau
H15: Joel Centeio, Barron Mamiya, Christopher Bluthardt, Tereva David (PYF)
H16: Miguel Blanco (PRT), Danny Fuller, Dylan Goodale, Lance Gruver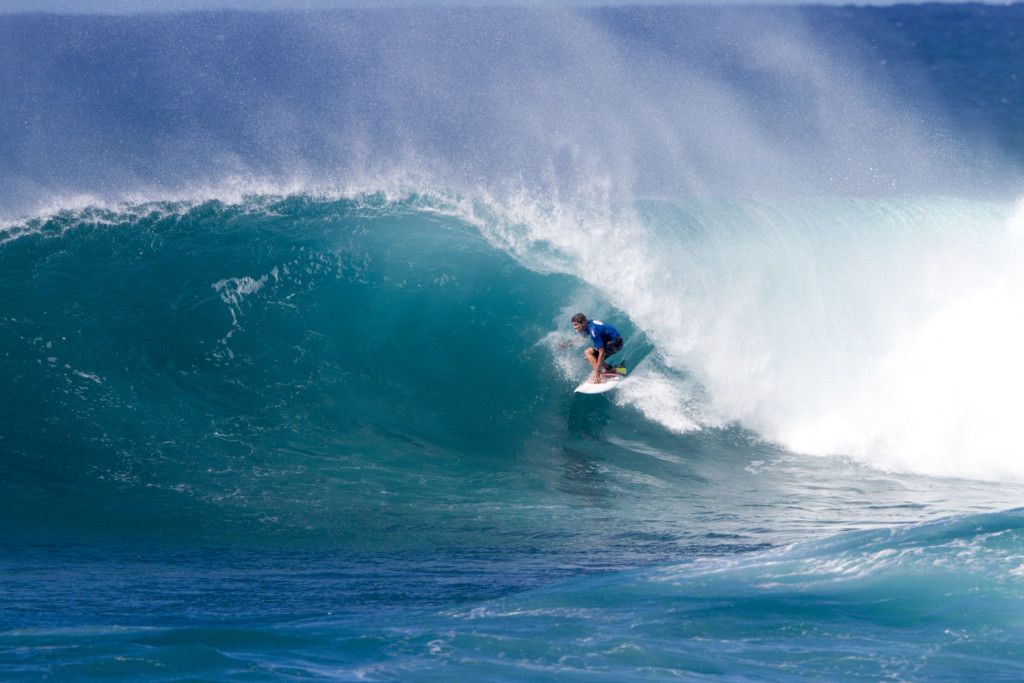 H11: 1 Koa Smith, 2 Noah Beschen, 3 Bruce Irons, 4 Michael O'Shaughnessy (USA)
Bruce Iron slotting. WSL/Freesurf/Heff