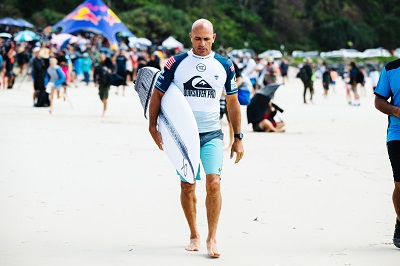 Aerial-Specialists Take Over Duranbah for Red Bull Airborne Gold Coast

Next Call Tomorrow at 6:30 AM AEST (330am HI Time)

Front Page: Slater relegated to the round 2 like many other Big names.
 Italo Ferreira (BRA) flew through the day with success in both the Quiksilver Pro Gold Coast and the Red Bull Airborne Gold Coast. 
Credit: © WSL / Cestari
COOLANGATTA, Queensland/AUS (Wednesday, April 3, 2019) – After an anticipated start, the World Surf League (WSL) Championship Tour (CT) is officially open for the 2019 season. The first day of the Quiksilver Pro Gold Coast saw the completion of Round 1 where the men took on Duranbah, the event's back-up site, in four-to-five foot conditions.

The Red Bull Airborne Gold Coast also got underway today with the first Qualifying Round. The Red Bull Airborne is a three-part specialty series that highlights surfing's most creative feats. The event saw no shortage of action with standout airs from CT star Italo Ferreira (BRA), aerial specialist Chris 'Chippa' Wilson (AUS) and Hawaiian surfer-skater Kalani David.
Newcomers Shine on Opening Day
 Rookie Seth Moniz (HAW) is off to a strong start in the first event of his rookie year on the Championship Tour. 
Credit: © WSL / Dunbar
2019 CT rookie Seth Moniz (HAW) and event trials winner Reef Heazlewood (AUS) delivered a heavy upset to 2018 World No. 2  Julian Wilson (AUS), sending him to elimination Round 2. Three-time World Champion Mick Fanning handed down his No. 7 jersey to the 21-year-old Moniz, who carried its winning form with a CT debut heat win.

"It's pretty amazing wearing Mick Fanning's jersey here at D-Bah," said Moniz. "I came here three weeks ago and got to surf with a whole week straight with Mick, and I got a few little secret tips from him. It's pretty awesome to have all the support I do here and back home."

Round 1 winners also included CT sophomores Griffin Colapinto (USA),Michael Rodrigues (BRA), third-year elite competitors Kanoa Igarashi (JPN), Joan Duru (FRA), along with veterans Adrian Buchan (AUS), Michel Bourez (PYF), and Kolohe Andino (USA), who will all advance straight into Round 3.
Mixed Results for World Champs and Rookies
Reigning WSL Champion Gabriel Medina (BRA) reignited the fire he walked away with last season with his signature flair and power to defeat event wildcard Mateus Herdy (BRA) and CT returner Ryan Callinan (AUS)."It's good to start off the year like this and this jersey feels special," Medina said. "I've got two stars on here, which seems like World Cup stars and it's cool to have these on there. It's the third year of the Gabriel Medina Institute and we have 32 kids and they have a whole routine kind of like we do as athletes. It's cool giving these kids opportunities to become professional surfers or whatever they want to be in the future and it's amazing to give back some of what surfing's given me."
Pictured (Left): 2019 CT Rookie Mikey Wright of Australia. Credit: © WSL / Cestari
Pictured (Right): 2X WSL Champion John John Florence of Hawaii. Credit: © WSL / Cestari
The long-awaited return of John John Florence (HAW) was met with an equally awaited rematch with the now-full-time-competitor Mikey Wright (AUS) after last year's battle. The heat also included rookie Peterson Crisanto (BRA) in the mix. While Crisanto gave Florence a scare in the dying minutes, the two-time WSL Champion responded with an impressive air of his own and secured his place into Round 3 behind heat winner Wright, who maintains his status as a threat to the elite.
11-time WSL Champion Kelly Slater of USA.
Credit: © WSL / Dunbar
11-time WSL Champion Kelly Slater (USA) fell short in his opening heat to Yago Dora (BRA) and Italo Ferreira (BRA). After flashes of brilliance in 2018, CT sophomore Dora narrowly requalified but showed his maturity on opening day with a clutch win over compatriot Ferreira and Slater. Dora's aerial attack put both Ferreira, one of last year's early World Title threats, and Slater, one of the sport's greatest, on their heels midway through the heat.

"I'm so happy to start my year off with a heat win like this," Dora said. "There are always a lot of nerves at the start of the year so just getting that heat out of the way is good and to win it is a bonus. I'm really happy to be surfing around here at Duranbah. There are a few lefts on offer which suits me and to get a few frontside air sections was really great."
Yago Dora (BRA), 2018 Red Bull Airborne France winner.
Credit: © WSL / Dunbar
D-Bah Delights for Red Bull Airborne Gold Coast
The Red Bull Airborne Gold Coast followed men's Round 1 with the first three Qualifying heats, which showcased creativity above the lip on the Duranbah beach breaks. The freakish talents of the 18-surfer field launched with entertaining attempts by Harry Bryant (AUS) and Reef Heazlewood (AUS) and a few standout landings from Kalani David (HAW) and Filipe Toledo (BRA). But, only Chris 'Chippa' Wilson (AUS) and Italo Ferreira (BRA) were able to find truly perfect ramps and post scores of consequence during the first qualifying round.
Known the world over for producing some of the most mind-blowing free surfing clips of the last decade, Coolangatta local Noa Deane struggles to remember the last time he pulled on a contest jersey and competed for scores. Although Deane admits he's not the most competitive guy in the water, he's excited to see what heights sharing the lineup with 18 of the world's best aerialists will push him too.

"This is going to be really fun surfing this format with this group of guys," Deane said. "I surf on trips with a lot of the guys that are here for the Red Bull Airborne so I think it will feel like any other day where we are all pushing each other to go bigger but at the same time not taking it too seriously. I think even the CT competitors will be taking a pretty relaxed approach and just having fun but that will probably all change as soon as someone lands something massive – then I can see dudes pushing it."

The next call for the Quiksilver Pro, Boost Mobile Pro and Red Bull Airborne Gold Coast will be tomorrow at 6:30 a.m. AEST, when event organizers will assess the conditions to decide the event's location and schedule.
Quiksilver Pro Gold Coast Round 1 Results:
Heat 1: Griffin Colapinto (USA) 10.26 DEF. Soli Bailey (AUS) 9.83, Owen Wright (AUS) 8.23
Heat 2: Jack Freestone (AUS) 10.67 DEF. Ezekiel Lau (HAW) 10.47, Jordy Smith (ZAF) 5.03
Heat 3: Yago Dora (BRA) 14.33 DEF. Italo Ferreira (BRA) 11.93, Kelly Slater (USA) 9.70
Heat 4: Joan Duru (FRA) 11.10 DEF. Filipe Toledo (BRA) 9.53, Caio Ibelli (BRA) 7.60
Heat 5: Seth Moniz (HAW) 11.17 DEF. Reef Heazlewood (AUS) 9.50, Julian Wilson (AUS) 8.36
Heat 6: Gabriel Medina (BRA) 13.84 DEF. Ryan Callinan (AUS) 13.57, Mateus Herdy (BRA) 7.23
Heat 7: Adrian Buchan (AUS) 10.13 DEF. Conner Coffin (USA) 10.00, Jadson Andre (BRA) 8.40
Heat 8: Michel Bourez (PYF) 13.27 DEF. Jeremy Flores (FRA) 8.90, Leonardo Fioravanti (ITA) 7.57
Heat 9: Michael Rodrigues (BRA) 13.17 DEF. Wade Carmichael (AUS) 13.07, Ricardo Christie (NZL) 12.67
Heat 10: Kanoa Igarashi (JPN) 12.73 DEF. Deivid Silva (BRA) 12.00, Sebastian Zietz (HAW) 8.03
Heat 11: Kolohe Andino (USA) 11.00 DEF. Jesse Mendes (BRA) 10.90, Willian Cardoso (BRA) 8.40
Heat 12: Mikey Wright (AUS) 12.10 DEF. John John Florence (HAW) 10.93, Peterson Crisanto (BRA) 8.36Quiksilver Pro Gold Coast Round 2 Matchups:
Heat 1: Julian Wilson (AUS) vs. Leonardo Fioravanti (ITA) vs. Mateus Herdy (BRA)
Heat 2: Jordy Smith (ZAF) vs. Ricardo Christie (NZL) vs. Caio Ibelli (BRA)
Heat 3: Owen Wright (AUS) vs. Peterson Crisanto (BRA) vs. Kelly Slater (USA)
Heat 4: Willian Cardoso (BRA) vs. Sebastian Zietz (HAW) vs. Jadson Andre (BRA)

Red Bull Airborne Gold Coast Leaderboard:
1 – Italo Ferreira (BRA)
2 – Chippa Wilson (AUS)
3 – Kalani David (HAW)
4 – Mateus Herdy (BRA)
5 – Coby Perkovich (AUS)
6 – Yago Dora (BRA)
7 – Filipe Toledo (BRA)
8 – Eithan Osborne (USA)
9 – Mitch Parkinson (AUS)
10 – Jack Freestone (AUS)
11 – Matt Meola (HAW)
11 – Kael Walsh (AUS)
11 – Harry Bryant (AUS)
11 – Finn McGill (HAW)
11 – Aaron Kelly (AUS)
11 – Noa Deane (AUS)
11 – Thomas Woods (AUS)
11 – Reef Heazlewood (AUS)

Boost Mobile Pro Gold Coast Round 1 Matchups:
Heat 1: Carissa Moore (HAW) vs. Nikki Van Dijk (AUS) vs. Keely Andrew (AUS)
Heat 2: Lakey Peterson (USA) vs. Coco Ho (HAW) vs. Sage Erickson (USA)
Heat 3: Stephanie Gilmore (AUS) vs. Paige Hareb (NZL)
Heat 4: Tatiana Weston-Webb (BRA) vs. Malia Manuel (HAW) vs. Brisa Hennessy (CRI)
Heat 5: Johanne Defay (FRA) vs. Courtney Conlogue (USA) vs. Macy Callaghan (AUS)
Heat 6: Sally Fitzgibbons (AUS) vs. Caroline Marks (USA) vs. Bronte Macaulay (AUS)