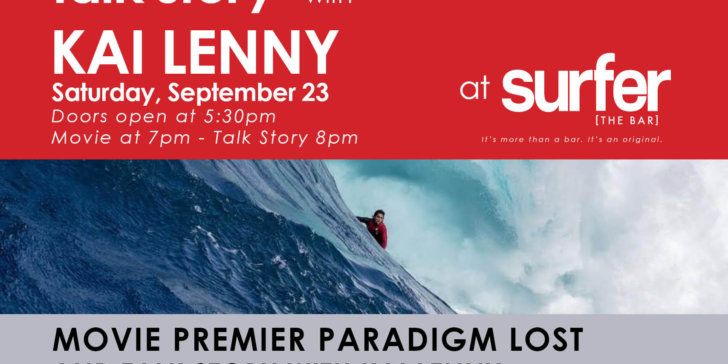 When: 
Saturday, September 23, 2017 – 

5:30pm

 to 

9:00pm
Where: Surfer, The Bar
MOVIE PREMIER PARADIGM LOST AND TALK STORY WITH KAI LENNY
Doors open at 5:30pm. Movie at 7pm – Talk Story 8pm – Price: Donation
For Kai Lenny, the ocean is a playground as long as you are having fun. He is continually challenging the notion of what a surfer is, riding huge waves and open-ocean swells on any means conceivable. Whether testing himself competitively or sharing the shear stoke of riding with friends, there are only waves and endless possibilities that come with a mind wide open.
The film is produced and directed by Johnny DeCesare, Kai Lenny, and Jace Panebianco, coproduced by Red Bull Media House, and starring Kai Lenny, Albee Layer, Jamie O'Brien, Levi Siver, John John Florence, Kelly Slater, Airton Cozzolino, Marcilio Browne, Kalani Chapman, Ryan Hipwood, Ridge Lenny, Matt Meola, Robby Naish, Ian Walsh, Dusty Payne, Greg Long, Julian Wilson, Clyde Aikau, Victor Lopez, Dave Kalama, and Laird Hamilton. The evening will include prize giveaways, meet & greet and autograph-signing session with Kai Lenny and other film principals.
The documentary film, "Paradigm Lost," featuring Kai Lenny and World Champions in big wave, progressive surfing, kite surfing, wind surfing and SUP, will hold its Oahu Movie Premiere on Sept. 23 at Turtle Bay Resort.
 Kai Lenny, a Maui boy, is one of the world's top big wave professional surfers. He is also an acclaimed kiteboarder, windsurfer and stand-up paddleboarder with many titles to his name. "Paradise Lost" is a documentary that was filmed over a period of three years and in six countries. Kai shares incredible sessions with World Champions in big wave, progressive surfing, kite surfing, wind surfing, SUP and the most exciting development in years, the surf foil. This Oahu Movie Premier will include prize giveaways, meet & greet and an autograph session with Kai and other film principals.
For more information, call The Guidepost at Turtle Bay Resort at 293-6020 or visit  http://www.turtlebayresort.com/TalkStory-KaiLenny.
About Turtle Bay Resort:
Located on Oahu's breathtaking North Shore known for legendary surf, the 850-acre Turtle Bay Resort offers 30 percent more space for adventure than all of Waikiki. Following the completion of a $52 million multi-phased renovation in 2016, the resort now showcases 410 refreshed, all ocean-view guest rooms and suites plus 42 newly-designed oceanfront beach cottages, as well as an upgraded lobby and cultural gallery, seven restaurants and bars, an 11,000-square-foot spa and expanded fitness center with new wellness programming, an elevated beach experience and two swimming pools. This expansive beach resort features dynamic ocean and land adventures through its on-property helicopter pad, horse stables, tennis courts, two golf courses, 15 miles of hiking and mountain biking trails, daily fitness and wellness classes, off-road Segway tours, surf school, water adventures including eco-kayaking, and much more . For more information, please visit www.turtlebayresort.com.
—–
Lori Michimoto
Michimoto Communications
808-636-3263 phone
lori@MichimotoPR.com
Learn more and pre-order your own copy of PARADIGM LOST HERE