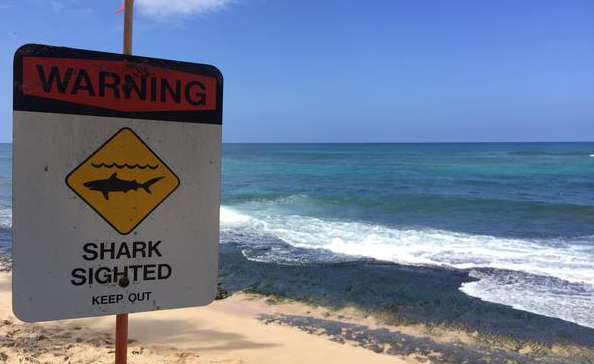 He's stable now. Lucky to be alive. Without his fellow surfers help he would not be. SNN.
Waters closed from Laniakea to Waimea till further notice. Obey warning signs.
Story from Allyson Blair from HawaiiNewsNow….
A 25-year-old man is in critical condition following a shark attack Friday morning off Oahu's North Shore, Ocean Safety officials said.
Co-workers identified the victim as Colin Cook, of Kawailoa.
The victim suffered a severe bite to his left leg, officials said. Witnesses said he was pulled to shore by five people, and was awake and alert when he was taken to the hospital.
First responders said the attack happened about 10:30 a.m. in waters off Leftovers Beach Park, at 61-385 Kamehameha Highway.
One witness told Hawaii News Now that Cook was apparently sitting on his surfboard with his legs dangling in the water when he was attacked.
The witness said bystanders used a surfboard leash as a tourniquet to control the bleeding. The victim appeared to have lost his leg above the knee, the witnesses said.
Cook also apparently suffered injuries to his hand after attempting to swat the shark away.
Cook works at JC Hawaii, a custom surfboard company. JC Hawaii owner John Carper said Cook has been living on Oahu for the last three years, and came to the islands from Rhode Island.
He frequents Leftovers Beach because he lives nearby.
READ THE REST OF THE STORY & FIND MORE SHARK ATTACK INFO HERE