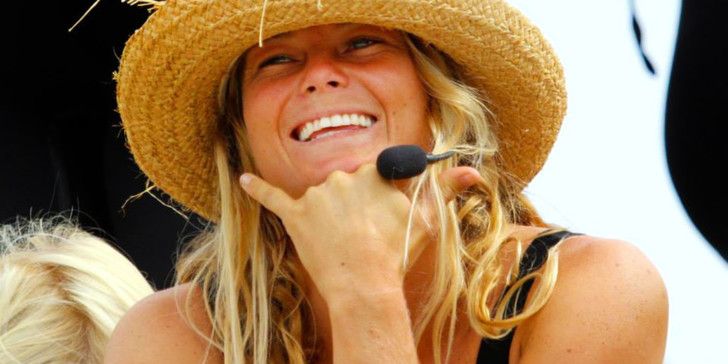 Sophia Tiaré Bartlow was a real-life mermaid – a third-generation water woman known for her vibrant, bright smile but also her competitive-yet-graceful skills in the surf.
The surf world is mourning the death of Bartlow, killed in a car accident on the North Shore of Oahu on Saturday. She was only 26.
Bartlow is the daughter of 1976 world champion surfer and women's surfing pioneer Jericho Poppler, who was inducted into the Surfers' Hall of Fame in 2004. Her grandmother was a junior Olympics swimming champion.
Bartlow, raised in Long Beach, was an accomplished competitor in her own right: She was the 2014 U.S. SUP Tour national champion; the California state champion for longboarding; and also named state champion for shortboarding in California and Hawaii, according to her website.
Bartlow chased the sun, surfing Orange County during summer months and living in Hawaii during the winter. She received a B.A. in anthropology at the University of Hawaii.
She had aspirations to win a world title and earn an Olympic Gold Medal.
"She was a surfer to the core," said Bartlow's friend, San Clemente world champion paddler Candice Appleby. "She was great at all (types of surfing) – not to be called a waterwoman, just because she loved it all."
In a 2011 video, Bartlow talked about her first memories surfing in Malibu, being on top of someone's shoulders.
"Before that, I remember seeing a bunch of people out, just speckled little dots of pepper," she said with a glowing smile. "I think something fun is going on out there, and I want to be a part of it."
Her first board as a kid was bought from Katin Surf Shop in Sunset Beach, a shortboard treasure she still owned as an adult, she said.
She said her biggest influence was her mom, founder of the Women's International Surfing Association, becoming the inaugural year's world champion in 1976 and paving a path for female surfers.
"She has raised me on the ocean, inspiring a reverence and understanding for nature so great and profound, I've yet to find the words that can describe it," Bartlow wrote on her website.
She had the same dream, to be a pro surfer and follow but also make to a path for herself, Appleby said.
Appleby said Bartlow was "full of life and love."
"Her presence was liberating, her freedom to love other people and to choose joy and to be happy," Appleby said. "And always be a child, to have a pure free child's heart, to frolic in the sand … she was so bright and so full of life and love it caught people off guard sometimes. It's like this bright light you could barely look at it."
She had a strong faith. Just two weeks ago she posted a photo of Jesus surfing a wave, his arms spread wide. With it, the words: "Grant me Lord just a closer walk with thee."
"I know she's with Him and I know she would want me to tell people that," Appleby said.
Huntington Beach surfer Mona Webster met Bartlow while out in the water at Doheny State Beach in Dana Point. She was a common face around Orange County's surf spots.
"She's goofy, fun and happy-going," Webster said. "She loves to sing and hum while SUP'ing. Love her infectious smile and vibe."
Bartlow went by the name "Sea Sister Sophia."
According to the Honolulu Advertiser, Bartlow was a passenger in a car driven by a 35-year-old man identified as Bartlow's boyfriend, who lost control of the car and hit a large tree. Police said alcohol and excessive speed contributed to the crash.
The driver, identified by news outlets as Sage Candelaria, was arrested for investigation of first-degree negligent homicide, drunken driving and driving without a license.
Memorial services are pending.