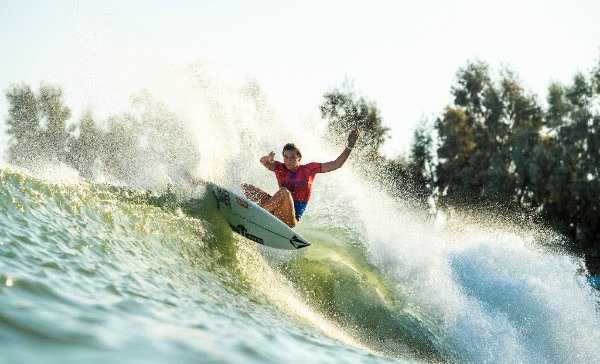 – KELLY SLATER LEADS MEN'S FIELD AT CONCLUSION OF DAY 1
– COCO HO TOPS WOMEN'S LEADERBOARD WITH EXCELLENT PERFORMANCE
Coco Ho's (HAW) explosive start put her at the top of the women's standings after an exciting opening day at the Surf Ranch Pro pres. by Hurley. 
All Photo Credit: 
WSL / Cestari
LEMOORE, California/USA (Thursday, September 6, 2018) – The inaugural Surf Ranch Pro presented by Hurley commenced today in Lemoore, California with the world's best surfers taking on inland California's man-made wave, the Surf Ranch. Surfing in a format new to the Champion Tour (CT), eighteen men and ten women tested the leaderboard structure today at Stop No. 8 on the World Surf League (WSL) CT.
The competition today and tomorrow host the Qualifying Rounds, where each surfer will surf four waves each (two rights and two lefts). On Saturday, all competitors will have one last chance to make the Final with two more waves (one right and one left).
Kelly Slater (USA), the wave's co-creator and 11-time WSL Champion, ignited the day's performances with a big 8.50 (out of a possible 10) on his right-hander in Run 2 and totaled a 14.57 (out of a possible 20). Slater's opening run was easily forgettable, but he came back firing to make up for it and now holds the No. 1 spot for the men's event.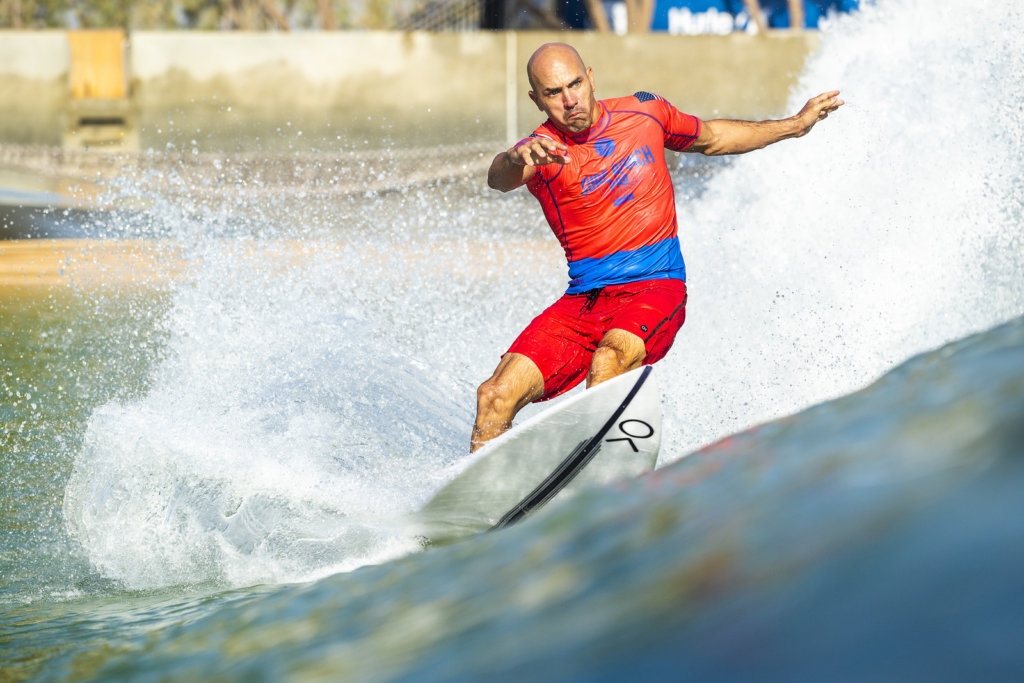 "For us first guys going it's a lot of pressure on us to set the standard so we can be in the mix later," Slater said. "I feel like I surfed the left better on my first wave but the second one I was chasing and not transitioning well. The first run was below average. I fell on both and felt like I should've been a touch deeper. But, just the way the tube section works, sometimes the wave slows down right there and forces you out then you just pull back in."
Surf Ranch Pro Trials winner Hiroto Ohhara (JPN) surfed the event's first wave to the tune of an average 4.50, letting his nerves prevail. Ohhara recovered on his second run for a 6.00 and still has two waves to showcase his talents.
Joan Duru (FRA) took over his opening day runs against Keanu Asing (HAW)…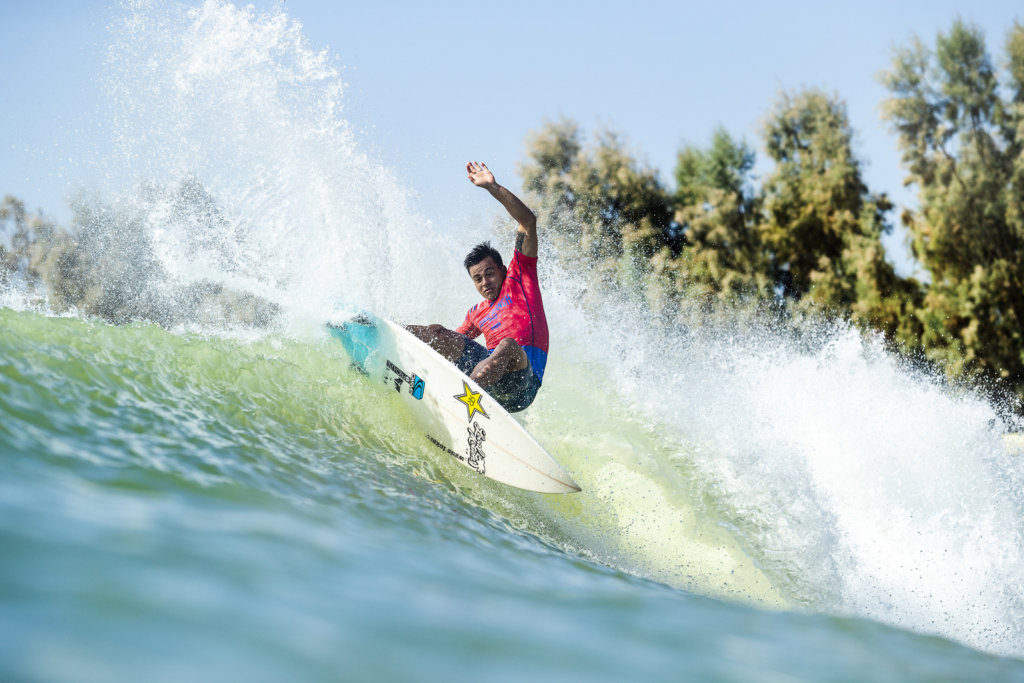 …. and Wiggolly Dantas (BRA) after following up on his second run right-hander with explosive backhand surfing to garner a 6.23, which moved into No. 2 on the overall standings. However, Ian Gouveia (BRA) came out and took the No. 2 from Duru with a 7.23 and 7.10. The Brasilian has put his time in at the WSL Surf Ranch, coming up from Southern California every chance he could, and it's showing in his early performances.
"I just wanted to go out and get two good scores so I could really push it Saturday," Gouveia said. "It felt good to get that 7 on my second left after getting a decent score on my first try. I've been out here as much as I can to learn this wave because it's still so tricky, but the more you surf it the more comfortable you can feel. I'm looking forward to the next one and going for more to stay in for the finals."
Tomas Hermes (BRA) made a charge up the leaderboard to No. 3 following his terrific display of WSL Surf Ranch knowledge, but it was Sebastian Zeitz (HAW) who topped Slater for the highest single-wave score of men's opening day with an 8.67 after locking into a deep barrel ride and then delivering multiple power turns. The Kauai, Hawaii, native knows the importance of this event and is eyeing down a much-needed result, but sits just outside the top 8 on the standings after Adriano de Souza (BRA) pushed him out with a solid performance.
"I'm kind of on the bubble at World No. 21 and there's a big point gap so I'm just trying to climb up there with a big result," Zeitz said. "I was a little nervous after the test event since it suited the smaller guys more, but after getting that 8.67 I know it can be done. The goofy-footers have a little more room to move on the left, but it's definitely the most level playing field that surfing's seen and in that case the best surfer should win."
The world's best women followed suit with impressive surfing. Coco Ho (HAW) leads the pack with Californians Sage Erickson (USA) in second and Courtney Conlogue (USA) in third.
Wrapping up a brilliant day of competition, Ho shook off her subpar practice waves and delivered a jaw-dropping performance. The ten-year CT veteran stepped up with the day's top single-scoring wave of women's competition, an 8.17, and heat total of 14.94.
"I actually fell on my first two practice waves, so I didn't come here confident, but I just hopped on the board I rode in Spain and it felt amazing," Ho said. "Knowing there's not a lot of pressure on the Qualifying Series (QS) anymore put me in a good mindset whether I fell on those waves or not. But, we were just laughing about it because the next wave isn't until Saturday, which I think shows who's a natural on their board and not able to surf for a few days then come back perform."
)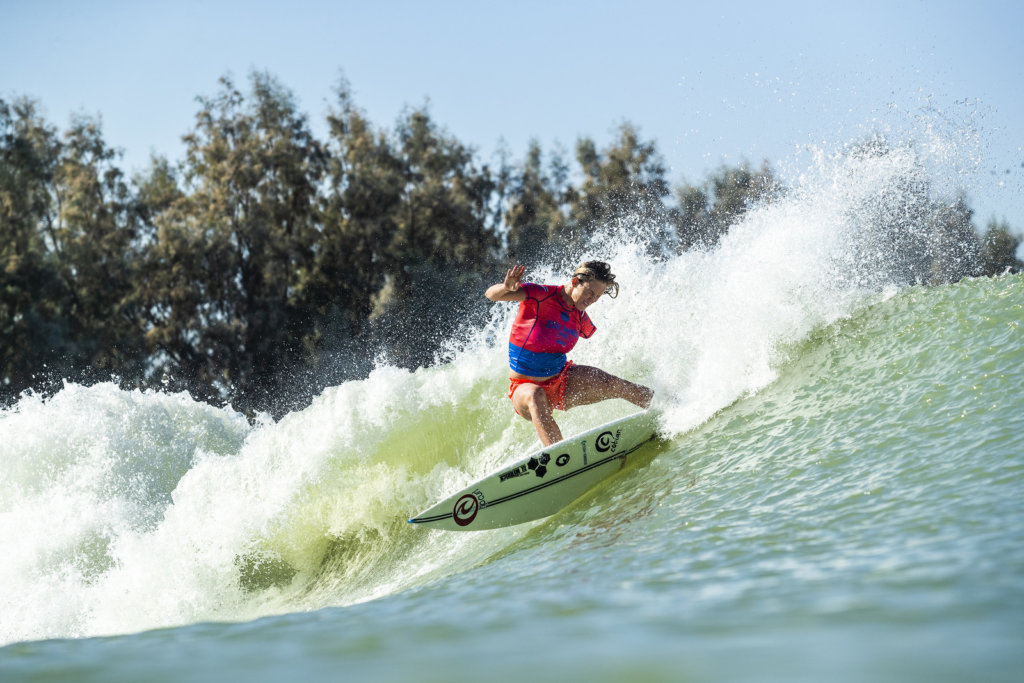 Event wildcard Bethany Hamilton…
…injury replacement Macy Callaghan (AUS), and Paige Hareb (NZL) got opening round action underway as Hareb's backhand attack shined to earn a 13.00 heat total and the outright lead — but only briefly after Sage Erickson's (USA) debut.
The Ojai, California, native stepped up and delivered on her second right to earn a solid 14.07 heat total heading into the weekend's third run.
"I couldn't have anticipated how it was going to feel being in the pool, alone, with the jersey on and I'm happy to say I'm loving it," Erickson said. "I'm loving competing more than ever in this event because there's a perfect wave under my feet. Mentally I feel good and my ability has been there this year, but I haven't had the chance to show that or feel confident. But, here I do being in California even though there's still a lot of work to do. I'm excited to have my family and friends here this weekend so I think I'll be in even higher spirits."
With the eight surfers completing rides ranging from throwaway scores to excellent surfing, six-time WSL Champion, Stephanie Gilmore (AUS), and World Title contender Lakey Peterson (USA) know what's required of them tomorrow.
During the Qualifying Round, each athlete will surf six waves (three lefts and three rights) over three runs (made up of one left and one right consecutively). The best scoring right and the best scoring left are added together to create each athlete's total score. At the end of the Qualifying Round, the Top 8 Men and Top 4 Women on the leaderboard will advance to Final.
The Final will see each athlete surf another three runs (six waves total) and the male and female surfers with the highest score will win the event.
View the full men's schedule HERE and the full women's schedule HERE.
The competition will resume tomorrow morning at 9 a.m. PST with Malia Manuel (HAW) up first.
Men's Surf Ranch Pro Qualifying Round Leaderboard Top 8:
1 – Kelly Slater (USA) 14.57
2 – Ian Gouveia (BRA) 14.33
3 – Tomas Hermes (BRA) 14.20
4 – Yago Dora (BRA) 13.80
5 – Joan Duru (FRA) 13.73
6 – Patrick Gudauskas (USA) 13.70
7 – Connor O'Leary (AUS) 13.56
8 – Adriano De Souza (BRA) 13.56
Full men's leaderboard HERE.
Women's Surf Ranch Pro Qualifying Round Leaderboard Top 4:
1 – Coco Ho (HAW) 14.94
2 – Sage Erickson (USA) 14.07
3 – Courtney Conlogue (USA) 13.54
4 – Paige Hareb (NZL) 13.00
Full women's leaderboard HERE.