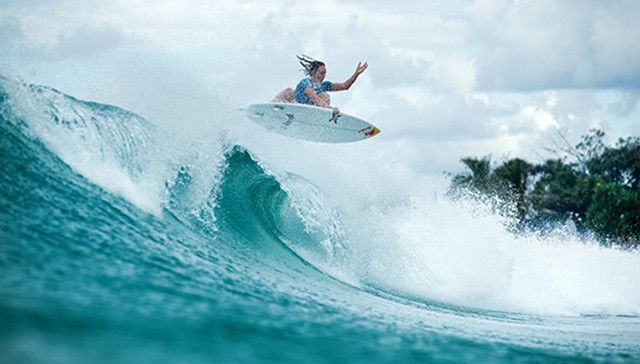 The event starts at 8am! The Body Surfing Pipe Pro in ON later today!
Pic: Moore winning at Snapper © WSL/Cestari
World Surf League JQS & Women's QS
Banzai Pipeline, Oahu, Hawaii
16 – 27 March 2015
Carissa Moore back in Surf'N Sea Pipeline Women's. Pro presented by Brazilian Showroom. 
Surf News Network, 17 March, 2015 -. Surf's a fun 2-3′ from the WNW and coming up even more later. With superb lite winds and sunny skies. Wednesday we have even bigger surf!
Hawaii's Carissa Moore will return to Hawaii after her Snapper Victory to both inspire and compete in the Surf N Sea Pipeline Pro Women's. Defending Champ: Bethany.
The event is a QS1,000 rated event sanctioned by the World Surf League (WSL) and will be held in conjunction with the Pipeline Pro Jr Men's – a WSL Junior Qualifying Series 1,000 event, with a holding period from Monday, March 16, through March 27 – to run on the best two days of surf.
As a two-time world champion and leader of the WSL's 2015 Women's Samsung Galaxy Championship Tour, Moore's participation in the Surf N Sea Pipeline Pro will be motivational for the 23 young participants who ultimately look to follow in her career footsteps. While the event is of no consequence to Moore's 2015 world title hopes, it keeps her in touch with the rising tide of women surfers she leads and offers a much welcomed opportunity to compete at home.
Among those Hawaii hopefuls who look to challenge Moore next week are Sunset Beach Pro Jr champion Dax McGill, Honolua Blomfield, Moana Jones, and Carissa's younger sister Cayla Moore.
Following the event, Carissa will return to Australia to defend her Rip Curl Pro Bell's Beach title over Easter – stop #2 on the 2015 Samsung Galaxy Championship Tour.
PIPELINE PRO JR MEN'S:
Oahu's Seth Moniz, 17, will look for a successful defense of his title at the Pipeline Pro Jr Men's next week, and will draw upon his recent win at the Sunset Beach Pro Jr in January to achieve his goal.
Moniz will face a familiar cast of junior professionals at Pipe including his brother Josh, North Shore locals Finn McGill and Wyatt McHale; and internationals Benji Brand (South Africa) and Riley Laing, who head a field of 72 young men.
Large waves and strong trade winds are currently pummeling the North Shore of Oahu, but are expected to settle to moderate wave face heights with moderate trades next week. The first competition call will be made at 7am Monday. Aloha!
The World Surf League (WSL) organizes the annual tour of professional surf competitions and broadcasts each event live at WorldSurfLeague.com where you can experience the athleticism, drama and adventure of competitive surfing — anywhere and anytime it's on. The WSL sanctions and operates the following tours: the Junior Tour, Longboard Tour, the Qualifying Series (QS), the Big Wave Tour and the crown jewel of the sport, the WSL Championship Tour (CT) which determines the sport's undisputed world champions.