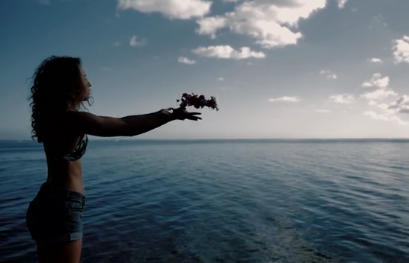 And learn…:)
One more showing: Sunday, Jul 16 07:30 PM
Location:
Doris Duke Theatre
"My losses don't own me…" Amber Mozo (read about the Jon Mozo Story HERE
About the Film:
Part of the Honolulu Surf Film Festival 2017
See a collection of shorts focused on women's nurturing relationship with the ocean and the trials and tribulations of surfing while female.
Total runtime: 103 minutes. 
Special guests: At the July 16, 7:30pm screening, writers Mindy Pennybacker and Karin Ingersoll and filmmaker Crystal Thornburg-Homcy will join us for a post-screening discussion of women and surfing.
Growing up in snow and fresh water, once Tay Steele had a taste of island life in the Marshall Islands, Virgin Islands and Hawai'i, his love for the people, culture, and lifestyle brought him to settle on the North Shore of O'ahu. In the last three years, Tay has established himself as an up-and-coming filmmaker with a passion for telling stories of land and sea. SURFER magazine said earlier this year, "In a time when the surf world needs fuller storytelling and fresh vision, Tay might just be that new face who brings it back around."
Born and raised in Hawai'i, Crystal Thornburg-Homcy's (Sliding into the Light, Beyond the Surface) first steps were at the beach. An accomplished longboarder and all-around ocean athlete, she also bodysurfs, freedives and races canoes, kayaks and paddleboards. With a degree in Environmental Science, Crystal works closely with a number of environmental non-profits. She lives on the North Shore, where she and her husband run an organic produce company, Crave Greens.
Mindy Pennybacker is a veteran journalist and author of Do One Green Thing: Saving the Earth Through Simple, Everyday Choices (St. Martin's Press, 2010). Born and raised in Honolulu, Mindy grew up with a love of surfing and currently writes the Honolulu Star Advertiser's "In the Line Up" column.
Karin Amimoto Ingersoll was born and raised on O'ahu and is a graduate of Punahou School.  She received her BA from Brown University in history and international relations in 1996, her Ph.D. from the University of Hawai'i at Mānoa in indigenous politics in 2009, and was the recipient of the Hawai'i Mellon Postdoctoral Fellowship in 2010.  She has published a short story entitled, "An Oceanic Nation," in Indigenous Encounters: Exploring Relations Between People in the Pacific (2010), and a book entitled, Waves of Knowing: A Seascape Epistemology (2016).
Stephanie Gilmore: The Tempest
Directed by Jon Frank. Australia. 2016. 5 min.
Stephanie Gilmore (Proximity) in the waters of Indonesia.
Mood
Directed by Fran Miller. Australia. 2016. 3 min.
The film showcases three of the world's most talented up-and-coming female longboarders—Roisin Carolan, Ivy Thomas and Hallie Rohr.
Lumière
Directed by Tay Steele. USA. 2017. 17 min.
From Hawai'i to Tahiti, Lumière takes us behind the lens of North Shore photographer Amber Mozo, to find what the ocean gives to her in spite of what it took away.
Sliding into the Light
Directed by Crystal Thornburg-Homcy and Simon Beins. USA. 2017. 6 min.
A meditation on loss, renewal, and our connection to the sea featuring local surfer Crystal Thornburg-Homcy.
Pear Shaped
Directed by Lauren Hill. Australia. 2017. 6 min.
Surfing tends to take itself pretty seriously, and women's surfing carries the extra burden of not only having to be serious, but also be sexy.
World Peace Wet Dream
Directed by Jem Goulding. USA/Israel. 2017. 4 min.
An 8mm experimental nonfiction film following Tal, a young surf fanatic doing her required military service in "the dead zone" by the Dead Sea.
Way East
Directed by Mathias Kögel. Germany/Japan. 2016. 21 min.
Two sportswomen, Aline Bock and Lena Stoffel, carve a path through the snowy mountains of Japan to find perfect waves.
Lettre à ma Mer
Directed by Mégane Murgia. France. 2017. 40 min. French with English subtitles.
The film follows three women, through the changing seasons, depicting their lives and relationships that the ocean and surfing have on their everyday lives in the beautiful coastal village of Finistère. Sophie is a young mother passionate about surfing, Annabel is a young artist inspired by the sea and Clementine is a globetrotter who is exploring waves around the world.