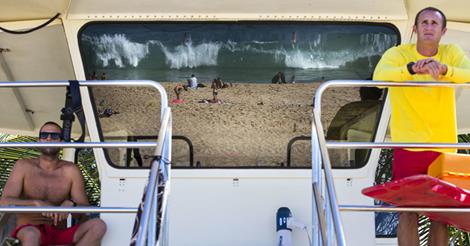 Check out this New York Times article by Nick Corasaniti.
HALEIWA, Hawaii — Dusk masked the approaching waves at Banzai Pipeline on the North Shore of Oahu as they climbed to 15 feet before pounding the shallow, jagged reef below. Adrift in the rapid current and foamy sea was a photographer, exhausted from battling the relentless waves and fighting for his life.
Adam Lerner, a lifeguard on the North Shore, was just finishing a long shift when he made out the shadow of a body being dragged like driftwood over rapids around Pipeline's surf. With the waves too big for a rescue board, Lerner grabbed a flotation device, waited for a lull in the pounding surf break and dived in.
Lerner reached the photographer, taking "a couple waves on the head," he said. They battled a current pulling them out, waves holding them down, and a night growing ever darker. With luck, they washed ashore, gasping and grateful to be on land.
 "I was literally floating in the water in 15- to 18-foot surf, in the middle of the night, with this total stranger," Lerner said. When they reached the shore, "he went that way, and I went that way," Lerner added, chuckling to himself.
So it goes for the North Shore lifeguards of the Ocean Safety and Lifeguard Services Division on Oahu, a group of 42 full-time workers given the task of patrolling one of the most dangerous stretches of beach in the world. Called the Seven Mile Miracle, Oahu's North Shore attracts both pro surfers and amateur swimmers to tangle with the massive swells that roll in frequently during the winter. In 2013, there were more than 1,000 ocean rescues and major medical cases handled by the guards on the North Shore.
 For the full story and Video interviews with Brendan Shea, Adam Lerner & Mark Domroski,  Go Here