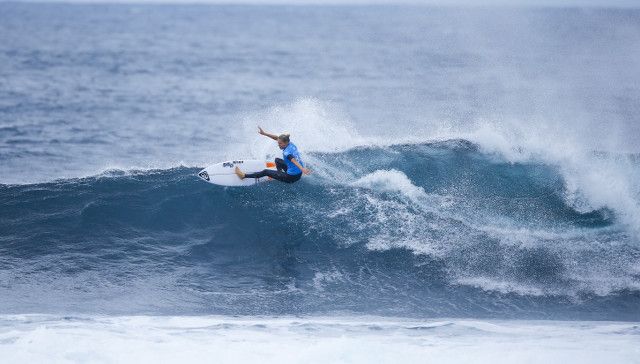 Stephanie Gilmore © WSL/Sloane
Drug Aware Margaret River Pro
WSL Men's CT Event
WSL Women's CT Event
Margaret River, Western Australia
8 – 19 April 2016
Conlogue, Wright, Moore & Fitzgibbons through to quarterfinals
Surf News Network, 11 April, 2016 – The Drug Aware Margaret River Pro blazed through Women's Rounds 3 and 4 to narrow the field down to the remaining eight Quarterfinalists.
The third stop on the 2016 Samsung Galaxy WSL Championship Tour, the Drug Aware Margaret River Pro, saw clean 4 to 6 foot waves (1.5 metre) at Main Break in Western Australia and the usual suspects in terms of WSL Title contenders separated themselves from the rest of the field.
Courtney Conlogue (USA), current WSL Jeep Ratings Leader, continued her dominance at Margaret River against Malia Manuel (HAW) and Nikki Van Dijk (AUS) in the non-elimination Round 3 match-up. Conlogue dropped two solid rides to lock in a 15.33 two-wave combined score.
Manuel challenged Conlogue with a 7.33, but could not find the 8.04 required to defeat Conlogue. Van Dijk attempted some high risk maneuvers, but was not able to land the rides to complete the scores.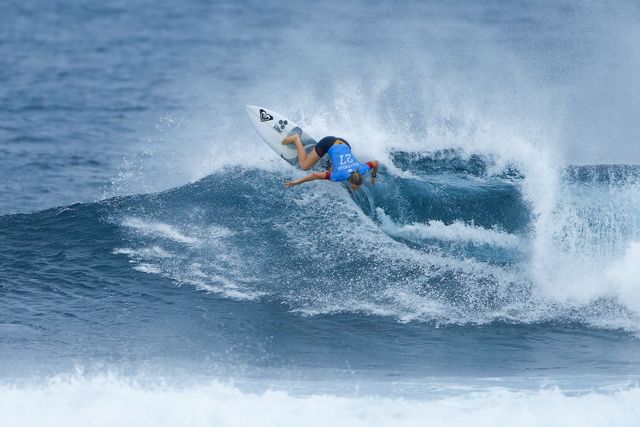 Bianca Buitendag © WSL/Cestari
"For me I think of Round 3 as an elimination round just because you have to go to Round 4 and that round is sudden death," said Conlogue. "If you end up having a bad heat and someone has a great heat, you are packing up and going home. With the Title you do not want to have any 9th place finishes as long as you can, so alleviating those Round 4 are crucial."
Round 3 Heat 4 witnessed an all-Australian match-up between the current World No. 2Tyler Wright (AUS), Stephanie Gilmore (AUS), six-time World Champion, and local favorite Bronte Macaulay (AUS). Wright squeaked through the Quarterfinals with a buzzer-beater win against Gilmore. Needing a 5.23, Wright answered with a 5.30 to send Gilmore to Round 4.
"I thought I was borderline during that heat and it turns out I was," Wright said. "There was nothing else that came through, so even if I did not get it, I gave myself an opportunity and I was stoked that I did get it. It was very inconsistent."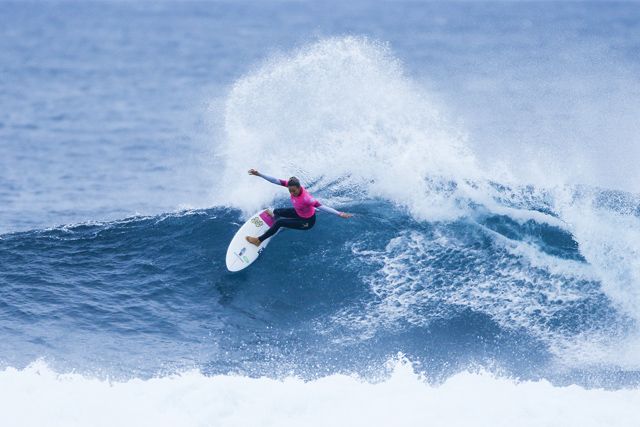 Sally Fitzgibbons © WSL/Sloane
Stephanie Gilmore (AUS) was sent to battle in elimination Round 4 against Sage Erickson (USA). Gilmore knocked out Erickson with two solid 8-point rides, giving her a 2.36 lead over Erickson's 14.74 two-wave combined score. Erickson will leave Margaret River with a 9th place finish. Gilmore will advance to the Quarterfinals.
"I need to be aggressive to win these heats now," said Gilmore. "Powerful and aggressive is the aim from now on. When I am out there I am feeling aggressive, but then when I watch the replays I think differently. It is always interesting when you watch back and get a different view of what it was, but at the same time, I am just doing my thing but definitely adding more aggression."
Carissa Moore (HAW) barely came through Round 3 Heat 3 against Bianca Buitendag (ZAF) and Sage Erickson (USA). Erickson got off to a quick start by securing the first two rides of the heat, but Buitendag and Moore swept passed Erickson in the dying minutes.
Buitendag threw up a massive 9.40 ride to take the second position, while Moore secured two 8-point rides to advance to the Quarters.

Tati West © WSL/Sloane
"I ended up catching a couple of waves there at the end, but for a while there I was thinking that I would have to surf another round,'" Moore said. "I just figured that there was a ten minute lull and something had to come through and luckily it did. Even if it didn't, I was just ready to give it my best shot and go down kicking and screaming."
Sally Fitzgibbons (AUS) blazed through the opening heat of Round 3 against Tatiana Weston-Webb (HAW) and Laura Enever (AUS). Fitzgibbons earned a solid 15.50 two-wave combined score, leaving a healthy gap between Weston-Webb and Enever. Fitzgibbons will move on to the Quarterfinals.
"Being first heat is always tough," Fitzgibbons said. "You really have to have that energy level up and it has been a great morning. I've been up for a while and the legs and energy felt great. I tried to control the heat with those lully conditions and away we went. I am stoked to be into the Quarterfinals."
Laura Enever (AUS) eliminated Malia Manuel (HAW) in Round 4 to stay alive in the competition. Enever, who has had a slow start to the 2016 season, solidified her first Quarterfinal entry since the 2015 Fiji Pro. Enever secured the win with a buzzer-beater wave to knock out Manuel by only 0.30 points.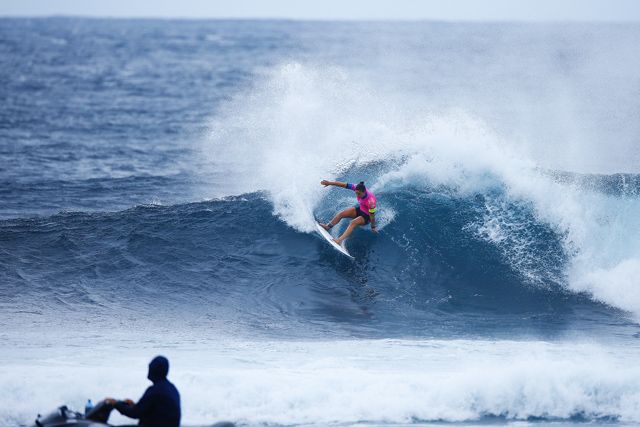 Tyler Wright © WSL/Sloane
"It was back and forth, but I am stoked to put a heat together like that and come back at the end to get the score I needed," Enever said. "I haven't been in the Quarters in a long time. Malia and Courtney have been ripping, and I am so inspired by them and how well all the girls have been surfing. This isn't my type of wave so for me to get a result here is awesome."
Drug Aware Margaret River Pro Women's Round 3 Results:
Heat 1: Sally Fitzgibbons (AUS) 15.50, Tatiana Weston-Webb (HAW) 8.83, Laura Enever (AUS) 6.00
Heat 2: Courtney Conlogue (USA) 15.33, Malia Manuel (HAW) 12.63, Nikki Van Dijk (AUS) 7.10
Heat 3: Carissa Moore (HAW) 16.50, Bianca Buitendag (ZAF) 15.50, Sage Erickson (USA) 15.23
Heat 4: Tyler Wright (AUS) 11.97, Stephanie Gilmore (AUS) 11.94, Bronte Macaulay (AUS) 9.30
Drug Aware Margaret River Pro Women's Round 4 Results:
Heat 1: Tatiana Weston-Webb (HAW) 11.87 def. Nikki Van Dijk (AUS) 10.90
Heat 2: Laura Enever (AUS) 14.50 def. Malia Manuel (HAW) 14.20
Heat 3: Bianca Buitendag (ZAF) 14.60 def. Bronte Macaulay (AUS) 9.44
Heat 4: Stephanie Gilmore (AUS) 17.10 def. Sage Erickson (USA) 14.74
Drug Aware Margaret River Pro Women's Quarterfinal Match-Ups:
QF 1: Sally Fitzgibbons (AUS) vs. Tatiana Weston-Webb (HAW)
QF 2: Courtney Conlogue (USA) vs. Laura Enever (AUS)
QF 3: Carissa Moore (HAW) vs. Bianca Buitendag (ZAF)
QF 4: Tyler Wright (AUS) vs. Stephanie Gilmore (AUS)
Drug Aware Margaret River Pro Men's Round 4 Match-Ups:
Heat 1: Matt Wilkinson (AUS), Joel Parkinson (AUS), Julian Wilson (AUS)
Heat 2: Nat Young (USA), Adrian Buchan (AUS), Leonardo Fioravanti (ITA)
Heat 3: Gabriel Medina (BRA), Kolohe Andino (USA), Jordy Smith (ZAF)
Heat 4: Sebastian Zietz (HAW), Caio Ibelli (BRA), Italo Ferreira (BRA)