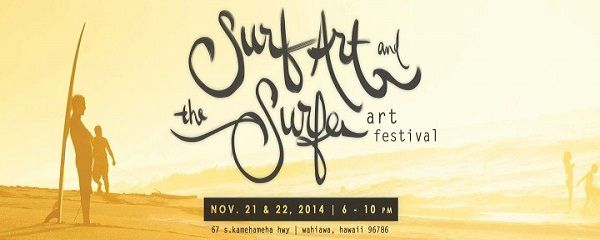 The Island of Oahu has some of the best waves in the world, creating a place where surfers of all kinds can thrive. Right in the middle of the island on the way to the legendary North Shore, lies the town of Wahiawa, a place many surfers drive by every day. We at STN love both surfing and Wahiawa and are constantly asking ourselves how to best incorporate the two while contributing to this town!
So, on November 21st and 22nd, 6-10 pm we want to put Wahiawa on the map and make this a culturally vivid place. Taking our passion for surfing, art, and Wahiawa, we are putting on our 2nd annual art festival, with the theme ''Surf Art & the Surfer". We want to celebrate this sport and the people around it!
We are featuring some of the island's top artists like Bill Wyland, Susanne Ball, Mark Brown, Peter Sterling, Ben Trail and many more! We are stoked to have secured an amazing live-music lineup including: The Ron Artis Family Band (Friday, 11/21/14 @ 9-10pm) and Streetlight Cadence (Saturday, 11/22/14, 6:30-7:30pm)! Our coffee bar – Surfer's Coffee Bar-  will be open for you to enjoy some delicious drinks and will also include exhibits and collections from surf icons like Mark Cunningham and Al Frenzel.
Something new we are excited to feature this year is a live art showcase each night. The live art will be done on surfboard blanks donated by John Carper, Eric Arakawa, and Ron Maize and will be custom-painted by local surfboard artists! The special edition  boards will then be put up for online auction and all the proceeds will go to buying surfboards for kids in Bangladesh!
All of STN's property, parking lots, and Kamehameha storefronts will be full of surf art, photography, food, live music, vendors and live art. Come join the festivities and help us make Wahiawa come alive!