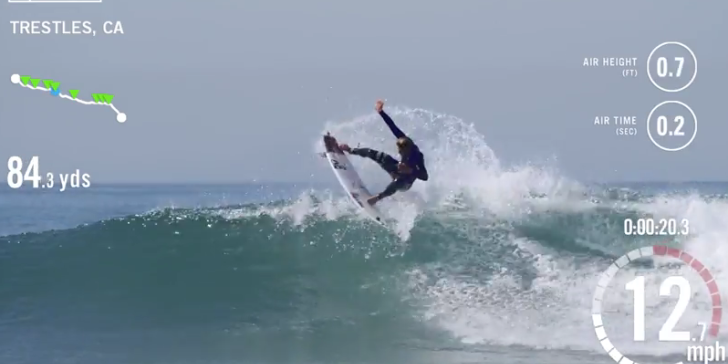 Trace and Conner Coffin use device at Oakley Lowers Pro
Surf News Network, 30 April, 2015 – Trace., the action sports tracker – made history at the Oakley Lowers Pro by implementing the first-ever Trace Spot Check, a detailed wave analysis of Lower Trestles. Regarded as one of the most iconic surf breaks in California, Trace collected valuable data over the past six months to accurately depict wave patterns and performance trends leading into the competition.
Joining forces with Oakley, Trace captured the data of eight top-level surfers including Southern California standout and Oakley team rider, Conner Coffin. With the recorded data, Trace was able to overlay a heat map on top of the break at Lowers, showing where the best surfers gain the most speed and perform the most maneuvers. The results proved that the right produced a longer wave with a higher speed and more maneuvers, while the left side equated to more vertical surfing with faster cutbacks and smaller turn angles.
"Using the data from Trace allows us to look at Lowers in a way that's never been done before," said Trace Co-Founder, David Lokshin. "We can look at attributes like speed, take off points, and board angle to see patterns in the best waves. We use this data to report our findings back to athletes to aid in their strategy."
Trace is a mountable, waterproof device that uses GPS and sensors to measure performance data. The data collected by each athlete allowed Trace to track the number of waves, length of ride, number of turns, turn degree, turn roll angle, paddle distance and time, number of airs, calories burned and more.