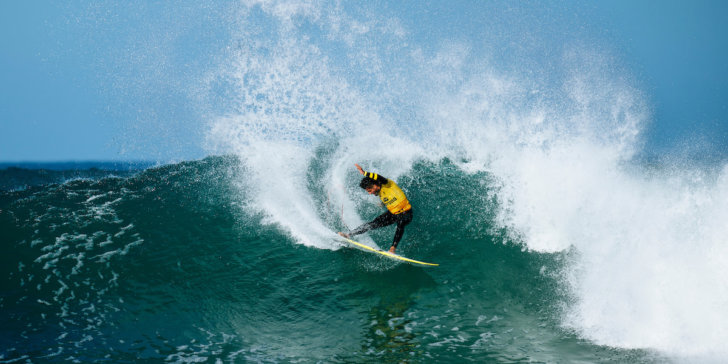 Current World No. 1 Toledo Clinches Spot in WSL Final 5
Fioravanti Provisionally Qualifies for Olympic Games Paris 2024
Gilmore Eliminates Defending Event Winner, Takes Important Win as Season Winds Down
Next Call: Wednesday, July 19 at 7:15 a.m. GMT +2 (Tuesday 715pm HI Time)
Pictured: Current World No. 1 Filipe Toledo (BRA) has clinched a spot in the WSL Final 5 after advancing to the Quarterfinals at the Corona Open J-Bay 2023 Credit: © WSL / Ryder
JEFFREYS BAY, Eastern Cape, South Africa (Tuesday, July 18, 2023) – The Corona Open J-Bay, Stop No. 9 on the World Surf League (WSL) 2023 Championship Tour (CT), resumed today in classic Supertubes conditions with six-foot perfect rights peeling down the famed South African point break.
The event completed a mammoth day of competition to take advantage of the perfect conditions on offer and ran through the remaining two heats of the women's Opening Round, the men's and women's Elimination Rounds as well as the men's Round of 16 to decide the event's Quarterfinalists.
Current World No. 1 Toledo Clinches Spot in WSL Final 5
The reigning World Champion Filipe Toledo (BRA) posted an impressive 17.56 heat total to advance ahead of rookie Rio Waida (INA) into the Quarters. With a guaranteed equal fifth place, Toledo has officially clinched his spot in the WSL Final 5 for an opportunity to defend his world title at the Rip Curl WSL Finals at Trestles in September.
"I've been waiting for that call," Toledo said. "All the hard work, all the sacrifices, hours of traveling, all those airplanes and all the money spent make that extra special. I'm really happy, coming from an injury in Rio, I've still got all the tapes on my knee trying to hold it together to make sure I got a result here. I knew I was close to clinching it but I was trying to control those feelings and I feel super blessed."
Fioravanti Provisionally Qualifies for Olympic Games Paris 2024
Leonardo Fioravanti (ITA) has provisionally qualified through the WSL CT  to represent his country at the Olympic Games Paris 2024. Fioravanti's ninth-place finish at the Corona Open J-Bay ensures he will be one of the 18 surfers to provisionally qualify through the WSL CT. The 25-year-old, currently ranked ninth in the world, will represent his country in the Olympics for a second time. He competed at the 2020 Tokyo Olympics as an injury replacement for Jordy Smith (RSA).
"Being an Olympic athlete is a dream come true," Fioravanti reacted. "It's a dream to have another chance to represent my country at the next Olympics and hopefully I can bring a medal home. The Italian Federation has been supporting me a lot, they really believe in this project. We got Adriano de Souza as my coach and it's been a huge help for me and it's really made me learn a lot about myself to become a better competitor. Going to the next Olympics is not just my dream, I'm also representing a whole country, a whole nation that supports me and I hope I can make them proud."
Moore Muscles Through Difficult Heat into Quarterfinals
Five-time World Champion Carissa Moore (HAW) faced a challenging Elimination Round battle against Johanne Defay (FRA) and came out triumphant despite complicated circumstances. After a good start, the Hawaiian fell on a set wave and broke her board, forced to swim in over the rocks before running up the point where new equipment was waiting.
Moore wasted no time to regain her composure and found a clean wall to slice through with her powerful carves to post an excellent 8.50 (out of a possible 10) and take the lead. She then closed the door on Defay with another spectacular combination of turns in the lip to seal her Quarterfinal berth.
"I'm actually kind of grateful it happened to me again, and my team and I were better prepared than last year," Moore explained. "It gets you to refocus on exactly what you need to do, and I got to chat with my coaches on the run around. They explained what I needed to do and I started to look for different waves, tighter on the reef."
Gilmore Eliminates Defending Event Winner, Takes Important Win as Season Winds Down
Former event winner Stephanie Gilmore (AUS) defeated an in-form Tatiana Weston-Webb (BRA) in a must-make Elimination Round heat between the two surfers currently tied 6th on the rankings just outside the WSL Final 5 cutoff. Despite the Brazilian's highest-scoring ride of 8.00, it was Gilmore's impeccable flow and technique on the long rights that built up to a higher heat total of 14.37 (out of a possible 20).
"There's a lot of water moving but it's just perfect, pumping J-Bay," Gilmore said. "That's what we come here for, we waited a long time but it arrived and it's just beautiful out there. In the previous heat it was bombing so I adjusted my equipment and grabbed a slightly longer board with big fins. That was a crucial heat with all of us sitting in the same zone. It's just such a fantastic wave, the feelings that you get when you ride out there are pretty hard to describe."
Her compatriot Molly Picklum (AUS) and tour veteran Lakey Peterson (USA) picked up the remaining two spots into the event's Quarterfinals. Earlier in the day, Caroline Marks (USA) lit up on her backhand and found the most critical sections of Supertubes to post a near-perfect 9.63 and announce herself as a threat this week.
O'Leary Continues to Build Momentum, Upsets Florence with Buzzer-Beater
World Champions John John Florence (HAW) and Filipe Toledo (BRA) put on an absolute clinic on their forehand while sharing the lineup in separate heats. Both surfers found the near-perfect end of the judging scale, 9.63 for Toledo and 9.23 for Florence. However while Toledo managed to advance with another big number on the board, Florence was eliminated in the dying moments by Connor O'Leary (AUS).
The Australian on his backhand got the biggest total heat score of the morning and continued to build momentum in the afternoon to defeat Florence with last-second heroics to post two excellent scores and move into the Quarters for the fifth time this year. O'Leary is yet to make it out of that round and will face another big hurdle as he squares off with Ethan Ewing (AUS) when the event resumes.
"I gave it everything I could and it was kind of a tricky wave," O'Leary said of his final attempt to turn the heat. "I went big for the last turn and it felt pretty nice but you're never really sure. Overall it was a good heat so I was happy with how it went either way. I'm in a really good head space at the moment, I'm exactly where I need to be and still trying to have a good time."
Giant Slayer Gentil Finds his Groove in Pumping J-Bay
One of only three rookies to make the mid-season Cut, Hawaii's Ian Gentil (HAW) seems to have found his groove in the back half of the season and especially today in firing J-Bay. Growing up surfing Honolua Bay, Gentil's style and approach really fit the rhythm of the waves. He defeated former world champion Italo Ferreira (BRA) in the Elimination Round and later dispatched current World No. 2 Griffin Colapinto (USA) to reach the Quarterfinals.
"I'm just trying to surf as much J-Bay as I can," Gentil said. "I probably went on waves that I shouldn't have in that heat but I just couldn't help myself. I'm trying to work out all the little things before a heat to make sure the best comes out in those thirty minutes. That takes a little bit of time and I'm just happy to get a little bit better every event and every heat. "
Pictured: Sarah Baum (RSA) will surf in the Quarterfinals at the Corona Open J-Bay 2023 Credit: © WSL / Van Gysen
Brutal Day for South African Contingent on Home Turf
While the day was filled with excitement and brilliance in the lineup, a sour note of disappointment chilled the crowds as all three South African surfers were sent packing. Event wildcard Adin Masencamp (RSA) was eliminated by the reigning event winner Ethan Ewing (AUS). J-Bay local Matthew McGillivray (RSA) fought tooth and nail for a spot into the Round of 16 against Barron Mamiya (HAW) but his final effort came just 0.11 shy of the requirement.
Two-time event winner Jordy Smith (RSA) advanced through his morning Elimination Round heat with a brilliant display of rail surfing on a wave he knows better than most, but couldn't keep the ball rolling against Ewing later in the day and bowed out in equal ninth.
Sarah Baum (RSA) will be the last South African athlete in the draw on finals day when she takes on Carissa Moore (HAW) in the Quarterfinals.
The next call will be on Wednesday, 19 July at 7:15 a.m. GMT +2.
For more information please visit WorldSurfLeague.com
Corona Open J-Bay Women's Remaining Opening Round Results
HEAT 3: Tyler Wright (AUS) 14.90 DEF. Tatiana Weston-Webb (BRA) 14.36, Johanne Defay (FRA) 13.10
HEAT 4: Caroline Marks (USA) 17.80 DEF. Bettylou Sakura Johnson (HAW) 15.00, Stephanie Gilmore (AUS) 10.50Corona Open J-Bay Men's Elimination Round Results:
HEAT 1: Ethan Ewing (AUS) 14.73 DEF. Adin Masencamp (RSA) 8.50
HEAT 2: Connor O'Leary (AUS) 18.24 DEF. Callum Robson (AUS) 10.33
HEAT 3: Jack Robinson (AUS) 13.00 DEF. Kelly Slater (USA) 12.76
HEAT 4: Barron Mamiya (HAW) 11.33 DEF. Matthew McGillivray (RSA) 11.23
HEAT 5: Ryan Callinan (AUS) 15.60 DEF. Seth Moniz (HAW) 12.73
HEAT 6: Jordy Smith (RSA) 17.50 DEF. Caio Ibelli (BRA) 15.03
HEAT 7: Ian Gentil (HAW) 14.70 DEF. Italo Ferreira (BRA) 13.47
HEAT 8: Kanoa Igarashi (JPN) 15.73 DEF. Liam O'Brien (AUS) 14.90

Corona Open J-Bay Women's Elimination Round Results:
HEAT 1: Carissa Moore (HAW) 16.27 DEF. Johanne Defay (FRA) 13.63
HEAT 2: Lakey Peterson (USA) 13.67 DEF. Caitlin Simmers (USA) 8.33
HEAT 3: Molly Picklum (AUS) 14.90 DEF. Bettylou Sakura Johnson (HAW) 12.74
HEAT 4: Stephanie Gilmore (AUS) 14.37 DEF. Tatiana Weston-Webb (BRA) 12.40

Corona Open J-Bay Men's Round of 16 Results:
HEAT 1: Ian Gentil (HAW) 15.43 DEF. Griffin Colapinto (USA) 14.30
HEAT 2: Gabriel Medina (BRA) 16.83 DEF. Ryan Callinan (AUS) 16.03
HEAT 3: Ethan Ewing (AUS) 16.23 DEF. Jordy Smith (RSA) 14.37
HEAT 4: Connor O'Leary (AUS) 17.47 DEF. John John Florence (HAW) 17.23
HEAT 5: Filipe Toledo (BRA) 17.56 DEF. Rio Waida (INA) 11.67
HEAT 6: Jack Robinson (AUS) 14.00 DEF. Leonardo Fioravanti (ITA) 13.54
HEAT 7: Kanoa Igarashi (JPN) 13.74 DEF. Joao Chianca (BRA) 12.67
HEAT 8: Yago Dora (BRA) 14.00 DEF. Barron Mamiya (HAW) 11.03

Corona Open J-Bay Women's Quarterfinal Matchups:
HEAT 1: Tyler Wright (AUS) vs. Gabriela Bryan (HAW)
HEAT 2: Caroline Marks (USA) vs. Lakey Peterson (USA)
HEAT 3: Carissa Moore (HAW) vs. Sarah Baum (RSA)
HEAT 4: Molly Picklum (AUS) vs. Stephanie Gilmore (AUS)

Corona Open J-Bay Men's Quarterfinal Matchups:
HEAT 1: Ian Gentil (HAW) vs. Gabriel Medina (BRA)
HEAT 2: Ethan Ewing (AUS) vs. Connor O'Leary (AUS)
HEAT 3: Filipe Toledo (BRA) vs. Jack Robinson (AUS)
HEAT 4: Kanoa Igarashi (JPN) vs. Yago Dora (BRA)