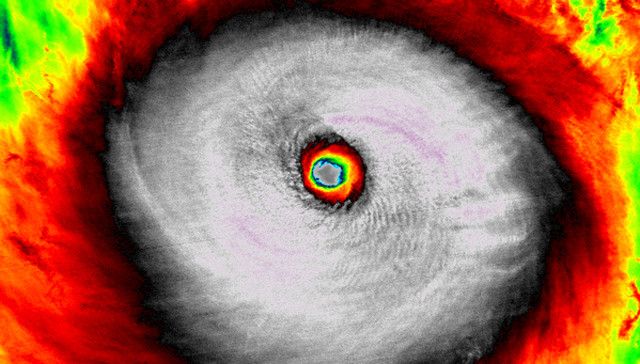 Nuri was one of the most powerful storms in history. And it creates surf for Hawaii. 
Surf News Network, 8 November, 2014. Super Typhoon Nuri became one of the most powerful tropical cyclones of 2014 on November 2 as it churned over the open waters of the western Pacific Ocean, east of the Philippines and south of Japan.
According to the U.S. military's Joint Typhoon Warning Center, Nuri's maximum 1-minute sustained winds reached 180 mph Sunday afternoon, November 2, and remained there through 7 a.m. EST the following day (9 p.m. Japanese time). This tied October's Super Typhoon Vongfong for the strongest tropical cyclone of 2014, according to JTWC estimates.
By the evening of November 5, Nuri diminished to a tropical storm with sustained winds of 65 mph. At that time, it was undergoing a transition in which it is no longer a tropical (ie, "warm core") system but rather a post-tropical ("cold core") system. Because of this, the Joint Typhoon Warning Center issued its final advisory for Nuri.
Although Nuri was weakening, it would regain strength in a few days as it joins up with the jet stream and becomes a powerful post-tropical cyclone over the Bering Sea near the western Aleutian Islands of Alaska.
This super storm from Nuri's remnants is expected to deliver huge swell to Hawaii and California.