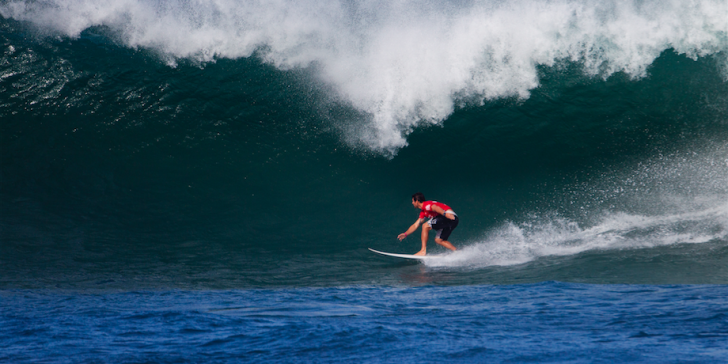 Vans Triple Crown Ratings Leader Wade Carmichael Bows Out.
Front page: Gonzalo Zubizarreta (ESP) tackles tricky Sunset conditions. Photos WSL / Kirstin
Here's some of the action with the whole story below.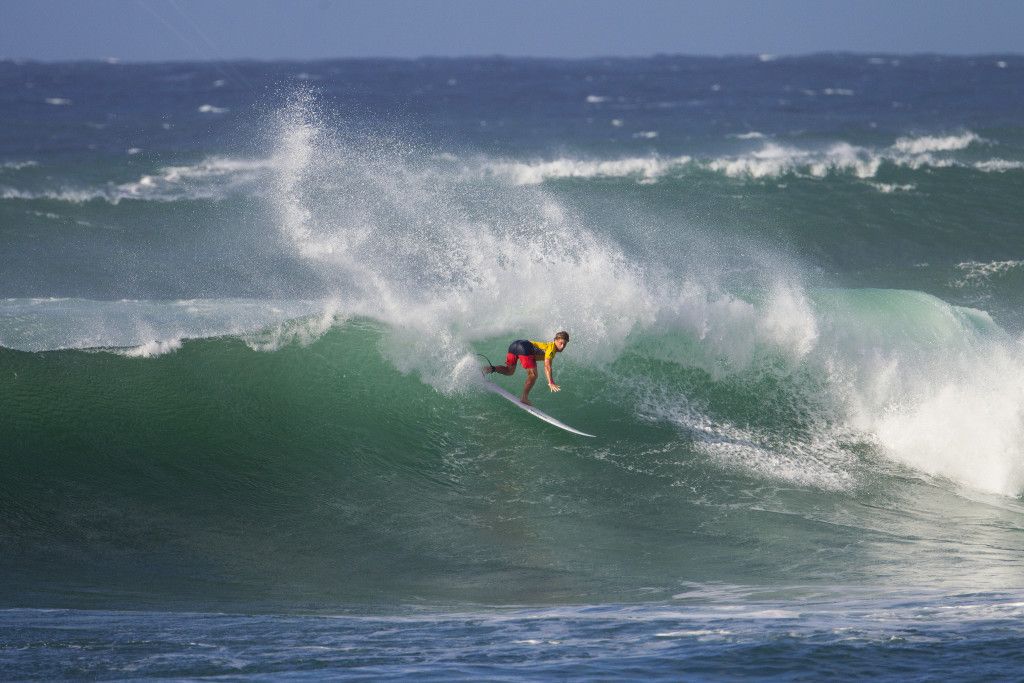 Benji Brand winning his ROund 2 heat.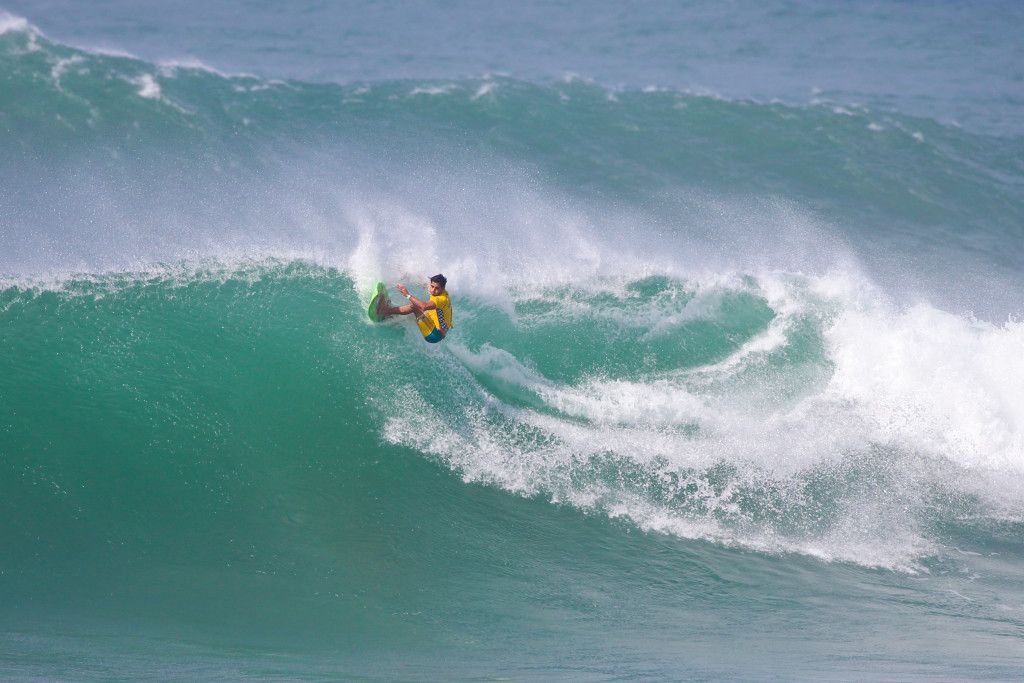 Joel Centeio (HAW). Vans World Cup 2015
[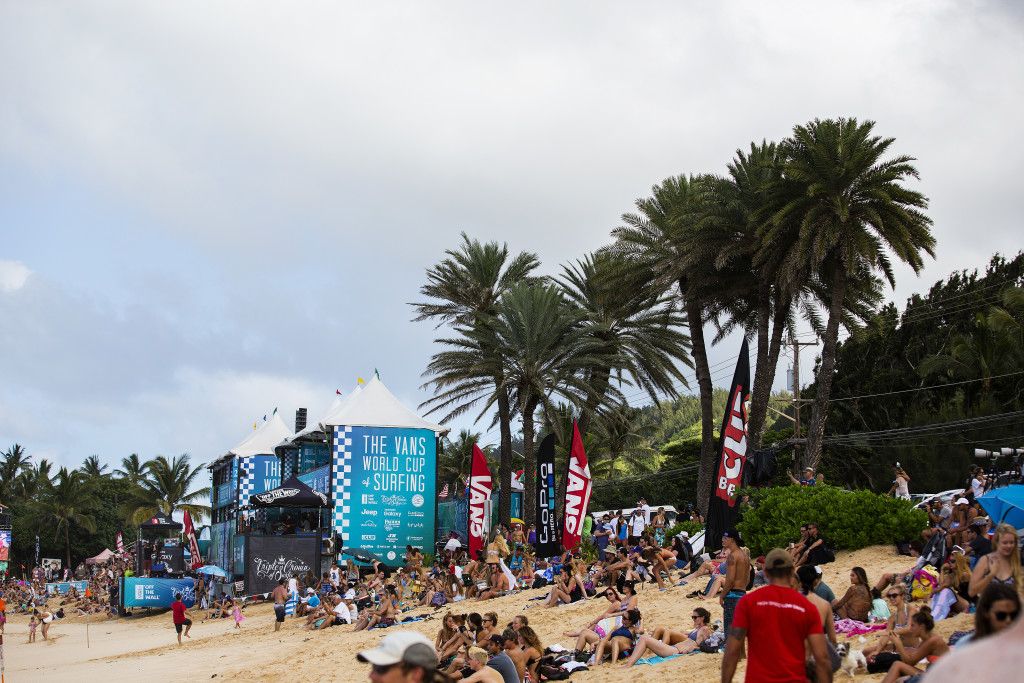 Sunset Crowd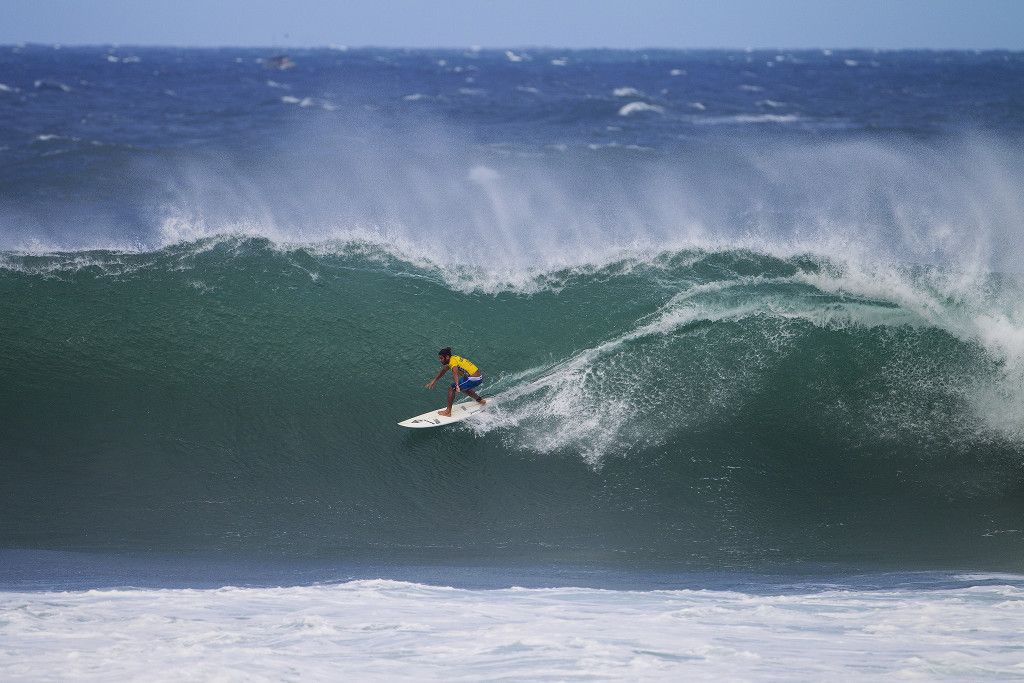 Marco Giorgi of Uraguay (pictured) posting one of the highest rides of the day, a 9.30 (out of a possible 10.00) to advance into the next round at the Vans World Cup of Surfing on Saturday November 28, 2015.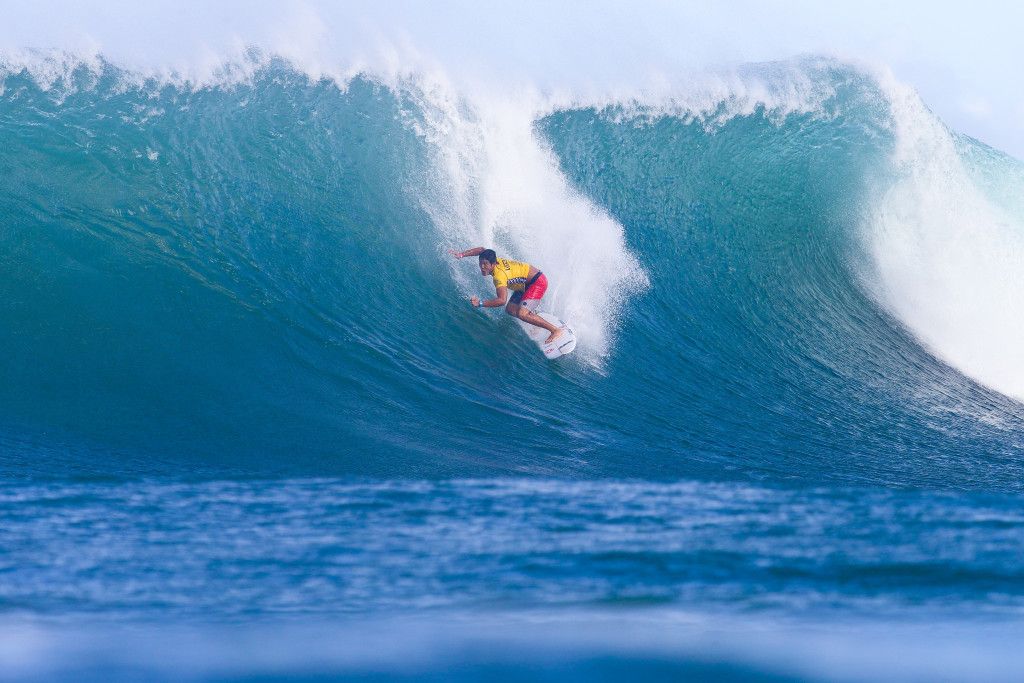 Kaito Kino (HAW) .Vans World Cup 2015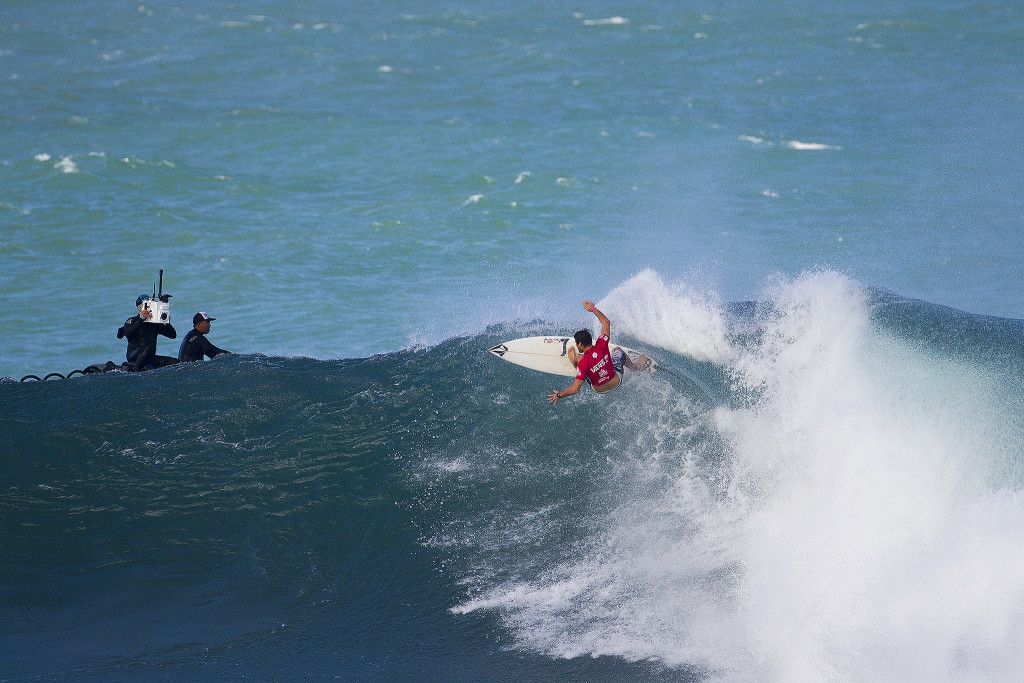 Gonzalo Zubizeretta of Spain (pictured) winning his Round 1 heat at the Vans World Cup of Surfing at Sunset Beach on Saturday November 28, 2015.
Location:   
North Shore Oahu, Hawaii
Event:
Dates & Rating:
Vans World Cup of Surfing – Event No. 2 of the Vans Triple Crown
November 24 – December 6, 2015
WSL Men's QS 10,000
Sunset Beach, North Shore, Oahu, HAWAII – (Saturday, November 28, 2015) — Sunset Beach delivered a challenging new swell for competitors at the Vans World Cup today – the second stage of the Vans Triple Crown of Surfing on Oahu's hallowed North Shore. Sunset's deep water lineup demanded surfers transition from the small wave boards they rode at Haleiwa one week ago, to big wave equipment and a whole new level of athleticism.The field was dramatically cut as twenty-foot wave face heights and strong side-shore trade winds added another level of intensity to the challenge. Among the casualties: early Vans Triple Crown series leader Wade Carmichael (AUS); Tiago Pires (PRT); and Billy Kemper (HAW).
Athletes were repeatedly tested by Sunset, known as the most challenging wave in the world. Despite the tricky surf, there was a spirited blend of international and local advances from familiar names as well as underdog break through to maintain the mix.
Posting the highest single wave score of the day, Marco Giorgi (URY) carved out a 9.30 from deep on the outside Bowl, unleashing a handful of powerful turns. The only surfer donning the Uruguay flag in the Vans Triple Crown of Surfing, Giorgi advanced behind one of the few South Africans of the event, Beyrick De Vries, and ahead of Luke Shepardson (HAW) and Michael Wright (AUS).
This is Giorgi's third time competing in the Vans Triple Crown, however it has been a few years since the 27-year-old has been on the North Shore.
"It's really good to be back in Hawaii, not having done the Triple Crown in a while, like three or four years," said Giorgi. "This is one of the best waves for me to compete on. It's a fun wave to surf, just a big arm of a ride… just super strong, big boards, super fun."
Vans Triple Crown rookie Benji Brand (HAW) and progressive Honolulu surfer Seth Moniz (HAW) made impressive charges through Round 1 and 2. Both narrowly snuck past veteran competitors in their respective heats before meeting each other in an exciting Round 2 match with Tanner Hendrickson (HAW) and Michael Rodrigues (BRA). The two advanced for a second time today and will compete in Round 3 against seeded surfers and tour athletes when competition resumes.
"The whole beginning of the heat was taken up by what must have been a 25 wave set, just constant waves and getting smashed," said Brand. "We all got washed the whole way around and I managed to be the first guy to get out the back and got a wave and it kind of set me in rhythm."
In his first stab at the series, Brand made it through the first round with a 7.00 and a 4.67 to best competitors Charles Martin (GLP), Nomme Mignot (FRA) and Timothee Bisso (GLP). Recent winner of the $20,000 inaugural GoPro Of The World challenge for his minute-plus barrel at Skeleton Bay and a 9th place finish at the HIC Pro in October, Brand has already made a solid mark this season.
Gonzalo Zubizarreta (ESP) of the Basque Country had a notable performance against a stacked Hawaiian heat. The 30-year-old took down three known North Shore forces – Mason Ho, Myles Padaca and Kiron Jabour – with a combined heat total of 13.73. Zubizarreta committed to a critical snap in the pocket on a solid double-overhead wave for a 7.00, while the other competitors were left trying to better their mid-range scores. Ho managed a 6.50 and 5.67 to advance through to the next round.
Joel Centeio was in top form with a display of confidence in the tricky Sunset waves. The veteran remains in the top two on the regional ratings, just behind Maui's Ian Walsh who will enter the draw in the seeded Round of 64. Centeio started off with a 4.77 and backed that up with 6.07 on an explosive wave, narrowly missing a thick lip and riding out to safety in the channel.
The ever entertaining Jamie O'Brien (HAW) advanced behind Argentinian Santiago Muniz with a combined heat total of 11.87. O'Brien has been surfing with an ankle brace after a minor injury that kept him out of the recent HIC Pro, yet looked confident and fluid. Muniz looked equally loose on his two high scoring waves: a 6.00 and 6.07.
"I just try to do my best and put my energy in one heat," said Muniz. "I love this place, I love Sunset, the waves are amazing. I'll just try my best and hope I make heats."
Kaito Kino (HAW) has been on fire this season, starting off with a third place finish at the HIC Pro, the official Vans Triple Crown qualifier event, and advancing through to Round 3 of the Hawaiian Pro with standout performances. Today the 21-year-old moved through the first round along with fellow Hawaii athlete Evan Valiere from Kauai.
"I always surf here when it's big," said Kino. "I feel like Sunset really suits my style so I feel real comfortable here. HIC definitely gave me some confidence into this contest so I'm feeling good."
Contest organizers expect the competition to resume tomorrow with an 8AM start and 30-minute heats. The forecast is for maxing Sunset surf in the 3- to 4-times overhead range early, then slowly easing through the day with moderate to breezy ENE trades.
Results
Round of 96 (1st and 2nd advance to next round)
Heat 1: Frederico Morais (PRT) 12.97pts, Hiroto Ohhara (JPN) 10.34pts, Wade Carmichael (AUS) 8.17pts, Charly Martin (GLP) 4.67pts
Heat 2: Benji Brand (HAW) 10.34pts, Seth Moniz (HAW) 8.60pts, Michael Rodrigues (BRA) 3.87pts, Tanner Hendrickson (HAW) 3.10pts
Round of 128 (1st and 2nd advance to next round)
Heat 1: Frederico Morais (PRT) 10.00pts, Seth Moniz (Haw) 9.60pts, Koa Smith (HAW) 9.37pts, Tiago Pires (PRT) 4.44pts
Heat 2: Benji Brand (HAW) 11.67pts, Charles Martin (GLP) 6.40pts, Nomme Mignot (FRA) 6.20pts, Timothee Bisso (GLP) 2.40pts
Heat 3: Willian Cardoso (BRA) 9.67pts, Kekoa Cazimero (HAW) 7.97pts, Alex Smith (HAW) 7.93pts, Medi Veminardi (REU) 5.63pts
Heat 4: Kaito Kino (HAW) 12.50pts, Evan Valiere (HAW) 9.04pts, Tim Reyes (USA) 8.97pts, Granger Larsen (HAW) 2.96pts
Heat 5: Thomas Woods (AUS) 13.84pts, Aritz Aranburu (ESP) 11.53pts, Dylan Goodale (HAW) 8.16pts, Kaimana Jaquias (HAW) 1.83pts
Heat 6: Gonzalo Zubizarreta (ESP) 13.73pts, Mason Ho (HAW) 12.17pts, Myles Padaca (HAW) 6.34pts, Kiron Jabour (HAW) 5.00pts
Heat 7: Marco Giorgi (URY) 15.23pts, Beyrick De Vries (ZAF) 12.77pts, Michael Wright (AUS) 8.07pts, Luke Shepardson (HAW) 4.93pts
Heat 8: Marc Lacomare (FRA) 6.37pts, Sunny Garcia (HAW) 4.77pts, Imaikalani Devault (HAW) 4.67pts, Ramzi Boukhiam (MAR) 2.50pts
Heat 9: Yadin Nicol (AUS) 10.33pts, Kevin Sullivan (HAW) 6.94pts, Gavin Gillette (HAW) 6.07pts, Tom Whitaker (AUS) 0.67pts
Heat 10: Michael Dunphy (USA) 6.86pts, Thiago Camarao (BRA) 6.50pts, Mikey Bruneau (HAW) 5.17pts, Joshua Moniz (HAW) 1.10pts
Heat 11: Santiago Muniz (ARG) 12.07pts, Jamie O'Brien (HAW) 11.87pts, Ian Gouveia (BRA) 5.67pts, Luel Felipe (BRA) 5.46pts
Heat 12: Leonardo Fioravanti (ITA) 10.00pts, Mitch Crews (AUS) 9.50pts, Billy Kemper (HAW) 6.73pts, Ian Gentil (HAW) 4.43pts
Heat 13: Joel Centeio (HAW) 10.84pts, Nathan Hedge (AUS) 10.00pts, Isaiah Moniz (HAW) 7.97pts, Marco Fernandez (BRA) 2.93pts
Heat 14: Makai McNamara (HAW) 13.77pts, Vasco Ribeiro (PRT) 13.57pts, Mateia Hiquily (PYF) 3.57pts, Kalani David (HAW) 2.33pts
Heat 15: Miguel Tudela (PER) 9.27pts, Elijah Gates (HAW) 8.83pts, Billy Stairmand (NZL) 8.40pts, Michael February (ZAF) 6.20pts
Heat 16: Bino Lopes (BRA) 10.60pts, Olamana Eleogram (HAW) 10.10pts, Hank Gaskell (HAW) 8.43pts, David Do Carmo (BRA) 7.47pts