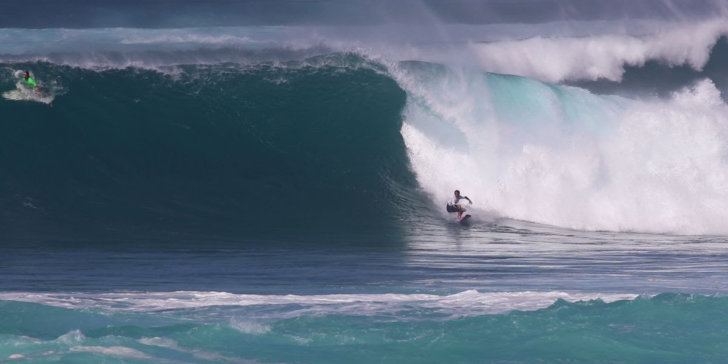 Event is OFF for Thursday due to LARGE surf closing out Sunset and most inside reefs…SNN
• Noah Beschen Storms Through QS Rounds 1 and 2
• More All-Time Surf Lining Up For Rest of Event Window
Pictured front page: Jackson Bunch (HAW) navigated a heavy drop then pulled in for a tricky backside barrel to earn the best score of the event, a 9.50.
Credit: © WSL / Arinaga
Haleiwa, Oahu/HAWAII – (Wednesday, January 22, 2020) – World-famous Sunset Beach turned on this morning after the buoys jumped overnight and a new west swell pushed waves in the 10-12ft. range through the lineup, with heights reaching 15-18ft. by the end of the day. Maui's Jackson Bunch (HAW) came off of a second-place finish from yesterday's Sunset Pro Junior to find the biggest and best wave of today's competition, an excellent 9.50 (out of a possible 10) for a proper set wave from the NW peak and technical backside barrel-riding.
Bunch, 16, is part of the new guard of groms that are tallying up regional results and after the past two days of competition, has officially earned a name for himself on the North Shore. In today's Round 2 Heat 6, he and Kauai local Sammy Gray (HAW) traded mid-range scores until Bunch seized the opportunity of a lifetime and powered through the whitewater, skillfully executing a critical drop into a massive wave.
Pictured: Jackson Bunch of Paia, Maui.
Credit: © WSL / Arinaga
"I saw the wave coming in, I just knew it was going to be a good one," said Bunch. "Paddling into it, it was the gnarliest drop, but I just had to go for it because it was such a nug. I barely made the drop, barely got up and around it, did a little turn and I just faded and held on. It was pretty nuts, I was tripping on the drop. One hundred percent that was the best wave I've ever got at Sunset."
Bunch drew a perfect line and drove deep in the barrel with only a slim margin of making it out on his feet. One judge gave the ride a 10, which demonstrates the scale of perfection from today's all-time conditions.
"I'm so stoked, I just hopefully can keep on going and make some more heats, get some points," Bunch continued. "I know I can do it. If I need a score maybe I can just try to get another one like that, but that was definitely a lot of luck. I've been coming to Sunset for a long time, it's pretty fun, I like Sunset a lot, it's one of my favorite waves on the North Shore."
Pictured: Watch Jackson Bunch's 9.50 ride!
Credit: © WSL / Arinaga
North Shore's Noah Beschen (HAW) had the best score of the morning and second highest of the day, a 7.25 in Round 1 Heat 4, and went on to earn another heat win in Round 2 with a 6.60 and 6.50. Like many of the younger surfers today, Beschen described the conditions as some of the best ever.
"The swells been picking up all day so today was the most dreamy heat I've ever surfed in my life, didn't get caught inside at all, got some perfect, nice waves, probably some of the most fun I've ever had," he said.
Son of legendary Championship Tour (CT) surfer Shane Beschen (HAW), Noah has spent a good part of his adolescence traveling to some of the best surf destinations in the world and plans to continue this trend, along with competing on the QS to select locations this year. Last year, he broke his ankle freesurfing at Teahupo'o but came back stronger than ever to earn his best professional result to date, runner-up at the Siargao Cloud 9 Surfing Cup in October.
Pictured: Noah Beschen, of the North Shore, Oahu.
Credit: © WSL / Chlala
"Last year I was hurt pretty much the whole entire year until the end when I did Sri Lanka, Philippines and Japan and then I got my best result on the QS," Beschen continued. "So now I'm feeling 100 percent and fully ready for another year, I'm stoked. 2020 looks like going and doing the QS events I feel like are good waves, even if it's just beach break, and then also trying to do video trips and just get better at surfing. I definitely want to be in the Vans Triple Crown, but I'm kind of more focused on just feeling calm and in the moment in my heats and trying to do the best I can do. I feel like the results will come and then the ratings and all that other stuff will come too."
2018 Regional QS Winner, Sheldon Paishon (HAW) is also back in a jersey with a renewed sense of focus and drive after spending the bulk of 2019 traveling the world with Mason Ho (HAW) for freesurf trips.
"I haven't been in a jersey for a while so to win a heat again feels good," said Paishon. "2020 I'm trying to be super on it, last year I had a big opportunity and kind of blew it so this year I'm going to take it a little more seriously. I've been traveling a lot with Mason for movie stuff, so that's a big thing, but I want to do more contests."
Pictured: Sheldon Paishon, of Makaha, Oahu.
Credit: © WSL / Chlala
The underground athlete posted one of the highest heat totals of the day, a 12.15 (out of a possible 20) for powerful turns. Although positioning was challenging for competitors today, Paishon seemed to have Sunset dialed with excellent wave selection. His raw talent and underdog story will emerge this year in the candid surf documentary, 'Through The Doggy Door', which focuses on Paishon's struggles as a kid growing up in the poverty-stricken area of Oahu's west side.
Up-and-coming Maui surfer, Levi Young (HAW) is taking tips from older brother and defending event winner Cody Young (HAW), who earned third in the 2019 Vans World Cup of Surfing Men's QS 10,000 last month. The brothers are forging a solid reputation at Sunset and continue to build their influence as Levi earned a Semifinal finish in yesterday's Sunset Pro Junior, third in 2019, and now competes alongside the older generation in today's Men's QS 1,000.
"I was out on the North Shore for a little bit this winter, watching my brother in the Vans Triple Crown and learning from what he does, he's amazing," said Levi. "He got third here and I was so stoked for him. My goal is to hopefully be in a heat with him one day out here."
Pictured: Levi Young, of Makawao, Maui.
Credit: © WSL / Chlala
After advancing out of Round 2 Heat 3 along with fellow young gun Luke Swanson (HAW), Levi is feeling confident following a bit of nerves this morning.
"I had some jitters in the beginning of the heat because it's a little bigger but started feeling more comfortable and hopefully I can bring that into the next heat. I never got to surf Sunset, like real Sunset, in a contest before, so when I saw the waves today I was so stoked, and I'm so stoked to make the heat too. It was a buzzer-beater, a scary one, but glad I made it."
While the youthful generation seemed to dominate at Sunset today, veteran standouts included Kekoa Cazimero (HAW), who came out on top of his 4-man heat that included Caleb Crozier (USA), Rylan Beavers (HAW) – the youngest competitor in the draw at just 13 years old – and Gabriel Ribeiro (PRT). Cazimero's 9.50 scoreline put him points ahead of second-advancing athlete Crozier.
"We've got perfect conditions, 6-8ft., kind of a slow heat but it just felt good to get the feet wet and hop on these new boards I just got from Wade (Tokoro), I rode a 6'9 today," said Cazimero. "Super excited to start the competitive year off…Right now the focus is regional events, see how we do in these first two events, Sunset and the Volcom Pipe Pro and we'll go from there."
Pictured: Kekoa Cazimero, of Waimanalo, Oahu.
Credit: © WSL / Chlala
Cazimero has focused on Hawaii/Tahiti Nui events for the bulk of his professional career while also balancing ownership of his lifestyle clothing brand, Armed with Aloha. With over ten years of experience competing, Cazimero recognizes the value of these regional Hawaii events and brings a positive mindset to the lineup.
"I enjoy surfing Sunset on my time off, off-season," Cazimero continued. "It's a big unruly wave, you never really can tell what the conditions are going to be like. You sort of have to get in the good rhythm here and you have to always be on your A-game and be on the right equipment. That's what I live for, is power surfing and surfing waves of consequence in my backyard. For me, competitively, the regional events make sense because I get to surf the best waves in the world in my backyard, so I love it."
Contest organizers will reconvene in the morning to assess conditions and determine whether the waves are still contestable, especially as today's WNW swell continues to build into the evening. The Surfline forecast shows more good surf throughout the remainder of the Sunset Open holding period, which extends through January 28, and with two days left, the WSL will be cherry-picking the best days of surf to complete the contest.
About the WSL 
The World Surf League (WSL), established in 1976, is the enablement platform for surfing and surfers worldwide. The WSL is dedicated to changing the world through the inspirational power of surfing by creating authentic events, experiences, and storytelling to inspire a growing, global community to live with purpose, originality, and stoke.
The WSL is a global organization, headquartered in Santa Monica and with regional offices in North America, Latin America, Asia Pacific, and EMEA. The WSL possesses a deep appreciation for the sport's rich heritage while promoting progression, innovation, and performance at the highest levels.
The WSL is comprised of Tours & Events, celebrating the world's best surfers across all disciplines and annually running more than 180 global contests and crowning the undisputed World Champions across all divisions; WSL WaveCo, where innovation meets experience; and WSL Studios, which offers best in class storytelling across competition, lifestyle, and conservation.
For more information, please visit WorldSurfLeague.com