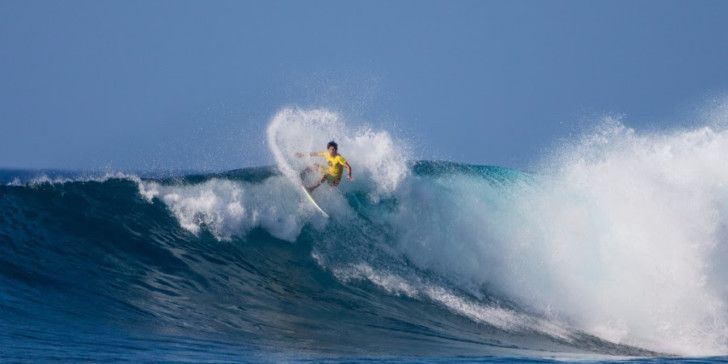 Good morning! Surf's firing for the Sunset Pro Open QS with clean offshore WNW-NW (310) mackers. It'll fade slowly thru the day to 10′ my around noon. SNN.
When competition begins, Heat 1 of Round 1 will begin at 8am HST which will feature Kauai's Reef McIntosh, young gun Barron Mamiya from the North Shore and Maui teen Ocean Macedo. The field consists of 112 competitors, with 92 surfers — 82% — hailing from Hawaii. The event will also run in conjunction with the Sunset Pro Junior for Men and Women, which features 48 athletes.
Contest organizers will convene tomorrow morning to assess conditions and make a call by 7:30am. The event status will be live on
worldsurfleague.com
 and also circulated via email.
Photo Keoni Yan © WSL/Heff/Freesurf
Sunset Open
WSL QS1000 men's event
WSL QS1000 women's event
WSL JQS1000 event
Sunset Beach, North Shore Oahu
18 – 28 January 2017
More than one hundred surfers to compete in Hawaii's first WSL event of the year
Surf News Network, 16 January, 2017 – Sunset Beach, North Shore, Oahu – Hawaii's competitive surf season roars back to life with big swell next week at Sunset Beach as the World Surf League Hawaii introduces the first Qualifying Series and Junior Qualifying Series event of 2017, the Sunset Open QS1,000 and Men + Women's Pro Junior JQS1,000.
Forty-eight teens and 112 surfers will clash for a solid start to their competitive campaign during the four-day event, which has a holding period from January 18 – 28 and will take place on the best days of surf at the notorious big wave venue.
This is the first opportunity of 2017 for surfers to gain esteemed points toward their regional ratings in a highly ambitious field. Leading the charge is North Shore's Eli Olson, who won the regional championship title in 2016 and commences the year as the highest rated Hawaii surfer on the regional QS.
"Having that lead feels good and helps your confidence a little bit for sure," said Olson. "But I feel like it's just firing up everyone to perform at a higher and better level. It puts on more pressure because anybody can get lucky and win an event, but it takes a real champ to defend it. I definitely want to do well again and try to win that title again if I can."
Olson will go up against the 112-man field that includes recent winner of the Pe'ahi Challenge big wave competition Billy Kemper (North Shore) and former Big Wave World Tour Champion Makuakai Rothman (North Shore) plus seasoned veterans Bruce Irons (Kauai) and Joel Centeio (Haleiwa) and young guns Finn McGill, 16, (North Shore), Robert Grilho III, 13, (Kapolei), Kainehe Hunt, 14, (Kauai) and Noah Beschen, 16, (North Shore).
For the Junior Pro, top ranked surfers Cody Young, 17, and Brisa Hennessy, 17, both returned home for the event after contesting the World Junior Championship in Australia earlier this week. Both finished third in the world and demonstrated the type of raw talent that has become synonymous with Hawaii surfers. Hennessy won the Women's Sunset Pro Junior in 2016 and will fight to defend her title against this year's crop of talented wahine.
"I definitely would love to win again, but Sunset is such a tricky wave, I just want to give my best performance, feel comfortable and not get too worked," said Hennessy. "Competing at Worlds gave me a glimpse of the next generation. Being amongst and competing against the best juniors in the world has inspired and pushed me as a surfer and an athlete."
2016 Regional Junior Champ Noa Mizuno, 18, also represented Hawaii in the World Junior Championship, but now shifts out of the Pro Junior age category and onto the QS full-time. With relative success at Sunset (4th place at 2016 Sunset Pro Junior, Quarterfinal finish at 2016 Sunset Open) Mizuno looks forward to his first QS appearance of the year at the Sunset Open.
With a fresh infusion of Hawaii blood in the winning ranks (see John John Florence as 2016 World Champion, Vans Triple Crown winner and Quiksilver in Memory of Eddie Aikau champ; Kemper as back-to-back Pe'ahi Challenge winner; Keanu Asing's inaugural Championship Tour (CT) triumph; Sebastian Zietz's victory at Margaret River in Australia; and Ezekiel Lau's rise to the CT) the Aloha State is producing some of the most talented surfers on the planet, which will be on display this January during the Sunset Open and Pro Junior.