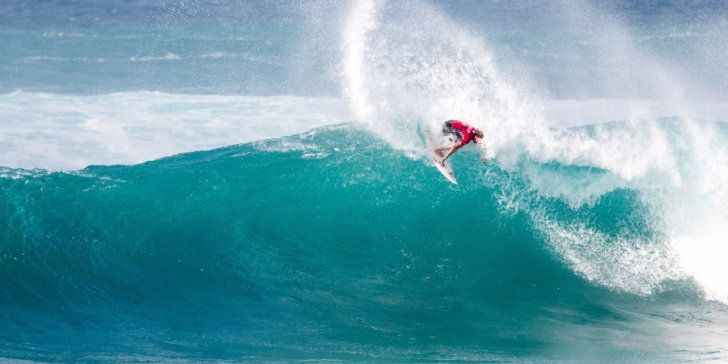 MATT WILKINSON EARNS BEST SCORE AND HIGHEST HEAT TOTAL OF EVENT
– BENJI BRAND CLOSES IN ON WSL HAWAII/TAHITI NUI REGIONAL CHAMP TITLE 
Australia's 
Matt Wilkinson
 demonstrated impressive backside maneuvers in the massive surf.
Image: 
WSL / Freesurf / Heff
Event:   
  Vans World Cup of Surfing                                            
Window:
  November 25 – 

December 6, 2017

Rating:
  Men's QS10,000
Conditions:
  12-15 Hawaiian (wave face heights up to 25ft.)
HALEIWA, Oahu/Hawaii – (Thursday, November 30, 2017) — The action continued as massive surf pumped through the Sunset Beach lineup for Day 2 of the Vans World Cup, a World Surf League (WSL) Qualifying Series (QS) 10,000 event and the second gem of the Vans Triple Crown of Surfing. Round Two saw barrels and dramatic wipeouts, however it wasn't until top seed Matt Wilkinson (AUS) triggered Round Three that the highest single wave score and heat total of the event was dropped in the final heat of the day."That was good fun, it doesn't always go that well out at Sunset, there's so many variables out there, so many times you find yourself getting washed in and your whole heat plan just gets washed away but, everything kind of fell into place then," said Wilkinson. "I was just stroking out the back and a wave would come and I'd ride it to the end and pull off and just do it again, and again, it was good fun."

Wilkinson sets up for a powerful backside hook with a classic bottom turn. Image: WSL/Freesurf/Heff
Current No. 6 on the Championship Tour (CT), Wilkinson took on the massive surf with a confident backside approach and found a 9.33 (out of a possible 10) for two huge turns to completion on a fifteen-foot inside bowl. He took a commanding lead with a backup score of an 8.77, while Wade Carmichael (AUS) fought off Vans Triple Crown rookie contender Luel Felipe (BRA) and Evan Geiselman (USA) to advance in second. Carmichael keeps his CT hopes alive with today's advancement into Round 4 and stands to better his current No. 8 position on the QS.
The second best score of the day, a 9.0, went to Noe Mar McGonagle (CRI) for a long travel through a heaving barrel in Round Two Heat 10. Barely scratching into the wave, McGonagle faded and slowly edged his way into the tube for a well-timed ride that demonstrated excellent wave knowledge.
"It's been really fun the last few days at Sunset so I felt like finally I'm starting to get to know the wave better this year than the last 3 years I've been here, I feel really comfortable and I'm stoked," commented McGonagle. From Costa Rica, the surfer has grown up on the long left-handed wave of Pavones and had to adjust coming into the chunky rights of Sunset Beach.

McGonagle throws his arms up in exuberance after scoring a 9.0 on his barrel ride. Image: WSL/Freesurf/Heff
"It's been my weakness my whole life so I've been working on it a lot," McGonagle continued. "Spending a lot of time here in Hawaii helps, the waves are a lot more powerful. It's paid off being here so many times and so many winters and putting time out here at Sunset, it's paying off out here, finally."
South African born and long-time resident of the North Shore of Oahu, Benji Brand (HAW), 21, currently leads the WSL Hawaii/Tahiti Nui regional rankings above Finn McGill (HAW), who dropped out of the competition in a disappointing Round 2 loss. Brand is eyeing the coveted champion title, which will be determined at the close of the Vans World Cup.
"It'd be so sick, I just want to get into the primes (QS10,000's) next year and if you win the region then you get into the primes, that's kind of my goal," commented Brand. "Hopefully I just keep making heats and end up on top at the end of this contest."

The unruliness of Sunset was well-suited for Brand's powerful backhand attacks. Image: WSL/Freesurf/Keoki
Brand has nabbed multiple 5th place finishes in the region, two being at Sunset Beach (2017 Sunset Open and 2016 HIC Pro) and put in plenty of time to earn a well-deserved place among Hawaii's best over the years. Only a few surfers can catch up to him to claim the Regional Champion title, including Imaikalani deVault (HAW) who is part of Hawaii's youthful movement and demonstrated power and flow to advance in first from Round Two Heat 12.
"We definitely look to the older guys for inspiration, they're the best," said deVault. "But, definitely new school. All of us young Hawaii guys, like my friend Cody (Young) who just won his heat too, and who was killing it power surfing, we still try and stick to the power surfing game, but I guess try and add some flare to it."

DeVault show total commitment on every wave today, including this one that earned him an 8.00. Image: WSL/Freesurf/Keoki
DeVault committed to two high-risk maneuvers in the lip for an 8.0 and continued his relaxed attack in the intimidating surf to back up his score with a 6.07 for the heat win. Advancing behind him was Vasco Ribeiro (PRT) with a combined heat total of 11.27 who caused an upset by knocking QS hopeful Mikey Wright (AUS) out of the competition.
Cody Young (HAW), 18, had great wave selection during Round Two Heat 9 and was in position for a massive barreling wave, which judges awarded an 8.33 after he stamped out a carve to complete the ride. The young surfer from Maui looked comfortable in the open water and offshore winds due to his experience at Ho'okipa, the wind surfing capital of the world.
"I paddled into it and had to catch the white-water corner of it," Young commented of his excellent ride. "Almost fell on the drop, air dropped, was in the white water and then I bottom turned straight up into it. Luckily it barreled over me and as I was coming out, I almost fell again and then I had to get low and was able to do a little grab rail carve after it. It's pretty bumpy out there and hard to manage."

Young threads a barrel in Round Two Heat 9 for an 8.33. Image: WSL/Freesurf/Heff
This is Young's second year competing in the Vans Triple Crown and at just 18 years old, has surfed Sunset in nearly every size the wave dishes out.
"Each heat that I'm surfing at Sunset I'm learning more and more and I'll just take that to the next one," he continued. "These are the main events for us throughout the year. Everybody in Hawaii looks forward to these events the most, as well as around the world doing the QS's and stuff, even CT guys are looking forward to trying to win the Triple Crown or win Pipe. It's really, really important and really special to just be in the event."
The qualification stories heated up after Jorgann Couzinet (FRA) No. 16 on the QS; Michael February (ZAF), No. 14; and Michael Rodrigues (BRA), No. 11, advanced into Round 3 where they will meet the likes of proven Sunset winner Ezekiel Lau (HAW) and Honolulu's Keanu Asing (HAW), all equally hungry to be among the world's best on the 2018 CT.
A third consecutive day of competition looks likely for the Vans World Cup to resume tomorrow as contest organizers anticipate the NW swell to hold out for more contestable surf. A call will be made by 7:30am HST and first in the water will be Round Three Heat 2 featuring Caio Ibelli (BRA), Ian Gouveia (BRA), Raoni Monteiro (BRA) and Maxime Huscenot (FRA).
For more information, please visit www.WorldSurfLeague.com or download the WSL app to receive updates on your mobile device and watch LIVE action. Fans can also tune into Spectrum SURF Channel, which will televise the 2017 Vans Triple Crown events LIVE and in replay on digital channels 250 SD and 1250 HD, across the state of Hawaii.
The Vans Triple Crown of Surfing runs from November 12 – December 20 and features three events along the North Shore of Oahu; the Hawaiian Pro, from November 12 – 24, which saw the first Brazilian winner, Filipe Toledo, take out the competition on November 20; the Vans World Cup from November 25 – December 6; and the Billabong Pipe Masters from December 8 – 20, which is also the culminating event of the World Surf League (WSL) Championship Tour (CT).
RESULTS
Surfers shown in order of 1st through 4th
Round of 64 (1st and 2nd advance, 3rd = 33rd place, 4th = 49th place)
H1: Matt Wilkinson (AUS), Wade Carmichael (AUS), Evan Geiselman (USA), Luel Felipe (BRA)
Round of 96 (1st and 2nd advance, 3rd = 65th place, 4th = 81st place)
H3: Benji Brand (HAW), Miguel Tudela (PER), Billy Kemper (HAW), Josh Kerr (AUS)
H4: Davey Cathels (AUS), Dion Atkinson (AUS), Carlos Munoz (CRI), Hizunome Bettero (BRA)
H5: Bino Lopes (BRA), Jackson Baker (AUS), Torrey Meister (HAW), Flavio Nakagima (BRA)
H6: Ethan Ewing (AUS), Logan Bediamol (HAW), Gony Zubizarreta (ESP), Olamana Eleogram (HAW)
H7: Jorgann Couzinet (FRA), Makai McNamara (HAW), Thiago Camarao (BRA), Cam Richards (USA)
H8: Alex Ribeiro (BRA), Brett Simpson (USA), Jordy Collins (USA), Peterson Crisanto (BRA)
H9: Cody Young (HAW), Adam Melling (AUS), Deivid Silva (BRA), Victor Bernardo (BRA)
H10: Noe Mar McGonagle (CRI), Michael February (ZAF), Koa Smith (HAW), Mihimana Braye (PYF)
H11: Michael Rodrigues (BRA), Aritz Aranburu (ESP), Ian Crane (USA), Kaimana Jaquias (HAW)
H12: Imaikalani deVault (HAW), Vasco Ribeiro (PRT), Mikey Wright (AUS), Kaito Kino (HAW)
H13: Ramzi Boukhiam (MAR), David Van Zyl (ZAF), Cooper Chapman (AUS), Rafael Teixeira (BRA)
H14: Marc Lacomare (FRA), Lucas Silveira (BRA), Leandro Usuna (ARG), Dusty Payne (HAW)
H15: Evan Valiere (HAW), Barron Mamiya (HAW), Alejo Muniz (BRA), Marco Giorgi (URY)
H16: Mitch Coleborn (AUS), Kiron Jabour (HAW), Finn McGill (HAW), Hiroto Ohhara (JPN)
About Vans
Vans®, a VF Corporation (NYSE: VFC) brand, is the original action sports footwear, apparel and accessories brand. Vans authentic collections are sold globally in more than 75 countries through a network of subsidiaries, distributors and international offices. Vans also owns and operates nearly 600 retail locations around the world. The Vans brand promotes the action sports lifestyle, youth culture and creative self-expression through the support of athletes, musicians and artists and through progressive events and platforms such as the Vans Triple Crown of Surfing®, the Vans U.S. Open of Surfing, Vans Pool Party, Vans Custom Culture, Vans Warped Tour®, and Vans' cultural hub and international music venue, the House of Vans.