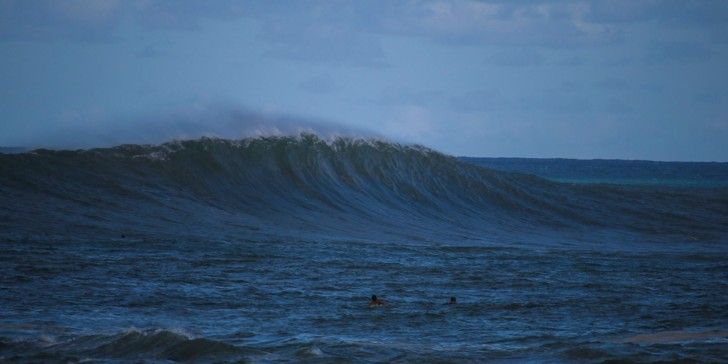 Here's classic 10-12′ WNW jacking like few spots on planet earth…Thnks to Bobby for the shot and always articulate descriptions of this special reef and surfing performance.
here's some exchange from Mr. Owen's FB with non other than Mr Hynd chimin' in for added stoked and insight. The next Big 12′ NW is Thursday. SNN.
"Sunset roars to life on this solid WNW swell. In fact, this wave was in between long interval and much larger sets that had the outer reefs breaking occasionally. Today was still solid although down a notch. It was nice to see a few familiar faces out and some of my friends getting some hero drops. Great to have that Sunset feeling!" Bobby Owens
"
The perfect shot to describe the only surfer to ever truly traverse back across the lip – the high line fade – engaging the Harold fin in all its flex before taking on the late late show behind the peak – that'd be you Robert Owens. Congratulations in nailing down a mark in the history of big wave surfing that no one else is ever likely to match(unless someone like KS takes a few years application to wire such a dangerous move)".
 Derek Hynd.
Bobby Owens
 "
Thank you Mr Derek Hynd for the nice words and the way you described that move. You have an ability to articulate it in a way that surfers can more easily visualize it, and believe me you're no stranger to taking the high line yourself! I think we both picked up something from Terry Fitzgerald in that by the way he surfed and the lines he drew there was another path to take".