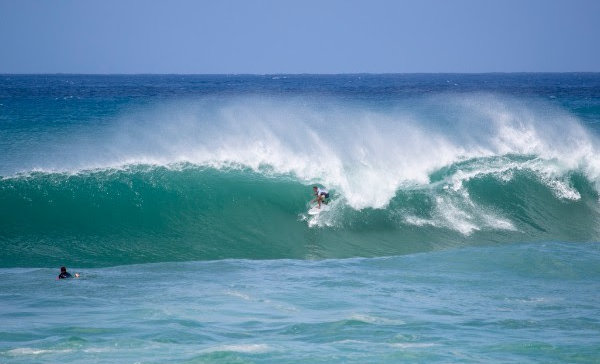 ---
– CODY YOUNG (HAW) EARNS NEAR-PERFECT 9.50 IN ROUND 2
– SUNSET SPECIALIST JACK ROBINSON (AUS) AIMS FOR VTCS QUALIFICATION 
Maui's Cody Young backdoors a solid wave off the point during Round Two Heat 2 at Sunset Beach. Credit: © WSL / Heff
Event:                     HIC Pro, WSL Men's QS 3,000
Window:                 October 27 – November 9
Conditions:            6-8+ft., NNW swell, clean offshore easterly trade winds
Haleiwa, Oahu/HAWAII — (Sunday, October 28, 2018) – Opening day of the HIC Pro saw first-class performances alongside surprising upsets as Sunset Beach steamrolled the lineup with powerful wave faces up to 15ft. to challenge athletes' stamina and commitment. A World Surf League (WSL) Men's Qualifying Series (QS) 3,000, the HIC Pro is the official local qualifier into the Vans Triple Crown of Surfing (VTCS), making this one of the heaviest events in the WSL Hawaii/Tahiti Nui region. Both local and international athletes were highlighted today in their hunt for points, qualification and glory at the opening event of the North Shore's competitive surf season.Maui's Cody Young (HAW) matched the NNW swell energy with classic power surfing and earned a 9.50 in Round 2 for the day's best barrel ride. Earlier in the competition, two-time HIC Pro winners (2015 and 2005) Ian Walsh (HAW) and Mason Ho (HAW), (2016 and 2013) missed advancement in shocking Round 1 eliminations, while former Championship Tour (CT) competitor Wiggolly Dantas (BRA) also suffered an early loss.
Young, 19, showed incredible control as he dropped in behind the peak of a solid 10ft. cavern and navigated the barrel to emerge cleanly, then followed up with two flawless turns to stamp out an excellent score from judges. He backed this with a 7.33 to combo the field and took home the day's highest single wave score and combined heat total – a 16.83 out of a possible 20 – to secure a spot in Round 3.
Young was the standout out of the day and advanced into Round 3 after demonstrating classic Hawaiian power surfing. Credit: © WSL / Heff
"I love the challenge that Sunset brings, with so much water moving you're paddling so hard and definitely have to have a lot of endurance out there," said Young post-heat. "A lot of us train all summer for the winter season so this is when it comes into play."
Young has competed at various QS events this year but is happy to return to the islands where he feels his power surfing is best displayed. "It feels really good to be back here, competing in the HIC Pro and the Triple Crown," Young continued. "This is what I feel is my strong suit. I did a lot of events this year but didn't do so well on the QS. I just want to get my points up so I can do the 10,000's next year and really give it a shot on trying to qualify for the CT. But this is where the Hawaiians usually get a big chunk of their points so I'm hoping I can do the same."
Big wave standout, former winner and multi-finalist at Sunset Beach, Jack Robinson (AUS)showed off his comfort level in the challenging surf after earning the second-highest single wave score of the day, an 8.50, for a beautiful barrel across the outside section followed by a powerful forehand carving top turn. Robinson returns to the North Shore each year to take advantage of the perfect surf and compete in the VTCS.
"I'm stoked to be back in Hawaii and can't believe we're here already, it came around quick," Robinson said. "I plan to do the whole Triple Crown, just get waves, surf good and do what I do."
Robinson in his comfort zone. Credit: © WSL / Chlala
The top Tahitian in the 112-man field, O'Neill Massin (PYF), is in the hunt for the WSL Hawaii/Tahiti Nui Regional QS title and got off to a great start with an 8.10 in Round 1. Currently rated #4 on the regional rankings, Massin earned fifth place at the Sunset Pro Open earlier this year and again at the Papara Pro Open Tahiti in March.
"That (would) mean a lot," said Massin about earning the Regional QS Title. "A lot of training, a lot of sacrifice, hopefully I can get this one and bring it back to Tahiti."
Massin has a strong chance of earning the regional QS title with 2 out of the 3 Top Four now out of the competition. Credit: © WSL / Chlala
One of the youngest competitors in the field, Wyatt McHale (HAW), 17, surfed his way successfully through Rounds 1 and 2 with patience, power and good positioning. He built momentum in Round Two Heat 10 with a 7.17 and 6.70 and proved he has what it takes to compete against the region's best.
"I was pretty nervous because I really want to do well in these events at home, I surf here all the time so I just wanted to make sure I could at least make my first round and kind of get those nerves out," said McHale. "The Triple Crown is a really big deal, this is the first year I'll be in both Haleiwa and Sunset so it's a huge deal, I'm really psyched to be a part of it. I can't wait and this is a great event to kick it off."
The teen has groomed his skills at the premier breaks on the North Shore including Sunset, Rockies, Pipeline/Backdoor and Off the Wall. This season sees him transition from junior status into a true threat at the next level.
2018 looks to be McHale's breakout season on the North Shore with more performances like this in his future. 
Credit:
 © WSL / Heff
World-renowned ocean athlete from Maui, Kai Lenny (HAW), took control of Round One Heat 6 after advancing through in first with a 4.80 and 4.00, and although he is known as one of the most well-rounded and acclaimed watermen in the world, his scores – and the downfall of top competitors – demonstrated the unpredictable energy of Sunset Beach.
"Sunset Beach is a well-known spot for keeping you humbled," said Lenny. "I've been watching heats all morning prior to mine and I could tell how tricky it was because some of the best guys were falling off and not making it through heats.
"The North Shore is the proving grounds and every time I come here I do feel a personal pressure to perform amongst my peers, but also on this coastline that is known for some of the most powerful, perfect and gnarly waves in the world. The energy here can be pretty powerful just with the amount of energy that comes off the ocean and so we're getting back in the rhythm, it really does feel like winter when you're back on the North Shore. I would say this is the official start to winter even though it still may be fall, but it does feel like that since this is the changing of the seasons, at least here in Hawaii."
Lenny earned his place in Round 3 after two successful advances in today's competition. 
Credit:
 © WSL / Chlala
The swell is forecast to slowly decrease tonight but still provide promising 6-8ft. faces for contestable surf tomorrow. Contest organizers will return in the morning to make a call by 7:30am HST. The HIC Pro will run on the three biggest and best days of surf within the holding window, October 27 – November 9, and ultimately crown an event winner, a WSL Hawaii/Tahiti Nui Regional Qualifying Series (QS) Winner, and nine slots into the Vans Triple Crown of Surfing. Visit 
WorldSurfLeague.com
, the 
WSL app
, 
WSL Facebook page
 and 
VansTripleCrownOfSurfing.com
 to watch the event LIVE, or tune into Spectrum SURF Channel, which will televise the 2018 HIC Pro and all Vans Triple Crown of Surfing events LIVE and in replay on digital channels 20 and 1020 HD across the state of Hawaii.
Results
Athletes listed in 1st through 4th, all surfers from Hawaii unless otherwise noted.
Round 2 — 1st and 2nd advance, 3rd = 65th place, 4th = 81st place
H1: Jeronimo Vargas (BRA), Manuel Selman (CHL), Kaito Kino, Colt Ward (USA)
H2: Cody Young, Kiron Jabour, Skip McCullough (USA), Landon McNamara
H3: Finn McGill, Jackson Baker (AUS), Olamana Eleogram, Jordy Collins (USA)
H4: Evan Valiere, Lucas Silveira (BRA), Sheldon Paishon, Tomas Tudela (PER)
H5: Jack Robinson (AUS), Lliam Mortensen (AUS), Takumi Nakamura (JPN), Noa Mizuno
H6: Sheldon Simkus (AUS), Kekoa Cazimero, Guillermo Satt (CHL), Pedro Coelho (PRT)
H7: Lahiki Minamishin, Mitch Coleborn (AUS), Davey Cathels (AUS), Harley Ross (AUS)
H8: Luke Shepardson, Parker Coffin (USA), Wiggolly Dantas (BRA), Kalani Ball (AUS)
H9: Gatien Delahaye (FRA), Logan Bediamol, Liam O'Brien (AUS), Koa Smith
H10: Wyatt McHale, Victor Bernardo (BRA), Jose Gundesen (ARG), Hiroto Arai (JPN)
H11: Slade Prestwich (ZAF), Kai Lenny, Rio Waida (IDN), Takuto Ohta (JPN)
Round 1 — 1st and 2nd advance, 3rd = 97th place, 4th = 105th place
H1: Kaito Kino, Landon McNamara, Eliot Napia (PYF), Noah Hill
H2: Olamana Eleogram, Evan Valiere, Kala Willard, Ocean Macedo
H3: Noa Mizuno, Kekoa Cazimero, Ian Walsh, Eli Olson
H4: Lahiki Minamishin, Luke Shepardson, Noah Beschen, Cole Alves
H5: Logan Bediamol, Wyatt McHale, Michael O'Shaughnessy, Chris Foster
H6: Kai Lenny, Elijah Gates, Eala Stewart, Mason Ho
H7: Luke Adolfson, Shayden Pacarro, Ulualoha Napeahi, Isaac Stant
H8: O'Neill Massin (PYF), Ian Gentil, Ryder Guest, Christopher Bluthardt
About Vans
Vans®, a VF Corporation (NYSE: VFC) brand, is the original action sports footwear, apparel and accessories brand. Vans® authentic collections are sold in 84 countries through a network of subsidiaries, distributors and international offices. Vans® has over 2,000 retail locations globally including owned, concession and partnership doors. The Vans® brand promotes creative self-expression in youth culture across action sports, art, music and street culture and delivers progressive platforms such as the Vans Park Series, Vans Triple Crown of Surfing®, Vans Pool Party, Vans Custom Culture, and Vans' cultural hub and international music venue, House of Vans.
Vans, "Off The Wall" Since '66
About HIC
Hawaii's biggest and best selection of surf gear! Since 1971, HIC has provided Hawaii with quality surfboards, skateboards, clothing and accessories – by surfers, for surfers. Locally owned and operated, the HIC retail chain includes sixteen stores across Oahu, Maui and Hawaii Island, along with two stores in Japan. Through a commitment to quality, service and aloha spirit, the brand has built a reputation as an icon of Hawaiian surfing recognized throughout the world. Enjoy the ride!