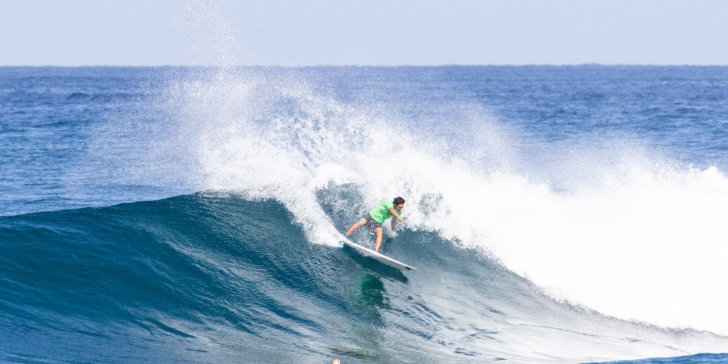 – Kauai's Cole Frye and Peru's Sebastian Correa Lead The Way
– Correa Throws Down Near-Perfect 9.00 In Round 2
– Big Wave Charger Ian Walsh (HAW) Easily Advances In Final Heat Of The Day

Sunset Beach, North Shore, Oahu, Hawaii
Sunset Pro Men's QS 1,000
HALEIWA, Hawaii (January 22, 2019) – Opening day action got underway at the World Surf League (WSL) Sunset Pro, a men's Qualifying Series (QS) 1,000-level event and it was Kauai's Cole Frye (HAW) and Peru's Sebastian Correa (PER) who turned in top performances. This is the first QS event of the 2019 WSL Hawaii/Tahiti Nui 2019 season and wave faces ranged from six-to-eight foot the iconic Sunset Beach.

Frye came out of the gates swinging early on in Round 1, with a 16.10 (out of a possible 20) heat total that would ultimately prove to be the day's best. Frye displayed a well-timed forehand attack to garner an early 8.00 (out of a possible 10) for the event's first excellent ride then put together another series of solid turns for an even better 8.10.

In the day's penultimate heat, Frye dramatically battled his way out of Round 2, finding the score he needed to advance with just seconds left on the clock.

"I was so pumped after my first heat, I think the adrenaline was the biggest difference between surfing this morning and again this afternoon," Frye said. "I knew I needed the score, saw a set coming, and just turned and went for it – super stoked to make it through."

Coming off a disappointing early loss in last Saturday's Sunset Pro Junior, 17-year-old Frye showed great poise in bouncing back and progressing to Round 3, where he will meet with the event's top seeds.

"I'm really looking forward to surfing against some of my heroes," continued Frye. "Pumping Sunset with only a few guys out, should be really fun."

A new northwest swell gradually filled in at Sunset Beach over the course of the day, with clean offshore tradewinds gradually giving way to light sea breezes by midday.

Positioning and smart wave selection were the early keys to success, as the rising swell shifted the focus from Sunset Point toward the West Bowl by late morning.

 Sebastian Correa puts a punctuation mark on the highest-scoring wave of the day.
Image: WSL / Chlala
Also making the most of today's conditions was Peru's Sebastian Correa, who dropped a massive 9.00 in his Round 2 heat for the highest wave score of the day. It was also the event's only successful barrel, with Correa threading through from deep off the Point, successfully finding an exit, and maintaining speed to tack on a few punchy turns to seal the deal.
One of four Peruvian surfers in the event, Correa was able to back himself up with enough to win his heat and move on to Round 3.
"I didn't even know the heat had started, but I saw a good wave come after Chris [Foster] got the first wave, so I figured it was on," said Correa after his heat. "I saw the second wave and was in position, but I didn't see the barrel until I was standing up. It was so sick, I was so deep and I was stoked to make it."
"I have some experience out here; it's helped me a lot to stay with Ezra Sitt at his house," Correa said. "And, my brother [Alonso Correa] did well in the [Vans] Triple Crown here, so I called him before and he gave me some advice, so I'm stoked. I come to the North Shore every winter … I'm also stoked to be able to surf the Volcom Pipe Pro for the first time."

Maui's Ian Walsh easily advanced out of Round 2 Heat 12 with surfing like this.
Image: WSL / Chlala
Maui native and big-wave specialist Ian Walsh (HAW) hit the water for the last heat of the day, taking advantage of the afternoon's best conditions with confident, on-rail surfing to easily win the heat. Walsh has been victorious at Sunset before, and his seasoned experience was evident from the start.
"It was challenging today to be in the right place when a set came, and with a new swell building it's a bit of time in between the good sets," reflected Walsh after his heat win. "If you're out of position for a set you might not get another really good opportunity, so you really have to maximize whatever you stand up on."
"I think the biggest thing that keeps me motivated is just the feeling of competing, and trying to figure out the ocean as best you can in such a short amount of time," Walsh continued. "I just enjoy surfing though; if the conditions and the forecast look really good, then I get really excited and I just want to surf. I guess the biggest thing is just putting on a jersey – I don't put it on too much during the year, so it's fun to have that little internal pressure to perform in a certain amount of time."

14-year-old Luke Swanson, representing the next generation of Sunset Beach standouts.
Image: WSL / Chlala
The event was a blend of faces old and new, including Luke Swanson (HAW), who, along with Levi Young (HAW), was the youngest competitor today at the ripe old age of 14.
Swanson bested Young to advance out of the Round 1 draw, but surfed his way into a tough Round 2 heat against 2015 Big Wave World Champion Makuakai Rothman (HAW), Eli Hanneman (HAW), and Ulualoha Napeahi (HAW).
Though Swanson was unable to get past Round 2 today, he came away from the event with a Quarterfinal finish at the Sunset Pro Junior, gaining even more valuable Sunset Beach experience.
"Those guys have been surfing out here their whole lives, so I'm not super bummed to lose — it's a good learning experience because you can see what they're doing and how they're winning," said Swanson after his heat Round 2 heat. "I like surfing Sunset because it's kind of unexpected. It looks like it's going to slope and then it'll give you a lot of energy so you can do a big turn or carve. I have Freddy Patacchiahelping me out, and wherever I can get advice from anyone around here I also try to do that."
Added WSL Hawaii/Tahiti Nui Tour Manager Marty Thomas: "Today was all about working the Sunset lineup; trying to make heats and get into the business end of the draw. We're looking solid for potentially the best day of the holding period tomorrow [Wednesday, January 23], with favorable winds as this swell peaks and top seeds hit the water."
The Sunset Open/Pro Junior is presented by the Hawaii Youth Surfing Development Organization (HYSDO), a 501c3 nonprofit providing greater opportunities for local youth in and around surfing. Full results and heats scores are available at worldsurfleague.com and on the free WSL app.
Community partners (including WSL) are currently undertaking long-term erosion mitigation efforts at Sunset Beach. The public is encouraged to be mindful of limited parking, carpool or choose public transportation where possible, and use designated beach access points when on-site to protect the new sand dunes.
Sunset Open Day 1 Results
All surfers from Hawaii (HAW) unless otherwise noted.
Round 2 (Round of 96)
1st & 2nd advance. 3rd=65th place. 4th=81st place.
Heat 1: 1st Turo Ariitu (PYF), 2nd Taro Watanabe (USA), 3rd Coconut Willie, 4th Like Adolfson
Heat 2: 1st Robert Grilho, 2nd Ocean Macedo, 3rd Lennox Chell, 4th Kyle Tester
Heat 3: 1st Kainaru Kato, 2nd Kala Willard, 3rd Max Beach (USA) 4th Sandon Whittaker (AUS)
Heat 4: 1st Kan Watanabe (JPN), 2nd Kaito Kino, 3rd Kekoa Cazimero, 4th Brodi Sale
Heat 5: 1st Guy Sato (JPN), Sam Neiger (USA), Gavin Hogan, Luke Adolfson
Heat 6: 1st Eli Olson, 2nd Joaquin Del Castillo (PER), 3rd Ezra Sitt, 4th Chase Rasse
Heat 7: 1st Sebastian Correa (PER), 2nd Love Hodel, 3rd Chris Foster, 4th Sammy Gray
Heat 8: 1st Taishi Kume (JPN), 2nd Herbert Moreno (BRA), 3rd Sage Tutterow, 4thDaiki Matsunaga
Heat 9: 1st Gregg Nakamura, 2nd Logan Bediamol, 3rd Makana Pang, 4th Elem Ben Zvi (ISR)
Heat 10: 1st Makuakai Rothman, 2nd Eli Hanneman, 3rd Ulualoha Napeahi, 4th Luke Swanson
Heat 11: 1st Vitor Ferreira (BRA), 2nd Cole Frye, 3rd Remy Juboori (USA), 4th Also Chirinos (CRI)
Heat 12: 1st Ian Walsh, 2nd Maddy Job (AUS), 3rd Kalani Rivero, 4th Bjorn
Men's Round 1 (Round of 112)
1st & 2nd advance. 3rd=97th place. 4th=105th place.
Heat 1: 1st Coconut Willie, 2nd Lennox Chell (AUS), 3rd Lucas Godfrey, 4th Zac Hedemann
Heat 2: 1st Kainaru Kato, 2nd Kan Watanabe (JPN), 3rd Mo Freitas, 4th Taua Pou
Heat 3: 1st Gavin Hogan, 2nd Chase Rasse, 3rd Achraf Marzouki, 4th Derek Ho
Heat 4: 1st Sammy Gray, 2nd Taishi Kume (JPN), 3rd Jake Riccobuano, 4th Riley Morgan
Heat 5: 1st Gregg Nakamura, 2nd Luke Swanson, 3rd Levi Young, 4th Max Lockwood
Heat 6: 1st Cole Frye, 2nd Kalani Rivero, 3rd Eimeo Czermak (PYF), 4th Sage Burke (USA)
Heat 7: 1st Robert Patterson, 2nd Tyler Newton, 3rd Jin Suzuki (JPN), 4th Mitchell Salazar (MEX)
Heat 8: 1st Gavin Gillette, 2nd Roi Kanazawa (JPN), 3rd Taichi Hagita (JPN), 4thLorenzo Avvenenti (PYF)
About the WSL The World Surf League (WSL) is dedicated to celebrating the world's best surfing on the world's best waves through a variety of best-in-class audience platforms. The organization, headquartered in Santa Monica, is a global sport with regional offices in Australasia, Africa, North America, South America, Hawaii, Japan and Europe.

The WSL has been championing the world's best surfing since 1976, annually running more than 180 global events across the Men's and Women's Championship Tours, the Big Wave Tour, Qualifying Series, Junior and Longboard Championships, as well as the WSL Big Wave Awards. The League possesses a deep appreciation for the sport's rich heritage while promoting progression, innovation and performance at the highest levels, and in doing so crowns the undisputed Men's and Women's World Champions across all tours.

Showcasing the world's best surfing on its digital platform at WorldSurfLeague.com, the WSL has a passionate global fan base with millions tuning in to see world-class athletes like Kelly Slater, Stephanie Gilmore, Tyler Wright, John Florence, Lakey Peterson, Paige Alms, Kai Lenny, Taylor Jensen, Honolua Blomfield, Carissa Moore, Gabriel Medina, Courtney Conlogue and more battle on the most dynamic field of play of any global sport.

For more information, please visit WorldSurfLeague.com