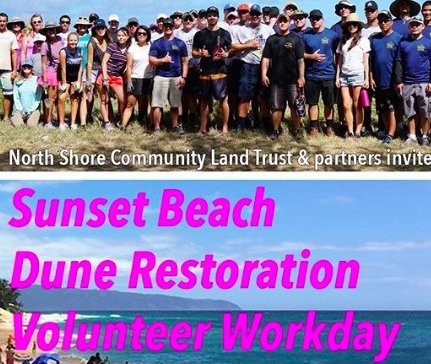 Mahalo for your Kokua for the Sunset Beach Dune Restoration
The North Shore Community Land Trust is holding it's 'dune restoration day' at Sunset Beach this Saturday, September 8th from 9-Noon.
Sunset Beach experienced severe erosion during this past surf season causing portions of the bike path to collapse.
Large surf, stormwater run-off, Tradewind patterns, sea level rise, and the impacts of foot traffic to/from the beach make the Sunset Beach shoreline increasingly vulnerable to erosion.
Although many of these factors are out of our control, we can steps to make this shoreline more resilient and to reduce the very noticeable impacts of foot traffic.
North Shore Community land trust
Via @northshorecommunitylandtrust