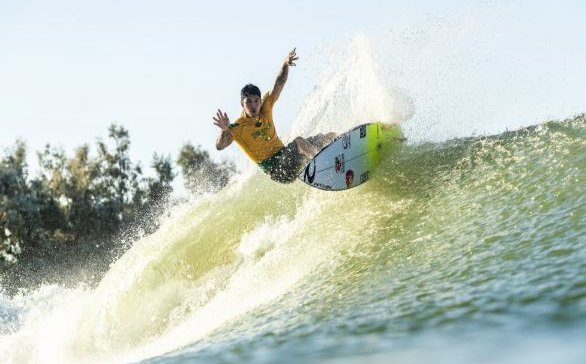 – 3X WSL CHAMPION CARISSA MOORE TOPS LEADERBOARD
– 2014 WORLD CHAMPION GABRIEL MEDINA LAUNCHES TO FIRST WITH NEAR-PERFECT SCORE
2014 WSL Champion Gabriel Medina (BRA) sits in first on the Surf Ranch Pro pres. by Hurley leaderboard. 


Credit: © 

WSL / Cestari


LEMOORE, California/USA (Friday, September 7, 2018) – The Surf Ranch Pro presented by Hurley fired back into action with the top-ranked surfers completing their first runs at Stop No. 8 on the World Surf League (WSL) Championship Tour (CT). Competition reached new heights with the world's best pushing the limits in their first two Qualifying Runs, resulting in a major shift in the event standings.

On the women's side, Carissa Moore (HAW) now leads the Surf Ranch Pro rankings with Lakey Peterson (USA) in second, rookie Caroline Marks (USA) in third, and Stephanie Gilmore (AUS) in fourth.

Gabriel Medina (BRA) leads the men's rankings and is closely followed by Japan's Kanoa Igarashi, Owen Wright (AUS) in third, and Filipe Toledo (BRA) in fourth place.

Tomorrow all surfers will have two more opportunities (one right and one left wave) to improve their scores and make the Final. Competition will commence at 8:00 a.m. PST with Michael Rodrigues (BRA). The full competition schedule can be found HERE: https://wdrv.it/055706a58.

Three-time WSL Champion Carissa Moore (HAW) dominated her opening run to capture the lead with an excellent 8.90 (out of a possible 10) and a 17.60 heat total. The Oahu, Hawaii competitor has been a standout since her first wave at the WSL Surf Ranch. Moore's barrel-riding ability is among the best in the world and it was on display today, sending her to the top of the women's leaderboard.

Carissa Moore of Hawaii. Credit: © WSL / Cestari
"The anticipation is crazy. It's all about controlling your nerves and controlling your breathing," Moore said. "The waves are pretty similar, but they definitely change a little bit so you can go in with a plan even though when it comes down to the takeoff you're just going to surf it like you've trained to do your whole life. I'm so stoked to go out on my first run and put up some scores like that. It takes off a lot of pressure. I know I'll have some work to do tomorrow after the Top 3 go, but I'll be able to go to sleep tonight knowing I did a pretty good job."
2018 CT Rookie Caroline Marks (USA) held nothing back in her first run and catapulted to third on the standings with an impressive 16.43 (out of a possible 20) two-wave total. The 16-year-old sensation got straight to work and earned an 8.10 (out of a possible 10) on her forehand opportunity and followed up with her world-class backhand and posted an even better 8.33 to secure her place inside the Top 4, who will advance on to the Final at the conclusion of the Qualifying Round.
"I was really nervous on my first wave," said Marks. "My heart was pounding and I just told myself to calm down and surf like I always do. I was definitely thinking to make the Final you'll need at least two eights, but I just wanted to surf my best and really enjoy it. It's super weird because I try to surf at least four hours a day and even when I'm competing I try to surf a lot, but I didn't even surf a wave yesterday. I don't know if I've ever really done that. It was definitely a test. I was pretty nervous but I'm stoked it worked out. My whole family is here, so it's a really good time and I'm just ready to surf again."

Caroline Marks of USA. Credit: © WSL / Cestari
World Title contender Lakey Peterson (USA) delivered a near-perfect 9.23 for the event's highest single-scoring wave. Peterson's second score, a 7.27, put her into the No. 2 spot on the event standings, ahead of six-time WSL Champion Stephanie Gilmore (AUS), who sits at No. 4. Unexpectedly for a regular-footer, Peterson looks comfortable on the left where most of the field has struggled.
"The left was something I focused a lot on in my freesurfs after I struggled on my backside tube ride, so I was just visualizing that," Peterson said. "I feel like my backhand turns are really good, but we don't have any lefts on tour really so I never get to showcase it. We're winding down the year here and we're super close, every heat feels like it's a World Title heat almost. I'm definitely thinking about it, but I'm just enjoying being in this position and learning from everything that's going on with where I am right now."
Gilmore is now trailed by Coco Ho (HAW) in fifth place, Johanne Defay (FRA) in sixth, Sage Erickson (USA) in seventh, Sally Fitzgibbons (AUS) in eighth, Nikki Van Dijk (AUS) in ninth, and Tatiana Weston-Webb (BRA) in tenth.
View the full women's results HERE: http://www.worldsurfleague.com/events/2018/wct/2792/surf-ranch-pro-womens/results
2014 WSL Champion Gabriel Medina (BRA) took control of the men's leaderboard today with a near-perfect 9.30 and an 8.40. Medina lit up Lemoore with an unbelievable air for a 9-point ride to secure his place at the top and will be the one to beat tomorrow when all the surfers have one more run (one left and one right) to finish inside the Top 8 and advance on to the Final on Sunday.
"I feel good to be here at the Surf Ranch and it's crazy to be part of this experience, but I wouldn't consider myself the favorite," Medina said. "Filipe (Toledo) is a favorite and there are a lot of guys ripping. I got to share a lot of waves with Julian (Wilson), Italo (Ferreira), and Filipe during our training days so it's hard to pick one. It feels good to get some good waves and it's so different from the ocean. Here you have to plan how you're going to surf, but in the ocean you let it be. There's always something to improve whether it's one more air, but I'll try something different and I feel good for tomorrow."
Kanoa Igarashi (JPN) opened the men's competition today and quickly separated himself from the pack to set the scale with an explosive air-reverse on his third maneuver followed with an immediate barrel ride that earned him an excellent score of 8.93, and a 15.73 heat total to move up to second place on the Leaderboard and surpass Kelly Slater (USA), who now sits at 9th place.
"I have friends that compete in these leaderboard formats and you think about your run weeks in advance, so I already knew what I was going to do three weeks ago," Igarashi said. "I've been training for these runs and I have about ten runs in my mind. It's all a numbers game and you have to know percentages as well as set your own scale in your mind, which I feel I did. I really wanted to get ahead of Kelly (Slater), that was one of my own little goals. There's extra pressure being later."
Australia's Owen Wright sent warning shots with his opening run, putting him at No. 3 heading into the last two Qualifying waves with a 15.56 heat total and impressive showing on the left, where his fellow competitors showed signs of struggling.
"I felt like I had good speed going into every turn after seeing some guys backing off some so I just went for it on every turn," Wright said. "Pretty much just wanted to go all out, but the wave dictates what you can and can't do. It's a fast wave and guys can get stuck behind easily, and it's really similar as to our practice sessions for what was happening with everyone falling or getting stuck. I feel like I had a pretty good mindset of handling the pressure and, for me, I'm just stoked to have the opportunity. Sometimes when you're in the ocean you don't get it, so to be given that I'm just taking all the positives out of it."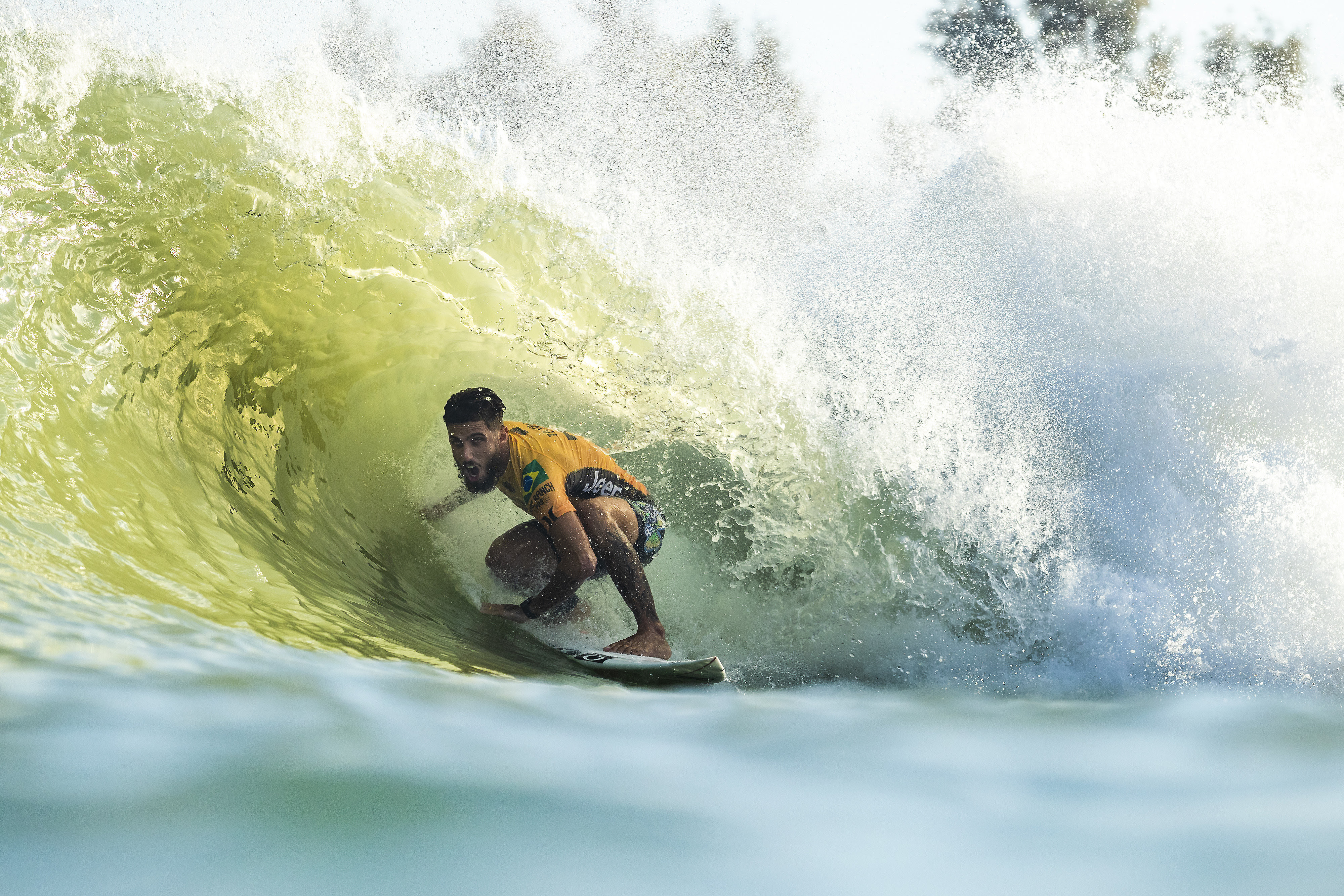 Filipe Toledo of Brasil. Credit: © WSL / Cestari
Current Jeep Rankings Leader Filipe Toledo (BRA) struggled to find the scores in his first runs but recovered incredibly on his final right to post a near-perfect score of 9.17 (out of a possible 10). The Brasilian still has a lot of work ahead to rid himself of a 6.30 on the difficult lefthander but sits comfortably inside the Top 8 at No. 4 heading into the last day of Qualifying.
"That left has been the lower scores except for Gabriel (Medina), but I wanted to get a solid score on the left first so I could get the confidence and do my work on the right," Toledo said. "But that didn't work out and I'm glad I could recover. The air at the end definitely helped that score after I showed some variety but you have to go big at the end. I have a lot of energy and surfing last is a different type of pressure after sitting, watching the boys rip all day. But it's good because you see everyone go and what's scoring good so it works out."
Today's standouts in the men's Top 10 also included Kolohe Andino (USA) in fifth, Julian Wilson (AUS) in sixth, Jordy Smith (ZAF) in seventh place followed by Italo Ferreira (BRA),Kelly Slater (USA), and Griffin Colapinto (USA) in tenth.
View the full men's results HERE: http://www.worldsurfleague.com/events/2018/mct/2791/surf-ranch-pro/results 
Competition will resume tomorrow morning at 8:00 a.m. PST when athletes will have one more chance to improve their scores.
The Qualifying Rounds see each athlete surf six waves (three lefts and three rights) over three runs (made up of one left and one right consecutively). The best scoring right and the best scoring left are added together to create each athlete's total score. The Top 4 women and the Top 8 men on the Leaderboard at the conclusion of the Qualifying Round will advance on to the Final.
Surf Ranch Pro pres. by Hurley Men's Leaderboard Top 8:
1 – Gabriel Medina (BRA) 17.70
2 – Kanoa Igarashi (JPN) 15.73
3 – Owen Wright (AUS) 15.56
4 – Filipe Toledo (BRA) 15.47
5 – Kolohe Andino (USA) 15.03
6 – Julian Wilson (AUS) 15.00
7 – Jordy Smith (ZAF) 14.87
8 – Italo Ferreira (BRA) 14.70
For full men's results click HERE: http://www.worldsurfleague.com/events/2018/mct/2791/surf-ranch-pro/results 
Surf Ranch Pro pres. by Hurley Women's Leaderboard Top 4:
1 –Carissa Moore (HAW) 17.60
2 – Lakey Peterson (USA) 16.50
3 – Caroline Marks (USA) 16.43
4 – Stephanie Gilmore (AUS) 16.26